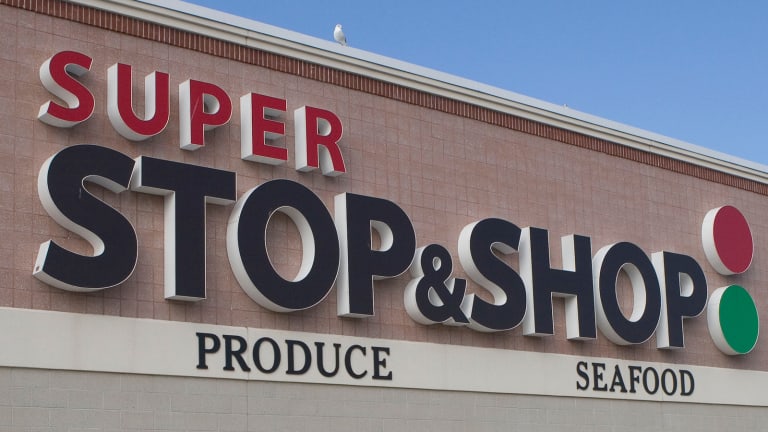 Stop & Shop Owner Ahold Delhaize Reports 'Good Momentum' After Merger
The grocer plans to sell an additional 10 U.S. stores and announces above-forecast quarterly results for the Ahold business.
Newly merged Stop & Shop owner Ahold Delhaize (ADRNY) reported "good momentum" as a combined company as it published pre-transaction quarterly results that beat forecasts.
The Zaandam, Netherlands-based group said Ahold's underlying second-quarter operating profit rose 8% on a constant currency basis to €355 million ($400.1 million), well above the €336 million predicted by analysts polled by Bloomberg. Ahold revenue rose 3.6% on the same basis to just under €9 billion. As already announced, Delhaize profit climbed 12.1% to €247 million. The group operates in 11 markets, with its U.S. fascias including Giant Food Stores, Food Lion and Hannaford.
Jefferies analysts said the results show that the grocer is shrugging off deflation worries in the U.S., and managing to build margins in its home market of the Netherlands.
"AD's Q2 results (a 6% beat at AH) confirm to us that all of the enlarged group's component parts continue to trade well," they noted.
In a statement Ahold Delhaize CEO Dick Boer said: "We have started our new chapter as Ahold Delhaize with good momentum, with these two strong sets of pre-merger results. Building on our solid financial foundation, common values and great local brands, we are driving ahead with full energy to deliver even more for customers and communities, associates and shareholders. "
The food retailer said it will sell 10 additional stores in the U.S., in the Richmond, Va. area, on top of the 86 stores with combined revenue of $1.4 billion that the Federal Trade Commission told it to divest as a condition of it approving the deal.
Ahold Delhaize said it expects to make $174 million from the U.S. store sales.
It will also shed 13 outlets in Belgium, as well as pet specialist chain Tom& Co.
The company, which closed its merger on July 24, will report quarterly results for the combined group on Nov. 7.
The company reiterated a target to achieve annual synergies of €500 million by mid-2019, and said it sees a €30 million second-hal f operating profit benefit from the merger.
One-off costs of fusing the two businesses will be €350 million, it repeated, of which €61 million has already been booked, and €80 million is expected in the second half.
Ahold Delhaize shares were up 1.5% in early trading in Amsterdam at €21.92.
Jefferies analysts have a buy rating on the stock with a price target of €23.00.