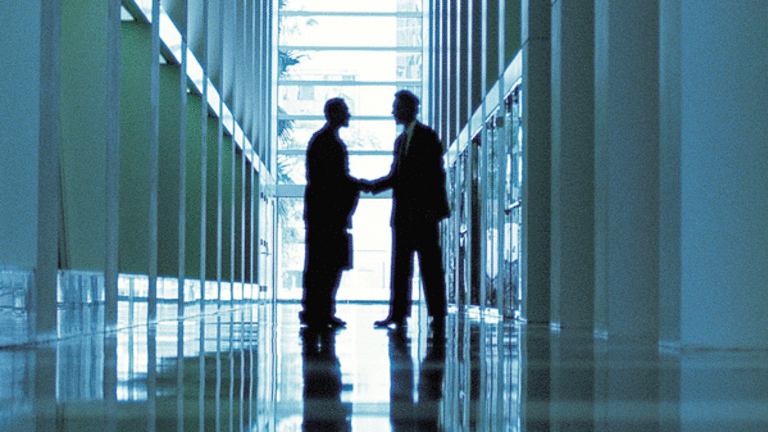 Stock Building Supply Merger Creates a $1.5 Billion Company
The merger would create a building supply and services company that spans 42 metropolitan areas, and more deals could follow.
NEW YORK (The Deal) -- Stock Building Supply (STCK) and Building Materials Holding said Wednesday they would combine to create a $1.5 billion supplier of construction materials, seeking to capitalize on a rebound in the home building market.
Terms of the deal call for Raleigh, N.C.-based Stock Building to issue 0.5231 shares for each share of privately-held Building Materials. At close Building Materials holders will own about 60% of the combined entity, which will be based in Building Materials' hometown of Atlanta and run by current Building Materials CEO Peter Alexander.
Jeff Rea, current Stock Building CEO, will remain on the board of the combination, which will continue to use both brands post-close.
The deal would create a supplier of lumber, building products and construction services with more than $2.7 billion in sales and a presence in 42 metropolitan areas in 17 states focused on the faster-growing south and west regions.
More deals could follow: The companies said they would benefit from "a strong balance sheet" that will support "long-term strategic growth in a highly fragmented industry."
The deal is the second large transaction among construction material suppliers in recent weeks, as companies try to take advantage of a recovery in the U.S. housing market and private owners seek to cash out after buying during the downturn. Builders FirstSource  (BLDR) - Get Builders FirstSource, Inc. Report in April said it would acquire privately-held ProBuild Holdings for $1.63 billion.
Building Materials sought bankruptcy protection during the mortgage crisis, exiting Chapter 11 protection in January 2010 under control of its senior lenders. The company is currently controlled by a consortium including Davidson Kempner Capital Management LP, Ravenswood Investment Management and MFP Partners.
Stock Building received a cash infusion from Gores Group during the downturn, with the firm still owning 38% of shares outstanding. The companies said that with the recession behind them the time has come to focus on growth.
"The continuing recovery of the U.S. housing market is expected to generate strong demand for building materials, services and solutions, and together we believe BMC and Stock Building Supply are better positioned to capitalize on this opportunity," Stock Building's Rea said in a statement.
In connection with the deal the companies have received a joint financing commitment from Wells Fargo Bank and Goldman Sachs Bank USA to consolidate and up-size existing revolving asset-based loan facilities to $450 million.
Available funds will be used to refinance certain debt and to fund transaction costs, though $250 million of existing Building Materials senior secured notes maturing in 2018 are expected to remain outstanding. 
Barclays Capital is serving as financial adviser to Stock Building, with Gary E. Thompson of Hunton & Williams providing legal counsel. Peter Scheman at Goldman, Sachs & Co. joined with Sean Rodgers and John Kupiec of Kirkland & Ellis to advise Building Materials, working with general counsel Paul Street.
Originally published on June 3, 2015 at 10:19 AM EDT