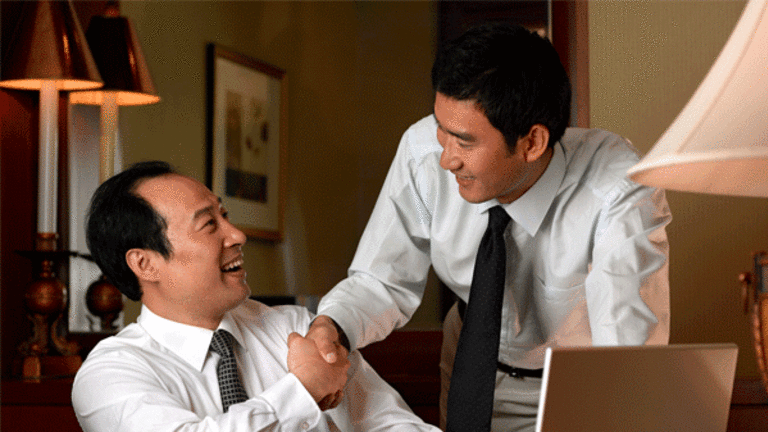 Starbucks' Juice Gamble, and 3 Deals That Changed Everything
If Starbucks were to juice its growth with Evolution Fresh, what other deals would it resemble?
NEW YORK (
) -
Starbucks'
(SBUX) - Get Report
shares are up over 40% for 2011, but what if the caffeine-fueled juggernaut jumps into the New Year with a deal that leaves its coffee identity in the dust?
In November, the Seattle -based company announced a plan to revolutionize the juice and health food markets with a $30 million purchase of juice-seller Evolution Fresh. While a minor deal compared to Starbucks' $34.6 billion market cap, history has shown that small, strategic deals can quickly become as important to profits as an acquirers core business.
If Starbucks' juice foray goes as planned, it may join the likes of
Disney
(DIS) - Get Report
,
PepsiCo
(PEP) - Get Report
and
Google
(GOOG) - Get Report
in benefitting from an opportunistic diversification, just as few are watching. It also would be another big move for Starbucks' aged-Sumatra loving Chief Executive Howard Schultz, who was named the business person of the year by
Fortune Magazine
in December.
Starbucks' juices move comes as the company targets growth away from in-store coffee sales. Since 2008, Starbucks stores are barely up in number, while revenues have grown 12.5%, bolstered by its burgeoning specialty and consumer products businesses. To grow revenue and fuel shares, Starbucks is increasingly diverse in its in-store wares and products offerings.
That contrasts to growth from an epic store expansion in the mid-2000s, which led comedian Lewis Black to proclaim he'd located the end of the universe when spotting one Starbucks across the street from another. Even if the universe's limits are still unknown, the store growth gave way to an underperformance in shares and a new model emerged.
As Starbucks halted store growth with the return of Schultz as CEO in 2008, its consumer products business since doubled sales and is now a key to the company's $1 billion-plus in annual profit. Starbucks Frappuccino bottles, packaged coffee and Tazo Tea bags are among the brands within CPG, which are sold in Starbucks stores, supermarkets and via distribution agreements with other foods giants like
Kraft
(KFT)
.
Within Starbucks' branded retail outlets, foods from egg wraps to whoopie pies, in addition to rollouts of new coffee drinks like Pumpkin Spice Latte's, easy-to-brew Via coffee packs and smoothie offerings have bolstered in-store sales. Evolution Fresh products and plans for new specialty juice-selling retail outlets are expected to add to Starbucks' diversification.
See
for more on Starbucks.
When announcing the deal, Starbucks said that it will first sell Evolution Fresh juices in its coffee-selling chains outlets -- and in mid-2012 it will use the purchase to introduce a new health and wellness line of stores. To make the investment pay off relative to expectations, Starbucks said it will also invest in distribution and growth of juices products.
Nevertheless, Evolution Fresh is a small deal for the roaster founded in Seattle's Pike Place market in 1971 and that carries its name as an homage to a character in Herman Melville's
Moby Dick
. In announcing the deal Schultz said on an analyst call, "even though this is a small acquisition in size, it is a significant strategic decision and direction for the company." The purchase, "will reinvent the $1.6 billion super-premium juice segment, its significant next step in entering the larger $50 billion Health and Wellness sector," Starbucks added in a press release.
If Evolution Fresh were to be the coup that Schultz expects, the $30 million acquisition may create a juice bar that one day houses juicers as recognizable as the Starbucks barista.
Continue to see other small acquisitions that juiced the profits of some U.S. blue chips.
Forget Mickey Mouse,
Toy Story
and Disneyland, here's the play-by-play on Disney's profitability and its hidden cable supremacy.
In 1984,
ABC
, then a unit of the American Broadcasting Companies, began to buy a controlling stake in the
Entertainment and Sports Programming Network
from
Getty Oil
, which previously owned the sports broadcasting innovator now knows as ESPN. ABC bought 15% of ESPN for $30 million from Getty, and then bought out the remaining stake and shares held by company founder William Rasmussen for $188 million later in 1984, after Getty merged with
Texaco
.
ESPN grew in value over the years as the network expanded its sports coverage and won the hearts of diehard fans, even if some failed to notice. After Disney bought Capital Cities / ABC in 1995, ESPN turned out to be a diamond-in-the-rough in an otherwise troubled merger.
In 1995, Disney bought Capital Cities / ABC for its news and broadcasting affiliates, in addition to ESPN for $19 billion, the second biggest ever merger at the time. When the deal was cut, journalists called ABC's nightly news broadcasting and affiliate TV stations the company's crown jewels, though ESPN subsequently became cable's biggest powerhouse -- and a key to the deal.
Calling the merger a "once-in-a-lifetime opportunity," Disney Chief Executive Michael Eisner said of the deal, "We sought a merger with
ABC in particular because of our tremendous respect for the management team Tom Murphy has assembled and the outstanding collection of broadcasting and publishing assets they have built." Disney stressed how the deal would bolster its entertainment and media businesses, creating synergies with existing
Home Improvement
and
Ellen
television partnerships, while focusing less on ESPN's sports offerings.
For Disney, ESPN was a dramatic coup and further diversification into sports. Though Disney now operates ABC's news and programming powerhouse, in addition to Pixar's animation studio's and its legendary Walt Disney-inspired movies and theme parks, ESPN is the company's biggest profit center.
Disney's cable networks led by ESPN account for a third of the company's $40 billion in revenue and nearly 80% of the company's operating income, as of the year ended in September. Meanwhile, Disney's ABC broadcasting unit represents a smaller share of overall revenue than cable networks and only a small piece of profit -- after being much larger in previous years.
In contrast to multi-billion dollar acquisitions of
Pixar
and
Marvel
, Disney bolstered its sports programming via ABC and its purchase of ESPN, a little less thought of component of the deal at the time.
While Disney may be known as a news, movies, theme parks and cartoons titan, it's a small deal for ESPN cut in the mid-1980s, which provided the seed for the company's changing earnings profile.
Quaker Oats and PepsiCo rise like Jordan as Gatorade conquers the sports drink market.
Gatorade, the sports drink developed to quench the thirst of energy depleted football players at the University of Florida in 1965 was bought by Quaker Oats in 1983 for $220 million.
The oatmeal and breakfast cereals titan which also financed the 1971 film
Willy Wonka & the Chocolate Factory
beat out
Pillsbury
in a bidding war for Gatorade and subsequently grew the sports drinks business through international expansion until selling to PepsiCo in 2001.
Buying Gatorade became increasingly successful for Quaker Oats as sports stars like Michael Jordan helped the sports-drink pioneer sell new flavors, supplementing its traditional lemon-lime and orange drinks. Increased visibility on professional sidelines and new flavors helped Gatorade market its products to Asian, South American and European consumers in the 1980s.
For Quaker Oats, other drinks acquisitions like a $1.7 billion purchase of
Snapple
in 1994 didn't pan out.
In 2001, Quaker Oats was bought by PepsiCo for $13 billion, as the soda, snacks and juices giant added Gatorade's portfolio of sports drinks to take on
Coca-Cola
(KO) - Get Report
. With Gatorade, PepsiCo bet on an increasing consumer trend toward non-soda drinks, diversifying from its namesake cola brand. PepsiCo took the market share lead in non-carbonated drinks after buying Quaker Oats, nearly doubling its share to 33% and leaping past Coca-Cola's 21% share, according to
New York Times
reports.
Quaker Oats' deal to buy Gatorade and PepsiCo's later acquisition appear to be an opportunistic diversification from healthy breakfast products and less-healthy snack foods. As of 2010, Gatorade commands nearly 75% of the sports drink market according to
Beverage Daily
and the unit is responsible for a significant chunk of PepsiCo's revenue.
Gatorade is PepsiCo's fourth largest brand, drawing in over $6 billion in annual sales - eclipsing Tropicana revenue - and only surpassed by Lay's Potato Chips, Mountain Dew and Pepsi-Cola, as of 2010. Meanwhile, Quaker Oats flagship brands acquired by PepsiCo haven't maintained their importance. Annual Quaker Oats sales are roughly $4 billion as of 2010, the tenth largest PepsiCo brand.
For Quaker Oats, a sports drink venture by a breakfast-foods giant in the early 1980s turned out to be a hidden gem and an attractive asset as PepsiCo looked to diversify away from carbonated drinks in the 2000s.
After Google made an inexpensive but audacious push into the mobile Web market through M&A, it's developed a gem of a business that's proven more expensive to defend.
In 2005, Google bought a 22-month old startup mobile phone software innovator called
Android
for $50 million as the Mountain View Ca., based search titan began a push into the then budding smartphone market.
While search is Google's primary business, drawing in nearly $30 billion in 2010 sales, it is the company's Android operating system for smartphones, which is increasingly alarming other tech titans like
Apple
(AAPL) - Get Report
and smartphone pioneers like
Research In Motion
(RIMM)
.
To protect Android, which is overwhelmingly the top operating system in the fast-growing smartphone market with a near 60% market share, Google announced a $12.5 billion acquisition of
Motorola Mobility
(MMI) - Get Report
, largely for its patent portfolio. As the Android ecosystem has grown, competitors like Apple may stall its ascendance with threats to sue or charge for alleged patent breaches.
After a small initial impact, Android is increasingly a presence in Google's earnings. In its most recent quarter, Google reported that its mobile revenue, bolstered by Android users, grew 2.5 times year-over-year and earned $2.5 billion in annualized sales. With Android, Google is able to draw in Web users to its search business, as they migrate to mobile devices.
Google's been a big spender in other acquisitions to bolster its search business and build adjacent revenue streams. In 2007, Google spent $3.1 billion to buy
DoubleClick's
ad distribution business as a synergy to its search powerhouse. With DoubleClick, Google was able to bolster its search capabilities, while launching itself into the display ad market.
With the Web increasingly tilting toward social networks, Google bought
YouTube
for $1.65 billion in 2006 -- putting it ahead of competitors like
Yahoo!
(YHOO)
.
Nevertheless, in 2010, Google executive David Lawee told a Stanford Accel Symposium that buying Android was the company's "best deal ever," according to
Engadget
reports. We'll take their word for it.
-- Written by Antoine Gara in New York
Readers Also Like:
>>21 Stocks That (Almost All) Experts Agree On