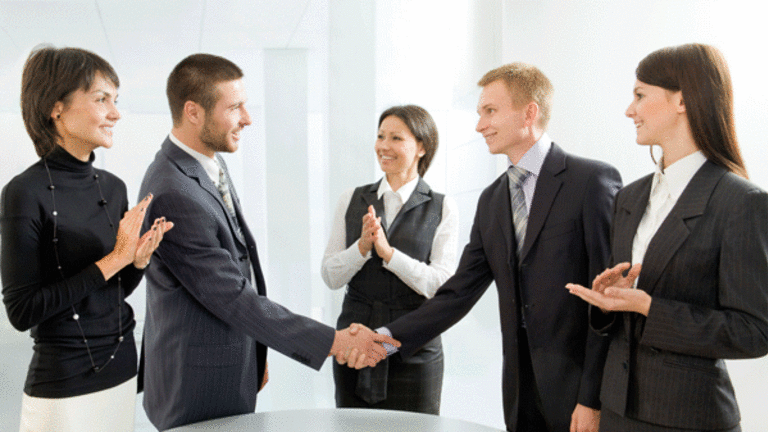 Starbucks Becomes Caffeine-Fueled IBM With Teavana Buy
Starbucks is tripled down on an IBM-like growth blueprint, with its third big acquisition in a year.
NEW YORK (
) -- In a continued expansion of its in-store food and drinks products,
Starbucks
(SBUX) - Get Report
is
Teavana
(TEA)
, a tea-inspired drinks chain, for $15.50 a share, in an all cash deal that values the company at $620 million.
The move follows Starbucks previous acquisitions of Evolution Fresh, a fruit juices specialist, and La Boulange, a bakery chain - and further proves chief executive Howard Schultz's commitment to grow the world's leading coffee chain through a mix of new store openings, product launches and acquisitions.
Starbucks also said it considers Teavana to be a third deal, in a string of acquisitions that meets the company's "Blueprint for Growth," a
that resembles the one employed by IT services giant
IBM
(IBM) - Get Report
.
Heading into 2013, CEO Schultz will now need to prove he can deliver on IBM-like profit growth, as Teavana and other recent acquisitions take center stage in the earnings outlook for the Seattle-based brewer. Recent earnings strength signals Starbucks is finding increasing success in growing profit margins.
Starbucks will also need to jolt growth at Teavana, after the company's same store sales growth slowed in recent quarters, putting shares well below their Aug. 2011 initial public offering price.
As with previous acquisitions, Starbucks indicated it intends to weave Teavana's products and merchandising into Starbucks existing stores, while also expanding the tea-makers branded retail outlets. CEO Schultz also indicated Teavana will be a strong complement to Starbucks Tazo tea brand.
"This complements our existing Tazo brand and gives us the unique opportunity to create a two-tiered market position," Schultz said, in a statement announcing the deal.
"Powered by Starbucks existing infrastructure, Starbucks plans to continue to grow and extend Teavana's already-successful 300 mall-based stores as well as add a high-profile neighborhood store concept that will accelerate Teavana's domestic and global footprint," the company added in a press release.
According to Starbucks calculations, Teavana is expected to add 1 cent to the company's fiscal 2013 earnings. Roughly 70% of Teavana's shareholders have approved the merger 'by written consent,' notes Starbucks of the deal, which it expects to close by year-end.
In Wednesday trading, Starbucks shares fell nearly 3% to $48.84, while Teavana's shares surged over 50% to $15.45, just below Starbucks cash offer.
In spite of Wednesday stock gains, Teavana shares are off nearly 20% in 2012, while Starbucks has gained over 6% year to-date.
As with the acquisitions of Evolution Fresh and La Boulange, Starbucks president Jeff Hansberry said Teavana is expected to help the coffee giant add to a growth strategy centered on bringing added products to its stores, while targeting new avenues for distributing of the company's products in supermarkets and large retailer outlets.
Hansberry added, in a press release, that Teavana and Starbucks's two previous acquisitions are examples of the company's "Blueprint for Growth."
"Evolution Fresh, La Boulange and now Teavana demonstrate how Starbucks will add brands that strengthen our core offering and create a rich ecosystem of experiences with shared values, mutual efficiencies and complementary characteristics," said Hansberry, in a statement.
Earlier in November,
TheStreet
that investors should focus on Starbucks growth prospects, even after the retailer reported surprisingly strong third quarter earnings and an unexpectedly large increase to its quarterly dividend.
In the wake of Starbucks previous acquisitions of Evolution Fresh and La Boulange - both occurring within the past 12 months --
TheStreet's
also compared Schultz's growth and acqusition
to the one employed by IT services and software giant
IBM
(IBM) - Get Report
.
To be seen is whether acquisitions like Teavana live up to such expectations.
As Starbucks heads into 2013, recent acquisitions will play a front and center role in whether CEO Howard Schultz can
that he's uncovered a predictable way to grow profits at the coffee chain, after previous efforts at store expansion backfired and led to his departure from the company roughly a decade ago.
Here's another take on Starbucks in a
For more on other restaurant stocks reporting in November, see why
McDonalds is no longer overcooked.
Also see why Chipotle Mexican Grill
for other restaurants-based stock ideas.
Follow @agara2004
-- Written by Antoine Gara in New York