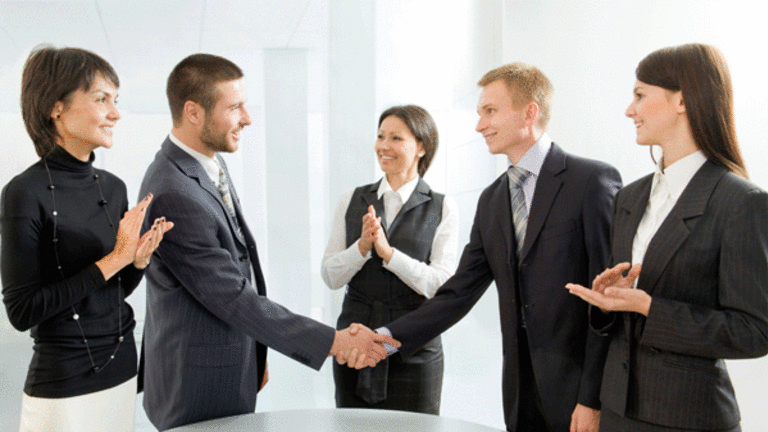 Starbucks, Allergan, Amazon: Doug Kass' Views
Doug Kass shares his thoughts on how 2017 will be the year of 'the Dude.'
Doug Kass shares his views every day on RealMoneyPro. Click here for a real-time look at his insights and musings.
My Takeaways and Observations
Originally published Dec. 28 at 4:52 p.m. EDT
"Who you tryin' to get crazy with, 'ese?
Don't you know I'm loco?..."
-- Cypress Hill, Insane in the Brain
2017 will be the year of "The Dude."
My favorite large-cap long Allergan (AGN) - Get Allergan plc Report and short Caterpillar (CAT) - Get Caterpillar Inc. Reportfor next year. AGN closed up by $4(!) while CAT slipped $1.50.
Some moves I made this week for consideration--in CAT, AGN, PowerShares QQQ Trust, Series 1 ETF QQQ, ProShares UltraShort S&P500 ETF SDS, iShares Barclays 20+ Yr Treas.Bond ETF (TLT) - Get iShares 20+ Year Treasury Bond ETF Report , etc.
I had an active trading Wednesday--for a change it paid off. There is an investment God!
Understanding market on close imbalances, from the CFA Magazine.
Danielle does " the hustle."
Tweet of the Day--record Treasury shorts. I have a long rental in TLT (will be out at the close on Friday).
Dow 20,000 is totally meaningless. The media's preoccupation sucked the air out of the room and deflected the dialogue away from (arguably) high valuations, elevated investor optimism, unrealistic EPS expectations and lack of skepticism regarding an untested President-elect's ability to implement policy and create a strategic vision. With so many "in" the market and bullish, who is left to buy?
We had a strong five-year U.S. note auction Wednesday.
ProShares UltraShort S&P500 ETF (SDS) - Get ProShares UltraShort S&P500 Report trades at $15 late Wednesday; I have been adding aggressively on the dip.
The market was down all day--we ended right at the day's lows.
The Russell 2000 was conspicuously weak--never a healthy signpost.
I went out at the highest net short exposure of the last several weeks.
The U.S. dollar firmed making a multi-month high against the euro earlier in the day.
Crude oil was flat, closing right on the figure of $54 a barrel.
Gold rose $4, and I re-established my long this week, although it's still small.
Ag commodities were schmeissed for the second day in a row: Wheat down $0.075, corn down $0.065, soybeans down $0.08 and oats down $0.01.
Lumber rose by nearly $5.
Bonds had a spirited rally with TLT up a beaner. Closing at $118.70 I went long for a trade at $117.30 yesterday in anticipation of a Friday rebalancing on the part of pension plans (selling stocks, buying bonds because of the large differential of performance). Sir Arthur Cashin mentioned as much as $35 billion in stocks to sell. Stay tuned. Some might have been taken off Wednesday.
The yield on the 10-year and long bond fell by about 5 basis points. The 10-year is approaching 2.5% (a two-week low).
The 2s/10s spread flattened by 2-3 bps to 1256 basis points.
Municipal bonds were well bid but closed-end muni-bond funds continue to be sold (more tax selling likely).
Junk bonds were lower but Blackstone/GSO Strategic Credit Fund (BGB) - Get Blackstone / GSO Strategic Credit Fund Report went contra, up a large $0.10 to a recent high. I am not sure why the divergence because bank loan market didn't move much.
Banks sold off and I re-established an Financial Select Sector SPDR Fund (XLF) - Get Financial Select Sector SPDR Fund Report short. A contrarian pay and consistent with my bond market expectations over the next few months. See 15 Surprises here and here.
Insurance stocks got schmeissed. I am long Hartford Financial (HIG) - Get Hartford Financial Services Group, Inc. (HIG) Report and short Metlife (MET) - Get MetLife, Inc. (MET) Report and Lincoln National (LNC) - Get Lincoln National Corporation (LNC) Report (recent Best Idea List inclusions). Net net I made out fine in the space.
Autos sold off. I plan to be a buyer of General Motors (GM) - Get General Motors Company (GM) Report in a general market correction.
Old media was sold. IBM (IBM) - Get International Business Machines (IBM) Report , short, down a buck. I recently added.
Energy shares lower despite an unchanged crude oil price.
Consumer staples were lower, save my long Campbell Soup (CPB) - Get Campbell Soup Company Report (that acts like a champ).
Retail broadly on sale. JCPenney (JCP) - Get J. C. Penney Company, Inc. Report held up well--and I re-established some January and May short put positions taking in premium on a stock I like and would buy at lower levels).
Biotech stunk with Gilead Sciences (GILD) - Get Gilead Sciences, Inc. (GILD) Report and Celgene (CELG) - Get Celgene Corporation Report both weak. Best Ideas new member, AGN was up $3 and I named it my favorite large-cap long for next year. Speculative biotech was clipped, too (Intrexon (XON) - Get Intrexon Corporation Report , Sage (SAGE) - Get SAGE Therapeutics, Inc. Report and ACADIA Pharmaceuticals (ACAD) - Get ACADIA Pharmaceuticals Inc. Report all lower).
Ag equipment lower, in line with lower ag commodities prices over the last two days. I added to CAT and named it by favorite large-cap short for 2017. It was down $1.50 today.
Consumer discretionary lower. Starbucks (SBUX) - Get Starbucks Corporation Report , a short, included to the downside.
Media lower, led by short, Disney (DIS) - Get Walt Disney Company Report .
Another REIT smackdown.
(T)FANG, the anchor of PowerShares QQQ Trust, Series 1 ETF (QQQ) - Get Invesco QQQ Trust Report (a larger short now), was slightly lower, though Amazon (AMZN) - Get Amazon.com, Inc. Report traded in the black.
Here are some value-added contributions on our site:
1. Roger Arnold on a no-brainer, an infrastructure bank.
2. A little traveling music for John Reese.
3. Preoccupation with DJIA 20,000 trips up bulls, by the Right Rev Shark.
4. Tim Melvin on bank discoveries.
5. Guy Ortmann shares my Nasdaq concerns.
Positions --
Long: AGN, HIG large, CPB large, JCP large, SDS, KSS small, M small, TLT
Short: JCP puts, SPY, QQQ, IWM small, CAT, SBUX small, DIS small, MET, LNC, IBM short, IYR small, XLF small
Position: See above.
There Is an Investment Deity
Originally published Dec. 28 at 2:36 p.m. EDT
There have been some large intraday moves to the downside in securities I am actively trading Wednesday:
Stocks on Wednesday's low and bonds on Wednesday's highs.
Position: Long TLT, AGN, SDS; short QQQ, CAT.
Action Alerts PLUS, which Cramer co-manages as a charitable trust, is long AGN and SBUX.
Doug Kass is the president of Seabreeze Partners Management Inc. Under no circumstances does this information represent a recommendation to buy, sell or hold any security.