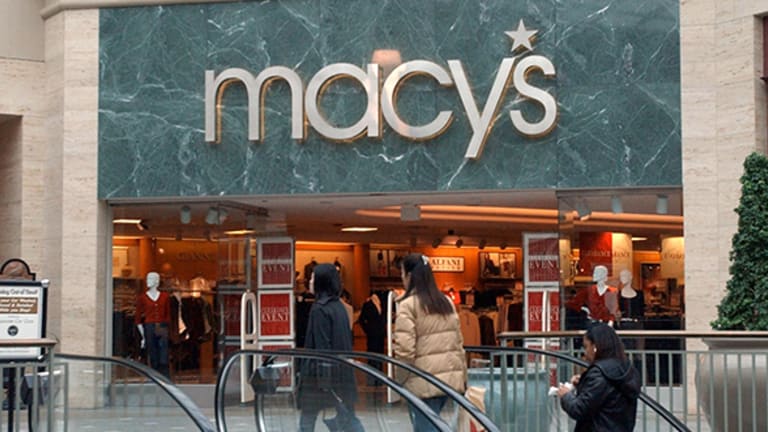 Starboard's Smith Increases Pressure on Macy's to Split Off Real Estate
The activist investor has issued a letter and presentation urging the retailer to separate its real estate and 'unlock' shareholder value.
Activist investor Starboard Value's Jeff Smith escalated his campaign at Macy's (M) - Get Free Report Monday by issuing a letter and 27-page presentation urging the department store chain to separate its real estate and "unlock value" for shareholders.
"With the real estate market near all-time highs, now it's the time to separate Macy's real estate assets and create value for shareholders," Starboard said in the presentation it submitted to Macy's executives.
His escalated insurgency comes after Smith revealed in July at an annual Delivering Alpha conference in New York that Starboard had taken a stake in the department store chain and that he wanted to see it consider separating into two companies, one consisting of its retail operations and the other of its real estate. He also said his hedge fund has hired a real estate consultant to help the firm value the properties and that he thinks Macy's was receptive to considering the opportunity.
"They pushed this stock in the high $60s," commented TheStreet's Jim Cramer. "You want to own it [and] you need better numbers but it is a cheap stock." However, for his Action Alerts PLUS portfolio he prefers Costco (COST) - Get Free Report and Target (TGT) - Get Free Report . "I like COST and that's why we want to be bigger in that one...for the trust. I also think Target is doing better and we own that one, too," he said.
Exclusive Look Inside:
You see Jim Cramer on TV. Now, see where he invests his money and why. Learn more now.
On Monday, the activist fund manager suggested Macy's could split off most of its real estate from its operating business and set up two joint ventures with partners holding "substantial capital and real estate expertise." Macy's would raise cash by selling a minority interest in the joint ventures and it could later consider an initial public offering for one or both of them.
The letter noted one such JV structure could be set up for its "iconic" stores located in New York, San Francisco, Chicago and Minneapolis, and another for the substantial majority of its mall stores. Smith said he wanted Macy's to use the cash from the real estate transactions to pay down debt so that Macy's operating business would either have a net cash balance or "substantially" less debt.
The result, Smith said, would help Macy's maintain its investment-grade rating and current dividend. However, he suggested the dividend could be increased, a move that would likely benefit Starboard's large minority stake more than other smaller investors.
According to a November Starboard securities filing, the activist fund held 3.3 million shares valued at $167 million in Macy's as of the end of September. Macy's shares spiked early Monday and traded at $37.73 a share, up from its $35.89 a share close Friday. They currently trade around $38. However, the stock price has been on a downward trajectory since Starboard launched its public campaign in July, dropping from a high of about $72 a share during the summer.

Macy's said in a statement Monday that the viewpoint expressed by Starboard is "consistent with actions already underway" at the department store chain. It noted that Macy's announced January 6 that it hired real-estate focused Eastdil Secured to help it approach interested companies with the intent of forming a partnership or joint venture for the company properties. Credit Suisse (CS) - Get Free Report and Goldman Sachs (GS) - Get Free Report are also advising Macy's. 'We look forward to continued dialogue with Starboard and other shareholders," the statement said.
Macy's noted that real estate building and operating company Tishman Speyer has expressed an interest in pursuing a partnership with Macy's related to its four flagship locations. As a result, Tishman Speyer, which has been advising Macy's on possible real estate sales, will no longer provide advise regarding those four properties but will continue to advise regarding the rest of Macy's real estate.
While Starboard hasn't threatened to launch a proxy contest, it is a very real possibility the insurgent investor will seek to elect directors if Macy's doesn't move forward with a major real estate transaction in the coming months. Macy's annual meeting is likely to take place in May and shareholders must nominate their dissident director candidates "no less" than 60 days before the annual meeting. As a result, should Smith launch a contest he would likely need to nominate his candidates by March.
A change-of-control campaign would be possible at Macy's since it doesn't have a classified board. It also wouldn't be the first time that Smith sought to take control of a company's board -- in 2014 he succeeded at replacing all the directors at Darden Restaurants (DRI) - Get Free Report .
In addition, last week, Smith threatened to launch a change-of-control proxy fight at Yahoo! (YHOO) if it didn't replace management and quickly explore a sale of its core business.
Smith reiterated in his letter Monday he estimated Macy's real estate assets to be worth roughly $21 billion. He noted that amount is greater than the Cincinnati-based retail chain's $11.3 billion market capitalization.
He also noted that once the initial JV transactions are completed, Macy's could then consider setting up JVs or conducting sale-lease backs for the remaining properties valued by Starboard at an additional $4 billion.
The activist didn't disclose a separate operational improvement plan the fund has put together. However, Smith reiterated that he has identified "more than $500 million" in cost reductions through a combination of improved labor productivity selling, general and administrative expense reductions as well as other opportunities.
In November, Macy's said that it would not conduct a real estate investment trust spinoff for its large real estate portfolio, a move that came after the Internal Revenue Service issued a notice that has had the effect of freezing real estate spinoffs. Last month Congress approved legislation that ended the tax-free treatment of REIT spinoffs.