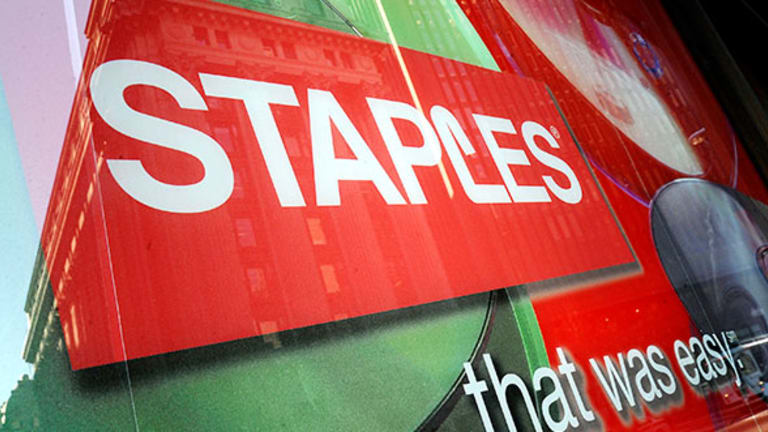 Staples' Buyout of Office Depot Hinges on Antitrust Approval
Though the deal looks good on paper, Staples' plan to acquire Office Depot isn't guaranteed to clear the FTC.
Though the deal looks good on paper, Staples' plan to acquire Office Depot isn't guaranteed to clear the FTC.
NEW YORK (TheStreet) -- When Starboard Value founder Jeffrey Smith began pressing management at Staples (SPLS) in mid-2013 to make a play for its only remaining big box competitor in the office supply business, he argued that the deal, once blocked by Washington, finally had a great opportunity to win regulators' approval.
Indeed, chances for winning Federal Trade Commission approval for the $6.3 billion combination of Staples andOffice Depot (ODP) - Get Report look great, at least on paper. That's because the commission, in approving the combination of Office Depot and OfficeMax only six months before, seemed to have provided a clear path for the merger of the only two remaining major retailers of office products.
In its Nov. 1, 2013, closing statement explaining the approval of the OfficeMax takeover with no conditions, the FTC found that since its successful challenge to Staples' 1997 attempt to buy Office Depot, the office supply business had changed dramatically. No longer was the business dominated by specialty retailers with huge brick-and-mortar locations. Serious competition was now coming from online outlets like Amazon (AMZN) - Get Report , discount clubs like Costco (COST) - Get Report and even general retailers like Wal-Mart (WMT) - Get Report .
"Significant developments in the market for consumable office supplies have led us to approve a merger when we had blocked a similar merger 16 years ago," the FTC said at the time.
But no matter how cut-and-dry the FTC's reasons for letting big box office suppliers merge in the Internet age, the market has doubted that the commission will let Staples have its way. With an FTC ruling on the merger expected in only a few weeks, Office Depot shares still trade at a large discount to Staples' offer, a sign the market believes the deal still faces major hurdles winning commission approval.
Office Depot's shares are trading at a roughly 37% discount to Staples' offer. On Aug. 28, the big box office retailers certified substantial compliance with the FTC regarding a second request for information received in March. The companies agreed not to close the merger before 45 calendar days expire, which would be Oct. 12.
With that target date nearing, investor trepidation over the merger's fate is understandable, said Andre Barlow, partner at antitrust firm Doyle, Barlow & Mazard. Nevertheless, he said the FTC would have a hard time justifying a challenge to the deal.
"The reasons for approving the OfficeMax deal still exist and they should still be true," he said.
Although the OfficeMax transaction was approved with no conditions, Staples has anticipated concern by the FTC and agreed to accept some conditions on the Office Depot buy if the commission insisted. Staples must accept FTC-ordered divestiture of assets that account for up to $1.25 billion of Office Depot's 2014 revenue in the U.S.
The American Antitrust Institute, a consumer watchdog that favors strong competition enforcement, has argued that the FTC should go much further than Staples' offer and should consider blocking the transaction. The biggest threat to competition posed by the transaction, the AAI argued, is reducing the number of suppliers to large multiregional or national companies that purchase offices supplies on an enterprise-wide basis. 
Unhindered by any meaningful competition from Internet or general retailers in the market for national customers, the Staples-Office Depot combination would be able to unilaterally raise prices it charges those clients, the watchdog group argued.
"The transaction... would complete a rapid 3-1 consolidation of the office supply/superstore market," AAI wrote in a July paper. "In particular we are concerned that the proposed transaction threatens substantial unilateral antitcompetitive effects that alternative supply responses could not ameliorate."
Although the FTC, in approving the OfficeMax deal two years ago, found that online retailers and larger regional players like W.B. Mason have been luring large business customers away from the superstores, AAI countered that Staples' and Office Depot's smaller rivals "are unable to compete on the scale and scope of the merging parties."
The smaller competitors, AAI said, cannot muster the purchasing power to drive lower prices.
As a result of the drop in competition, the group added, the merged firm will have less incentive to develop new technological protections against cyberthreats. Also, the group said, the reduction in superstore suppliers to only one will risk supply chain disruptions.
"We're concerned about the large, geographically dispersed, nationwide customer base that requires service in areas where only two firms have scope to cover," Randy M. Stutz, AAI's associate general counsel and author of the report, told The Deal.
He said the FTC's approval of the OfficeMax deal was based largely on the commission's analysis of the traditional retail market and that the impact on large corporate customers wasn't fully considered. 
"You have to separate the retail market from the business contract market. The key observation was that office superstores price nationally as opposed to locally," he said. But the business contract channel is different. Buyers there need previously negotiated prices and the ability to purchase large volumes at a discount, Stutz said. "Other channels can't offer that, so as a result you don't have sufficient competition from Amazon, or a co-op of small suppliers, or industrial-janitorial firms."
However, critics of the Office Depot deal are up against a hard truth: the FTC statement explaining the commissioners' rationale for approving that merger unequivocally states that, even in the business-contacting segment, office supply superstores are facing numerous new competitors, particularly those Stutz mentioned. Not only can large customers order supplies like ink and toner directly from manufacturers, but W.B. Mason is one of only a "host" of alternatives to the big box stores, the FTC said.
Nonoffice superstore competitors "are growing in number and strength and have demonstrated the ability to win large multiregional and national customer contracts," according to the commission's 2013 OfficeMax statement.
Stutz can at least take heart that the FTC emphasized that its findings applied only to the facts before it in the OfficeMax acquisition and that they can't necessarily be applied to future transactions. To show that the effect on competition is different this time around, AAI is calling on the FTC to rely on economic models to predict whether the merger will lead to a price increase for business customers' office products.
As the FTC did in its successful challenge to Sysco's (SYY) - Get Report attempt to acquire rival food distributorUS Foods, Stutz called on the commission to employ the so-called SSNIP test to show that large corporate customers will be unable to switch suppliers in response to a small but significant nontransitory increase in price. 
Other channels such as regional suppliers like W.B. Mason or Internet giants like Amazon will be ineffective alternatives, AAI said, because they do not purchase inventory in sufficient quantities to obtain the volume discounts enjoyed by the office superstores.
"To ask W.B. Mason to take on the amount of assets that would need to be divested and integrate them seamlessly seems like a fairy tale," Stutz said.
Amazon is unlikely to operate an office supply business itself but will simply make its platform available to third-party vendors that don't have the wherewithal to negotiate deep discount deals with office product suppliers, he said.
Executives of the merging companies have countered that their large national customers divide their business among numerous suppliers and that there is no single source that their big clients rely on.
"If you look at all office supplies customers, they routinely split their purchase of the office supplies... and they do that among many different suppliers," Staples' chairman and CEO Ron Sargent said during his company's second-quarter earnings call on Aug. 19. "Office supply customers are willing to consider smaller competitors because office supplies are not really a core input of their business."
In late summer, the FTC reportedly sought sworn statements from participants in the office supply business about the deal's impact on their business. Corporate supply contracts between suppliers and their largest customers were a major focus of the questions.
Barlow saw the move as a positive sign for the deal, given that it came so late in the antitrust review. "It seems like they should have known a lot of this by now," he said. "That they are seeking the information at the end suggests that the FTC hasn't received that many complaints, otherwise they would have had a bunch of that stuff already and wouldn't need to get it themselves."
Still, the notion that the deal is likely to be challenged is one the market can't shake. Said one adviser who's telling arbitrage clients that the deal has a 40% chance of winning FTC approval: "Staples and Office Depot have a very high market share of Fortune 100 companies, 80% or so. Unless there are signs smaller players are making inroads, that's going to be problematic."