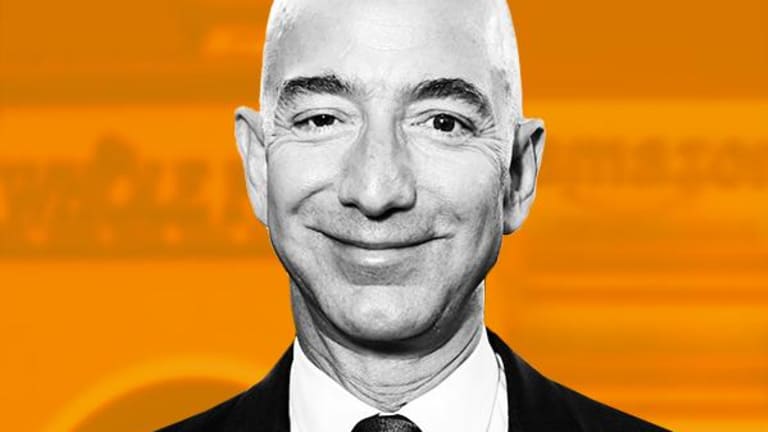 Staples Acquisition Could Open Door for Office Depot Deal With Amazon
Staples Inc.'s sale to private equity firm Sycamore Partners LLC could open up deal doors for Office Depot Inc., including a potential takeover by Amazon.
Staples Inc.'s (SPLS) sale to private equity firm Sycamore Partners LLC could open up deal doors for Office Depot Inc. (ODP) - Get Free Report after the office supply rivals' failed merger in 2016.
Staples on Wednesday announced that it would be acquired by Sycamore Partners in a deal valued at $6.9 billion. The sale comes a year after a federal judge blocked its proposed $6.3 billion with Office Depot, citing antitrust concerns. While it is unlikely regulators would warm up to a renewed push to combine the pair under a private equity umbrella, the transaction could potentially clear the way for other M&A activity for Office Depot, including, perhaps, a takeover by Amazon.com Inc. (AMZN) - Get Free Report .
Amazon's $13.7 billion deal to acquire Whole Foods Market Inc. (WFM) in June has spurred speculation about what other targets the e-commerce giant could have in mind. The company has cash on the balance sheet, and it has been growing its B2B Amazon Business platform since 2015. In fact, Staples and Office Depot argued Amazon's business site would ensure competition when they were pushing for their merger in 2016.
"Staples was arguing that Amazon Business was a new entrant and that would expand and compete against its business-to-business offerings. The [Federal Trade Commission] at the time didn't agree," said Andre Barlow, an antitrust lawyer at Doyle, Barlow & Mazard PLLC. "I think part of that was that Amazon was such a new entrant into the space."
If Amazon and Office Depot were to attempt such a deal now, the question would be how the business landscape has evolved since the failed Staples deal and how the FTC approach it. In other words, has Amazon Business become more competitive with Office Depot and Staples than it was deemed a year ago, and if so, would antitrust regulators be worried about it?
"Obviously, if the FTC is consistent in how they approach the analysis, the question would be whether the facts have changed," he said.
The FTC sought to block the Staples-Office Depot deal not because of their sales to everyday customers but instead because they were the only two companies with the scale to serve business customers nationwide.
"If Amazon wanted to acquire [Office Depot], I suspect attention would focus on other relevant markets beyond just large contract customers," said Randy Stutz, associate general counsel at the American Antitrust Institute. "It would likely involve a much broader and more complicated analysis."
Morris Bloom, an antitrust attorney at Axinn, Veltrop & Harkrider LLP and former manager at the FTC's Merger II division, also anticipated an Amazon-Office Depot deal would face scrutiny. "The FTC would say Amazon is a player and is soon to be a bigger player in supplying office supplies to large corporate customers, and we should investigate whether having the combined Office Depot-Amazon and Staples as the only primary players is sufficient competition in that channel," he said.
Regulators could also make the argument Amazon should grow organically instead of expand by acquisition.
A party switch at the White House can lead to a dramatic change in regulators' aggressiveness in challenging mergers, and there has been some hope that President Donald Trump, who prides himself on his dealmaking prowess and business acumen, might appoint regulators who take a laxer attitude towards enforcement.
But the failed Walgreen Boots Alliance Inc. (WBA) - Get Free Report -Rite Aid Corp. (RAD) - Get Free Report deal could be a sign antitrust under Trump won't be smooth sailing, and Makah Delrahim, his pick to head the Justice Department's antitrust division, is regarded as a traditional figure. The two commissioners currently at the FTC both voted to block the Staples-Office Depot deal.
"With different commissioners, you may get a different answer," Barlow said.
There are currently just two FTC commissioners instead of the normal five-Acting Chairman Maureen Ohlhausen, a Republican who was sworn in as a commissioner in 2012, and Commissioner Terrell McSweeney, a Democrat sworn in in 2014. Trump has three spots to fill and will have a fourth when McSweeney's term ends in September.
"This is an unusual situation," said Tom Campbell, professor of economics and law at Chapman University in Orange, Calif., and former director of the FTC's Bureau of Competition. A president usually cannot change the FTC within two years of an administration, but President Trump will indeed have that opportunity."
But the president has made no secret of his animus for Amazon and its founder, Jeff Bezos. He attacked the Seattle-based company on Twitter just this week for its tax practices and has accused the company of having a "huge antitrust problem" in the past.
"Amazon is staffing up for an antitrust review of the [Whole Foods] deal," Barlow said. "Likely Amazon is doing this because of President Trump's past comments about Amazon having a huge antitrust problem because it controls so much."
Amazon declined to comment on any speculation regarding potential acquisitions.
To be sure, Amazon isn't the only company with which Office Depot could seek to make some sort of deal. It could seek to merge with another firm, or perhaps Sycamore Partners would seek to acquire it as well. But observers say that's unlikely‡there is no signal Sycamore would be interested, and the deal would likely run into the same problems the Staples-Office Depot merger did.
"My guess is that a private equity firm is not interested in consolidating into a monopoly position, they're looking at undervalued assets," Campbell said.
"They can't avoid the type of scrutiny that two competitors would get just by buying them separately," said Sonny Allison, corporate partner at law firm Perkins Coie LLP in Denver.
Walgreens Boots Allianceis aholding in Jim Cramer'sAction Alerts PLUS Charitable Trust Portfolio.Want to be alerted before Cramer buys or sells WBA? Learn more now.
Visit here for the latest business headlines.