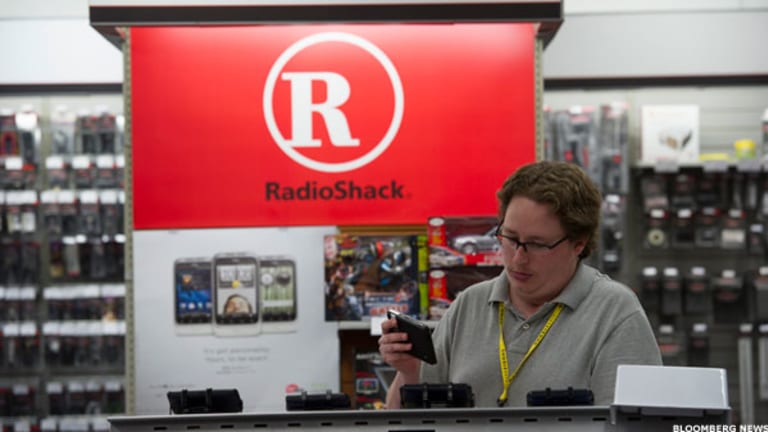 Standard General Wins RadioShack Auction With $140M Offer
The stalking-horse bidder is set to walk away with the main assets of the retailer, including 1,743 stores.
NEW YORK (The Deal) -- RadioShack (RSHCQ) has named a Standard General unit as winner of an auction for 1,743 of its stores and related assets, but a battle over its credit-bidding rights remains.
On Thursday, RadioShack filed a notice identifying General Wireless, a newly formed unit of hedge fund Standard General, as the winner of an auction that began Monday with a final offer of about $140.09 million, according to court papers. The stalking-horse bidder's most recent offer includes a credit bid of $118.91 million in prepetition debt, $8.48 million in cash and assumed liabilities. Standard General is a large RadioShack lender and shareholder.
As part of the deal, Sprint (S) - Get SENTINELONE, INC. Report will pay roughly $8.75 million under a retail agreement and an estimated $24 million related to inventory. Sprint will establish a "store within a store" model in certain RadioShack stores.
Also, AT&T Mobility, an affiliate of AT&T Inc. (T) - Get AT&T Inc. Report, will pay $16 million in connection with a settlement for termination of a prepetition agreement with RadioShack and the repurchase of unopened mobile devices. AT&T Mobility had an agreement with the debtor related to the purchase and sale of AT&T wireless devices and plans.
Previously, RadioShack valued Standard General's stalking-horse offer at $145.5 million. The debtor in court papers hinted at an explanation for the price drop by noting the winning bid excludes intellectual property and customer data, which were part of the original offer. The final bid, RadioShack said, improved the starting offer by about $17.6 million.
A liquidation bid from Hilco Merchant Resources, Gordon Brothers Retail Partners and Tiger Capital Group was tabbed as a backup bid. The amount of the offer was not listed in court papers, but RadioShack said the Standard General offer provided roughly $23 million in additional value.
RadioShack also chose the Standard General bid over a $271 million offer from Salus Capital Partners, which would have included $129 million in cash from a disgorgement of payments made to Standard General and asset-based lenders. Salus is one of RadioShack's main creditors.
The debtor said it rejected the Salus bid, as it relied on a combination of contingencies tied to the disgorgement and the Hilco liquidation bid. The debtor said Salus indicated it would not pay the $129 million portion of its bid if it were not successful in its disgorgement litigation. Salus also said it would not backstop the litigation claim, according to court papers.
RadioShack noted the proposed sale order would allow Salus to pursue the litigation and termed the prepetition lender's objection to the sale baseless.
Also, on Thursday, RadioShack named successful bidders for assets in Mexico, Latin America and the Middle East.
Office Depot de Mexico will pay $31.8 million for the Mexican assets, which include a retail operation with more than 250 stores and the exclusive rights to the RadioShack trademark in Mexico.
Regal Forest Holdings won the right to RadioShack's trademarks and franchise agreements in Central and South America for $5 million, while Delta RS for Trading will pay $1.5 million for the debtor's Middle East and North Africa trademarks. Both buyers are RadioShack franchisees looking to expand their territory, it noted.
Chief Judge Brendan Linehan Shannon of the U.S. Bankruptcy Court for the District of Delaware in Wilmington was set to consider the sales at a Thursday hearing. At the same hearing, he was set to weigh Salus' motion for an order limiting the credit-bidding rights of Standard General and its fellow hedge funds.
The Needham, Mass., lender on March 18 filed a motion seeking to enforce a prepetition intercreditor agreement between it and the asset-based lenders (ABL) that would restrict their credit-bidding rights to no more than $111 million owed on outstanding term and revolving loans.
Salus also filed an adversary complaint with the court March 17, seeking the disgorgement from the ABL lenders, as well as rulings on their claims.
Salus, the agent for the retailer's prepetition term lenders, seeks to significantly restrict the credit-bidding rights of Standard General and other hedge funds that provided the debtor's asset-based credit facility and now stand to acquire a large part of RadioShack's operations. Salus also wants the asset-based lenders to disgorge and pay the term lenders some $129 million they were repaid on the ABL facility, as Salus alleged its $250 million term loan is senior to the ABL lenders' converted term loan.
Specifically, Salus alleged the ABL lenders are entitled only to credit-bid $50 million owed on a term loan and $61 million owed on a letter of credit facility pursuant to a December 2013 intercreditor agreement. It asserted the ABL lenders should not be permitted to credit-bid any part of $275 million in ABL revolving loan commitments that were converted into term loans in October.
RadioShack filed for Chapter 11 on Feb. 5, days after it announced the receipt of a second default notice from Salus. On March 6, the debtor won final approval of a $285.33 million debtor-in-possession facility from the ABL lenders.
RadioShack began store closing sales shortly after filing for bankruptcy as part of a three-phase liquidation of inventory. The first phase liquidated and closed 162 stores by Feb. 17. The second phase liquidated 986 stores with a target closure date of Feb. 28. The third phase of its store closure program will liquidate 636 stores that are scheduled to close by Tuesday.
RadioShack has enlisted a consortium of Hilco, Gordon Brothers and Tiger Capitalto liquidate thousands of stores not included in the Standard General deal.
The debtor traces its roots to shoe part supplier Hinckley-Tandy Leather Co., founded in 1919, and mail-order radio parts supplier RadioShack, founded two years later. Tandy acquired RadioShack in 1963, and the company took its current name in 2000.
RadioShack has more than 21,000 employees.
In its petition, the company reported $1.2 billion in assets and $1.39 billion in liabilities as of Nov. 1. A first-day declaration said it has about $30 million in unpaid lease obligations.
Read more from
: