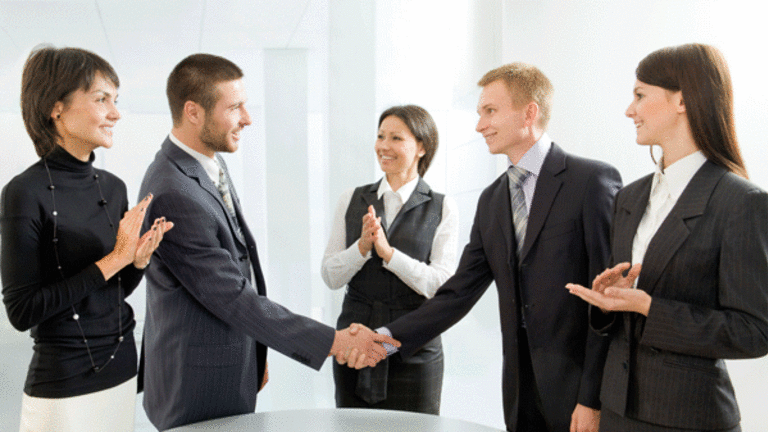 Standard General Rides to American Apparel's Rescue
American Apparel said it was pulling back from the brink of defaulting on its debt, thanks to $25 million in immediate financial support from New York hedge fund Standard General.
NEW YORK (The Deal) -- American Apparel (APP) - Get AppLovin Corp. Class A Report announced late Wednesday that it was pulling back from the brink of defaulting on its debt, with $25 million in immediate financial support from New York hedge fund Standard General LP.
The Los Angeles-based retailer, known for its "Made in the USA" sweatshop-free clothing, has reached a standstill and support agreement with Standard General and the company's founder Dov Charney, who combined hold a nearly 44% stake in the company.
Charney was also removed as chairman and replaced by co-chairmen Allan Mayer and David Danziger. Mayer and Danziger will continue to lead the company's board.
"This truly marks the beginning of an important new chapter in the American Apparel story," said Mayer in a statement. "With the support of Standard General, we are confident the company will finally be able to realize its true potential."

WATCH: More market update videos on TheStreet TV
In a phone interview Thursday, Mayer said that the terms of the $25 million investment are still being worked out, but that it could take the form of debt or preferred stock. He said they hoped to have the details finalized in the next two days and that the money would give the company a "nice cushion."
Under the agreement, the company's board of directors will be reconstructed, and five of the current seven broad members will be replaced. This includes Charney, who will step down voluntarily.
Standard General will have the right to select three new directors on its own, and the remaining two directors jointly with American Apparel's current board of directors. Four of the board members will be independent, the company said.
Charney and Standard General also agreed to certain standstill and voting limitations through the company's 2015 annual meeting. This prohibits both Standard General and Charney from acquiring any additional shares in the company and limits their vote to no more than one-third of American Apparel's shares.
Frantic negotiations over the fate of American Apparel began when the board said in mid-June it had fired its controversial president and CEO after an ongoing investigation into his alleged misconduct. The company suspended Charney from his position and appointed John Luttrell as interim CEO until it could find a permanent replacement. Charney's termination was subject to a 30-day cure period.
Through the standstill agreement, an independent board committee will be formed to oversee the company's continuing investigation into the alleged misconduct of Charney.
After it suspended its CEO the company hired Peter J. Solomon Co. as its financial and strategic advisor. It adopted a poison pill in response to Charney disclosing on June 27 he had formed a pact with Standard General, for the event-driven firm to buy 10% of the retailer's shares and then loan Charney the money to buy that stake from the firm.
Mayer said that the poison pill, which was specifically crafted for the Standard/Charney situation, will technically evaporate, as it is no longer needed.
While the company didn't disclose what it found in its investigation and Mayer declined to comment on the specifics, Charney has been connected to several scandals, including sexual harassment lawsuits that were later thrown out of court, complaints about the company's racy ads and accusations that he engaged in illegal labor practices.
However, Charney planned to sue the board for its failure to disclose the fact that it was investigating him and planning to fire him.
In the agreement announced Wednesday, Charney will serve as a strategic consultant, until the investigation into him is completed. During this time, Charney will receive his base salary, filings with the Securities and Exchange Commission said.
"Based on the findings of the investigation, the committee will determine if it is appropriate for Mr. Charney to serve as CEO or an officer or employee of American Apparel," the company's statement said.
Earlier this week, lender Lion/Hollywood LLC declared an event of default on the $10 million loan it provided to the company, citing the boards termination of Charney. American Apparel contested the default.
A default on the Lion loan, which the company owed $9.9 million on of June 30, could trigger a cross-default on the almost $30 million drawn on a $50 million revolving credit facility provided by Capital One Financial Corp.
Making matters worse, an acceleration of the maturity of the revolving credit facility would constitute a default under American Apparel's $206 million outstanding in secured first-lien 13% notes due April 15, 2020.
American Apparel intends to use the new $25 million investment from Standard General to repay its debt with Lion/Hollywood and may pay down other debt. It would also use the funds towards its operating expenses, Mayer said Thursday.
"American Apparel's highly-skilled workforce and trendsetting fashions are widely admired," said Standard General partner David Glazek. "We believe a fresh injection of capital combined with a shared commitment to best practices for governance, ethics, and corporate citizenship will enable American Apparel to achieve its full potential."
The Lion loan is priced at 20% and was set to mature on Oct. 4, 2018.
According to Mayer, the new $25 million in capital will be less expensive than the Lion debt.
According to SEC filings, the company was advised by Jeffrey H. Cohen and David C. Eisman of Skadden, Arps, Slate, Meagher & Flom LLP and Standard General was advised by Jonathan E. Levitsky of Debevoise & Plimpton LLP and Jeffrey C. Soza at Glaser, Weil, Fink, Howard, Avchen & Shapiro LLP.
American Apparel was also advised by Jones Day.
Charney couldn't be reached for comment.