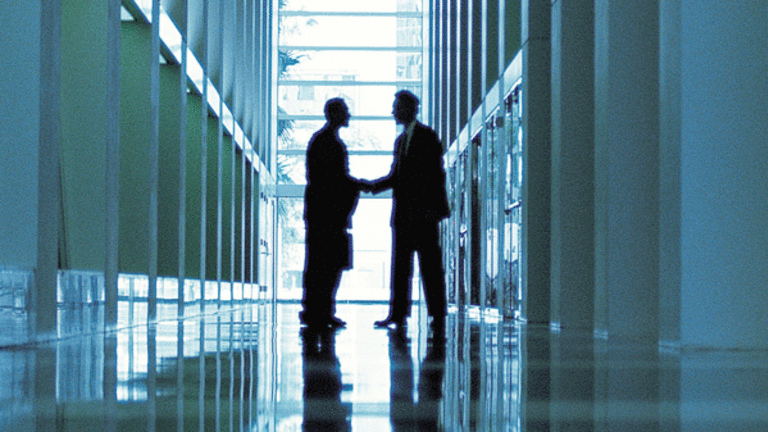 NEW YORK (The Deal) -- St. Jude Medical's (STJ) recent $3.4 billion agreement to buy left ventricular assist device company Thoratec (THOR) - Get Synthorx, Inc. Report may resuscitate the M&A spirit in the heart care device sector.
While 2014 was a big year for medical device mergers, this year things have slowed down, at least for the very biggest deals. Some of last year's deals include Medtronic's (MDT) - Get Medtronic Plc (MDT) Report $43 billion merger with Covidien, Zimmer Holdings (ZMH) buying Biomet for $13.4 billion and Becton Dickinson's (BDX) - Get Becton, Dickinson and Company Report $12.2 billion deal for CareFusion.
But with Thoratec, medtech may be getting read to steal the limelight away from the pharmaceutical and health insurer sectors that have gotten all the attention -- and the flow of deal money -- this year. Especially the cardiac industry, according to Diana Lee, a senior credit officer at Moody's Investors Service.
"Cardiovascular stenting and cardiac rhythm management are mature markets with lower growth and players are spending a lot of time looking at higher growth potential, like aortic valve markets," Lee said in an interview shortly after the Thoratec deal was announced.
Lee said that companies like Thoratec competitor HeartWare International (HTWR) and Edwards Lifesciences (EW) - Get Edwards Lifesciences Corporation Report may be getting some attention from players looking to beef up their cardiac offerings or expand into the area.
Jason Mills, managing director of equity research for medical devices at Canaccord Genuity, said in a recent interview that he does not expect a superior bid for Thoratec (there is a 30-day "go shop" period in the agreement). While Medtronic and Boston Scientific (BSX) - Get Boston Scientific Corporation Report might have been other logical acquirers, with the St. Jude's deal already in place at a fairly large premium, Mills said that Heartware was a more likely target.
"Given that there is another asset out there in HeartWare, I would presume that they would like do their due diligence on HeartWare," said Mills.
HeartWare said April 30 that first-quarter revenue was up 5% to $70 million compared to the same time the year before. The company trimmed its net loss for the quarter to $14.5 million, or 85 cents per share, compared to a net loss of $19.4 million, or $1.15 per share for the first quarter of 2014. The Framingham, Mass.-based company has a market cap of $1.4 billion and is due to report second-quarter results on Thursday.

When it comes to the ventricle assist device field in general, Lee noted, many of the major cardiac players, like Medtronic, Abbott Laboratories (ABT) - Get Abbott Laboratories Report and Boston Scientific, don't have a big presence. Abbott, especially, has said that it will be looking for M&A opportunities in medtech.
Its HeartWare ventricular assist system obtained Food and Drug Administration approval in November 2012 and has been used as a bridge to transplant therapy for patients with advanced heart failure.
HeartWare did not respond to requests for comment.
Irvine, Calif.-based Edwards, with its $17 billion market cap, has better top-line growth than many of its peers, Mills said, which could draw deal interest. It also has a type of transcatheter mitral valve, not yet approved commercially, which could add to its sales appeal.
Among its many offerings, Edwards is involved in heart valve therapies, minimal incision valve surgery, annuloplasty and other cardiac and critical care medicine areas. The company announced earlier this month that it would acquire CardiAQ Valve Technologies, a private company that develops the transcatheter mitral valve replacement system, for up to $400 million.
Edwards beat EPS and sale estimates in its second quarter report released Tuesday, reporting net income of $112.7 million, or $1.02 per diluted share, on net sales of $616.8 million. The company pointed to its transcatheter heart values as posting "impressive growth," according to a statement from chairman and CEO Michael Mussallem.
"It's a large opportunity. Given their position and early leadership position, it would be a large acquisition but their size doesn't preclude them from being a target," said Mills, naming Abbott Laboratoriesand Johnson & Johnson (JNJ) - Get Johnson & Johnson (JNJ) Report as companies that both might be interested and large enough to float an acquisition of that size.
Edwards declined to comment.
Mills also said it's not just cardiac care within the medical device sector that is seeing an uptick. He noted that medical device M&A is likely to see increased activity as buyers seek cost synergies and put capital to work in lieu of taking out debt to buy back stock.
Within cardiovascular medtech, areas such as structural heart, atrial fibrillation and peripheral artery disease may attract attention of larger players looking for either assets or whole companies.
Read more from: