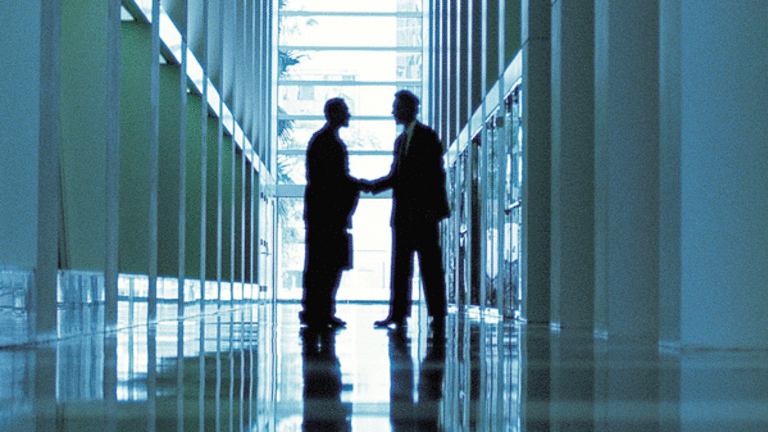 SPX Deal a Stealth Bet on U.S. Auto Industry
SPX's sale of its solutions and services division may be a strong sign for the auto's business
NEW YORK (
) - Engineering giant
SPX Corp.
(SPW)
may not garner the attention of auto manufacturers like
General Motors
(GM) - Get Report
and
Ford
(F) - Get Report
, but a Tuesday announcement that the company sold its "Service Solutions" division to German tools giant
Robert Bosch
may be a strong sign for the auto industry.
Since the financial crisis and a slowdown in car sales put two of Detroit's "big three" carmakers into bankruptcy and parts suppliers like
Lear
(LEA) - Get Report
,
Visteon
(VC) - Get Report
and
Delphi Automotive
(DLPH) - Get Report
in similar straits, few non-bankruptcy or government assisted deals have emerged. Bosch's $1.15 billion buy of SPX's service solutions division may be a vote of confidence in the U.S. autos industry, just as GM regains the global sales lead and Ford and Chrysler record double digit sales growth in 2011.
Bosch is cutting the largest ever automotive aftermarket deal by taking control of Charlotte, N.C.-based SPX's service solutions vehicle repair, diagnostics and tools businesses that are used by U.S. auto dealers and repair shops to fix passenger cars, trucks and light commercial vehicles. While SPX is an industrial engineering giant, its Warren, M.I. -located automotive-tied solutions operations are a key, if unheralded piece of the U.S. auto industry that's headquartered just down the road in Detroit.
"Acquiring SPX Service Solutions will help make Bosch one of the leading providers of diagnostic solutions," said Robert Hanser, a Bosch executive in a statement. "The acquisition will allow us to considerably expand our market presence in the diagnostics business, particularly in North America," added Hanser. Overall, the service solutions business earned $920 million in 2011 and has 2,700 employees spread across the U.S., Germany, France, China and thirteen other countries.
The deal is worth noting as an indicator of the U.S. auto industry because of its valuation, market opportunity and size.
"We believe the deal is a strategic home run. The timing appears optimal (midway through cycle recovery). The sale multiple appears highly favorable," writes Bank of America Merrill Lynch Analyst John Inch. At 12.7 times earnings before interest taxes depreciation and amortization, Bank of America sees the sale value as more than double the current 5.9X EBITDA premium that investors give the overall North American automotive suppliers market. For SPX Corp, the $1.15 billion in cash proceeds will help the company pay down $350 million in debt, while focusing on its industrial Flow Tech division.
Calling the deal a "major positive," Morgan Stanley analyst Nigel Coe added, "the timing is right given the strong recovery in auto production since 2009." In 2011, General Motors passed
Toyota
(TM) - Get Report
as the top selling global automaker, reclaiming the top spot less than three years after its Treasury assisted bankruptcy. Meanwhile, Ford saw its branded auto sales grow 17% in 2011 and Chrysler saw 26% auto 2011 sales growth, according to year end results. Overall, auto sales rose 10% in 2011.
Nevertheless, U.S. auto stocks suffered in 2011 on concerns of an emerging market slowdown, profit margins and the impacts of the worsening European debt crisis. GM and Ford shares both fell over 35% in 2011.
SPX shares rose nearly 4% to $68.92, adding to double digit 2012 gains. The company's shares fell over 15% in 2011, after an acquisition spree burdened its balance sheets and its disparate operations were discounted by investors.
For more on flow technology companies, see a portfolio of
water purification and desalination stocks
. In its fourth quarter earnings due on Feb 16., SPX is expected to earn $1.77 a share, according to consensus estimates from
. The company has an average price target of $73.99, according to estimates compiled by
Bloomberg
prior to the deal announcement.
While Bosch may be entering the auto's servicing business just as vehicle sales rebound in the U.S. and continue to grow globally, it is also a bet on a continued a trend of engineering complexity - and the diagnostic needs in new car lines.
"It's a secular bet on the growing electronic complexity of vehicles, a trend being accentuated by the growth in electrics and hybrids," says Jeff Sprague of Vertical Research Partners about the importance of the deal.
Within Bosch's forecasted $70 billion in 2011 revenue and nearly 300,000 employees, the company has significant auto parts businesses like lights, brakes and spark plugs, to go with its Automotive Aftermarket division that complements the SPX businesses it's acquiring.
The rarity of auto's related deals since the near collapse of Detroit also makes Bosch's move a positive sign for servicers of the auto's industry in the U.S. and globally. The Stuttgart-based company also has a big auto's presence within its powerhouse engineering operations.
Meanwhile, at $1.15 billion, Bosch's purchase is much larger than a $725 million cash deal by Brazil's
Iochpe-Maxion
to buy the world's largest auto's wheel maker
Hayes Lemmerz
in October and it rivals TPG Capital's $1.3 billion purchase of
American Tire
in April 2010 as the largest car parts deal since Detroit nearly folded. Hayes Lemmerz developed the wheels for Ford's "Model T" in 1908, while American Tire has a U.S. auto's history that traces back to 1935.
SPX's services spin is also one of only five billion dollar plus private U.S. auto industry related deals cut since the crisis. Other deals include Geely Automotive's $1.8 billion purchase of
Volvo
and Tata Motors's $2.3 billion of Land Rover and Jaguar, both purchases of previously Ford-owned brands.
To be seen is whether the deal will revive valuations among U.S. auto's manufacturing and parts companies, or if it will lead to further acquisitions. Watch for other similar divestitures or company takeout's as a sign that some are preparing for a continued industry recovery.
-- Written by Antoine Gara in New York