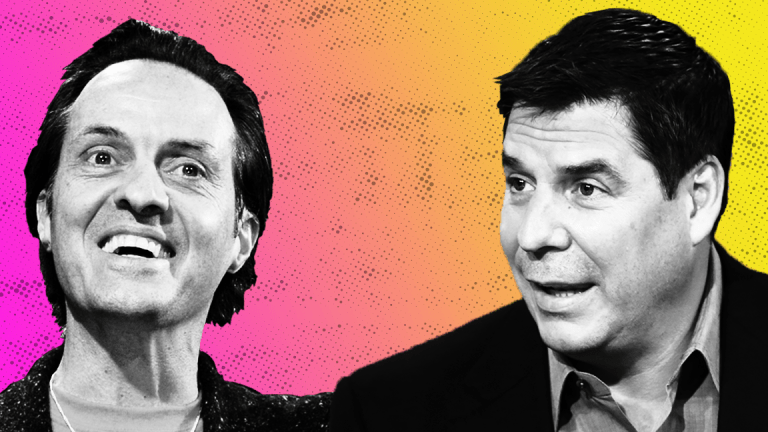 Sprint, T-Mobile Might Have to Do More Than Make Promises to Get Deal Approved
The Department of Justice has shown a preference for structural concessions, meaning divestitures, rather than behavioral remedies, such as agreeing to wholesale deals or concessions to rivals.
If Sprint Corp. (S) - Get SentinelOne Inc. Class A Report and T-Mobile U.S. Inc. (TMUS) - Get T-Mobile US Inc. Report can agree on how to divide ownership of a merged company, the telecoms would still face what is arguably a tougher challenge -- winning over a Trump administration that has taken an aggressive stance on antitrust.
The Justice suit to block AT&T Inc.'s (T) - Get AT&T Inc. Report acquisition of Time Warner Inc. (TWX) can be attributed at least in part to politics, as Trump has made no secret of his disdain for CNN. There are other signs of the administration's aggressiveness on antitrust, however. In December, the DOJ pushed Parker-Hannifin to divest a business it already acquired from Clarcor Inc. in February 2017. 
The government is increasingly looking for structural fixes to antitrust concerns -- i.e. divestitures of assets -- rather than behavioral remedies, which are essentially promises of good behavior such as providing networks or services to competitors for a window of time. 
"For probably the last 18 to 24 months, certainly under the Obama administration and the start of the Trump administration, the DOJ and FTC have stated a preference for structural remedies, and signaled that behavioral remedies are not going to be acceptable," Ropes & Gray LLP lawyer Paul Scrivano.
Justice clearly stated its preference for structural relief in the case of AT&T's purchase of Time Warner. "The United States seeks structural relief for the same reason that structural relief 'has been called the most important of antitrust remedies'-'[I]t is simple, relatively easy to administer, and sure,'" the government argued in a pre-trial briefing. "In contrast, behavioral remedies are usually short-lived, often difficult to administer and risky."
Structural remedies are inarguably simpler. "You take 'x' amount of assets, customers and spectrum, and divest it," Scrivano said. "That's a lot easier from a government perspective. It's a lot cleaner."
Behavioral terms, on the other hand, can force the Justice antitrust division to serve as a traffic cop, monitoring compliance with terms of a settlement for years after the close of a deal. "Part of it is a little bit of unwillingness to have the government in that role," Scravino said. "Part of it is there were a number of deals where behavioral remedies were agreed to and the efficacy was questionable."
Action Alerts PLUS holding Comcast Corp.'s (CMCSA) - Get Comcast Corporation Class A Common Stock Report 2011 purchase of NBC is a high-profile example of a deal that passed with behavioral concessions. Senator Richard Blumenthal D-CT asked DOJ antitrust boss Makan Delrahim to look at the deal's impact on competitors when deal conditions expire later this year. 
Sprint and T-Mobile would likely face an uphill battle in talks with the government, given the trends in wireless over the last two or more years.
Competition has increased and prices have decreased with four competitors, in part because T-Mobile has competed aggressively, forcing its competitors to also offer unlimited plans and other features or services. The merger partners would be asking Justice to approve a consolidation of four wireless carriers to three.
Sprint declined to comment on talks and T-Mobile did not immediately reply to a query.
If the telecoms are really interested in merging, they have a clear incentive to move the talks along. The Federal Communications Commission is planning in November to auction off 28 Gigahertz wireless spectrum that is geared towards 5G wireless service.
"[T]hat's not long away when you think of it, and companies that participate in the spectrum auction are barred from merger discussions during the pendency of the auction," Scrivano said. "There are not endless amounts of time here. That puts more pressure on signing a deal soon, and in any event before the auction in November."
Before You Go
Of course T-Mobile and Sprint have reportedly restarted merger talks, joining forces to take on Verizon (VZ) - Get Verizon Communications Inc. Report and AT&T (T) - Get AT&T Inc. Report makes perfect sense.
"Nothing ends, right," T-Mobile CEO John Legere exclusively told TheStreet several weeks ago when asked (watch below) if deal talks between the two telecom giants would resume.
Legere went onto explain the logic behind getting a deal done.
"Rumors of talks between us and Sprint were driven by the fact this is a scale industry. There is massive capital needed for 5G technology deployment and then we said all content is going to the internet and all internet is going mobile which is making access players, cable players, content players and wireless players figure out to do what consumers want. Customers want you [industry] to get your act together and do whatever you have to do because I want to pick my phone up and see what I want, when I want it. That will drive all those potential ideas of consolidation, they're all going to happen."
Editor's note: This article was originally published by The Deal, a sister publication of TheStreet that offers sophisticated insight and analysis on all types of deals, from inception to integration. Click here for a free trial.