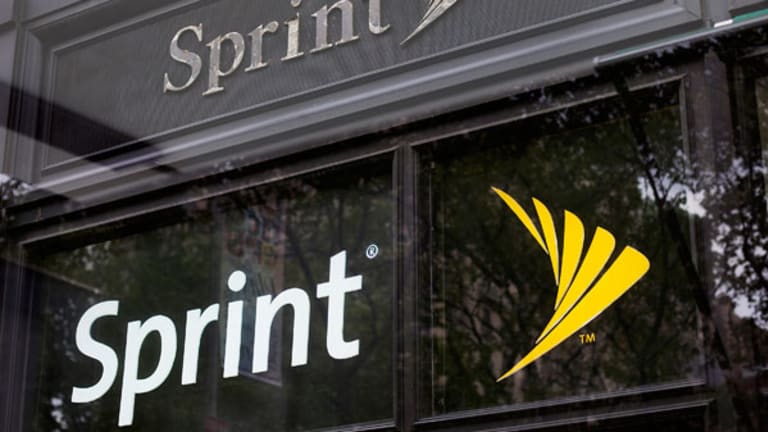 Sprint Takes Game 7 Lead in Dish Battle
Sprint and SoftBank may beat a game-clock on wireless merger efforts.
Updated from 9:55 a.m. ET to reflect afternoon share prices and aditional information about Sprint merger process
.
NEW YORK (
) --
Dish Network
(DISH) - Get DISH Network Corporation Class A Report
is abandoning a
to buy
Sprint
(S) - Get SENTINELONE, INC. Report
after Japanese telecom
SoftBank
boosted its bid for the wireless carrier earlier in June and
won the company's full board support
.
Sprint and Dish, however, are poised for one final head-to-head battle as a realignment of the wireless industry takes hold.
After the market close on Tuesday, Dish Network said it terminated due diligence efforts on a prospective takeover of Sprint, citing "extreme deal protections" that made it impractical for the satellite TV provider to submit a revised offer for the company ahead of a June 18 deadline.
Dish faced increasing roadblocks such as a rising termination fee and Sprint's adoption of a shareholder rights plan, after a special committee run by the company's board supported SoftBank's merger efforts and said Dish had been unable to submit a fully-financed offer for the telecom.
Dish's withdrawal from the sweepstakes for Sprint indicates a cooling in what has been one of the most hotly contested merger efforts in recent years.
SoftBank and Sprint now appear increasingly likely to merge in a $21.6 billion deal as a
Federal Communication Commission
guideline on the time it takes to get a deal done looms.
Still, Charlie Ergen-chaired Dish isn't abandoning a strategy to enter the U.S. wireless market by leveraging the company's TV business and spectrum assets to bring a new nationwide "triple play" service bundle to market.
Sprint and Dish continue to butt heads over a minority stake in fledgling wireless broadband service
Clearwire
(CLWR)
. Meanwhile, the company still has an ability to come in with an offer for Sprint, even if investors will vote on the SoftBank transaction later in June.
Currently, Clearwire and a special committee run by its board of directors recommends shareholders approve Dish's $4.40 a share tender offer for the company's outstanding publicly traded shares. Sprint, already a majority owner of Clearwire, is offering $3.40 a share for the rest of Clearwire, in an effort to boost the company's overall wireless spectrum.
On Monday, Sprint sued both Dish and Clearwire and called
for an injunction on Dish's $4.40 a share tender
, claiming the proposal infringes on its rights as an initial investor in Clearwire in 2008. The case is now headed for a Delaware Chancery court, where many M&A battles are resolved.
While many analysts initially questioned whether Dish's $4.40 a share tender would pass muster, Clearwire's decision to recommend the proposal to shareholders earlier in June marked a dramatic challenge to Sprint's consolidation plans.
Having nearly sealed its merger efforts with SoftBank, Sprint now appears primed to fight for Clearwire. The court case against Dish could be Sprint's last major battle in a multi-year effort to recapitalize and build the wireless network it needs to be a viable third player in the industry.
Proxy filings show a 12-month to 24-month consolidation dance between carriers such as Sprint, MetroPCS,
T-Mobile
(TMUS) - Get T-Mobile US, Inc. Report
, Clearwire,
Leap Wireless
(LEAP)
and upstarts such as Dish Network.
Through merger efforts, carriers such Sprint and T-Mobile appear to believe they have something to play for in the U.S. wireless market, even after years of market share losses to
AT&T
and
Verizon
(VZ) - Get Verizon Communications Inc. Report
as customers took up high-network-intensity smartphones.
The question remains whether the likes of Sprint and T-Mobile can use low-cost, unlimited and subsidized smartphone plans to win back subscribers, as the market matures.
Lingering issues like Sprint's attempt to take full control of Clearwire could be a crucial.
Were courts to rule in favor of Dish's $4.40 a share proposal, Clearwire's share price could continue to rise, undermining Sprint's finances in a takeover. Were Dish to win a minority stake, it might challenge Sprint's ability to redeploy Clearwire's valuable spectrum in its multi-billion dollar "Network Vision" service upgrade.
Dish's retreat as an insurgent in SoftBank's efforts to takeover Sprint, meanwhile doesn't signal an end to the company's efforts to enter the wireless market.
"We will consider our options with respect to Sprint, and focus our efforts and resources on completing the Clearwire tender offer," the company said in a Tuesday statement.
Even after Sprint, Dish and Clearwire resolve await a final judgment in a Delaware court, Charlie Ergen will have many options to steer Dish into the wireless market. Those include an acquisition of
T-Mobile
, network access agreements with carriers such as Sprint and spectrum sales to telecoms as large as AT&T, according to industry analysts.
Sprint shares were falling over 3% to $7.07 in Wednesday afternoon trading on Dish's withdrawal from the company's merger efforts.
Dish shares were gaining nearly 3% to $40.22. Clearwire shares gained 1 cent to $4.57, well above Sprint and Dish's proposed offers.
-- Written by Antoine Gara in New York