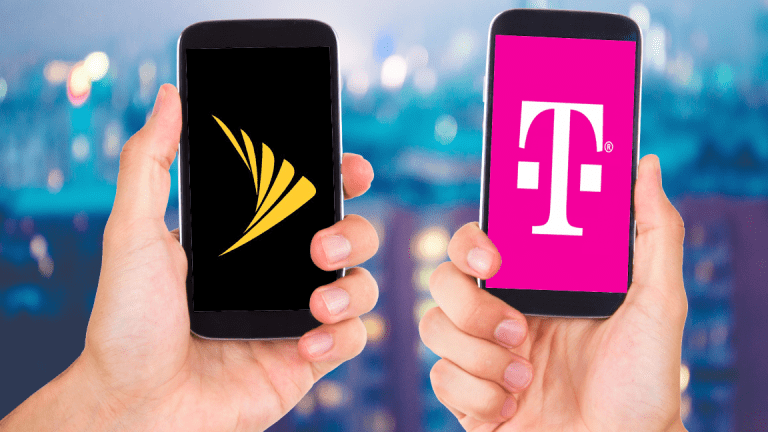 Sprint T-Mobile Merger Will Have to Contend With This Wonky Number the DOJ Uses
Merger buzz has focused attention on the Herfindahl-Hirschman Index, a measure of market concentration used by regulators.
The anticipation that Sprint (S) and T-Mobile (TMUS) will finally reach a merger agreement has focused attention to the Herfindahl-Hirschman Index (HHI), the intimidatingly-named guideline that the Department of Justice uses to measure market concentration.
Back in 2011, the Obama Department of Justice cited the Index in its lawsuit seeking to to block the merger of AT&T (T) and T-Mobile. While the HHI currently suggests the wireless industry is highly concentrated, regulators do have some flexibility to consider other things when they look at deals. 
"Remember what it is and what it isn't," said Evercore ISI Senior Political Strategist Terry Haines said of the HHI. "It's a guideline. It's not a law." Regulators can consider factors such as the relative strength of market leaders AT&T and Verizon (VZ) , and Sprint and T-Mobile could also offer concessions to the government to ease concerns. 
The Department of Justice describes the equation it uses to calculate market share on its web site thusly: 
"The HHI is calculated by squaring the market share of each firm competing in the market and then summing the resulting numbers. For example, for a market consisting of four firms with shares of 30, 30, 20, and 20 percent, the HHI is 2,600 (302 + 302 + 202 + 202 = 2,600)."
A higher concentration will result in a larger total score, since those numbers are being squared. According to the DOJ, a score above 2,500 or higher reflects a highly concentrated market. 
In the Obama Justice Department's lawsuit to block the merger of AT&T and T-Mobile back in 2011, the government noted that the merger of the two carriers would have pushed the HHI above 2,500 in 96 of the top 100 markets in the nation. And on a nationwide market share basis, HHI would exceed 3,100.
As anticipation of a merger between Sprint and T-Mobile grew over the summer, Craig Moffett of MoffettNathanson calculated that the wireless industry currently has an HHI score of 2,766. But following a merger of Sprint and T-Mobile, the score would be 3,252.
More of What's Trending on TheStreet:
JPMorgan CEO Jamie Dimon Attacks Bitcoin Again
Concessions by the carriers could sway that way the regulators interpret the HHI score, however, Moffett noted. For instance, Sprint and T-Mobile could offer concessions such as a "sweetheart deal" that would let cable operators resell their wireless service under their own brands, in order to make the market more competitive.
Arguably, competition could increase with a merger between Sprint and T-Mobile. If T-Mobile CEO John Legere gets more firepower through a merger with Sprint, he's not likely to ease his attacks on AT&T and Verizon, whom he has dubbed "dumb and dumber" in the past.
"Anyone who suggests that they have high conviction about whether a deal would or wouldn't be allowed is simply overconfident," Moffett wrote.
Executives for the telecoms have publicly discussed the virtues of a merger in recent months. Talks have dragged on for so long, however, that T-Mobile CFO Braxton Carter said at a September conference that they were "getting to the point of fatigue."
Sprint and T-Mobile initially dropped merger discussions in 2014 after regulators pushed back against the deal. While the two were still in talks, Assistant Attorney General for the Antitrust William Baer told The New York Times that a merger of the carriers would face greater scrutiny than the previously proposed deal between AT&T and T-Mobile.
As foreboding as the events of 2014 may be to the potential merger partners today, however, Evercore's Haines says it is important to note that the carriers did not end up making a formal proposal that regulators formally tested. "It never even actually got filed," he said. "No formal government action was taken."
It's also important to note who's in the White House now. "This administration will be both more consistent about M&A and generally friendlier to it," Haines said.