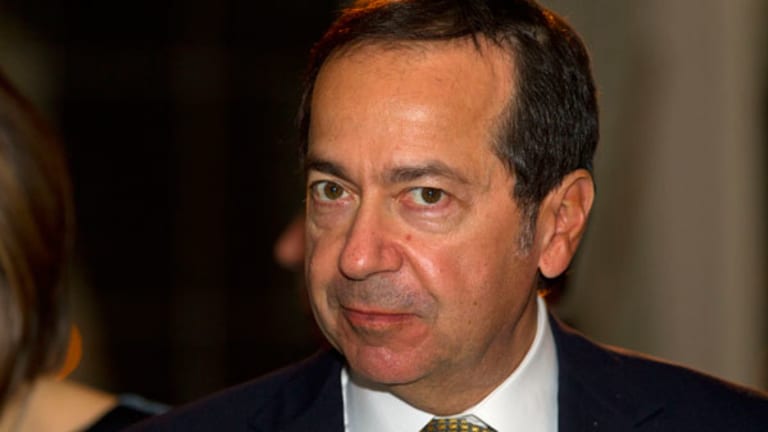 Paulson Poised for Role in Dish $25.5B Sprint Offer
John Paulson, an active shareholder in T-Mobile's merger efforts with MetroPCS, is also a top Sprint shareholder.
Updated from 1:37 p.m. ET to include Paulson & Co. comments and closing share prices
.
NEW YORK (
) - Large hedge fund investors are poised to play a big role in whether
Dish Network
(DISH) - Get DISH Network Corporation Class A Report
will succeed in its
proposal to buy telecom
Sprint
(S) - Get SentinelOne, Inc. Class A Report
, as the satellite TV giant tries to enter the wireless business.
Dish is offering $7 a share for Sprint, $4.76 in cash and about $2.24 in Dish stock, in a bid it says is superior to an
from Softbank of Japan. Masayoshi Son-run Softbank offered to make an $8 billion equity capital infusion into Sprint at $5.25 a share -- and a tender offer for 70% of company's existing shares at $7.30 - in a move it said would revitalize the carrier's finances.
With
for Sprint now on the table, vocal hedge funds may ultimately play a big role in deciding whether Dish Network or Softbank will win in efforts to take on
AT&T
and
Verizon
(VZ) - Get Verizon Communications Inc. Report
in the wireless market.
For instance,
Paulson & Co.
an active shareholder in
T-Mobile's
merger efforts with
MetroPCS
(PCS)
, is also a top Sprint shareholder.
Given Paulson's
opposition to the T-Mobile transaction
until an
lowered overall debt levels of the merged entity, the hedge fund could similarly be an arbiter of
, announced on Monday.
Dish Network said on a Monday investor call the combined company would hold
in excess of 4.7 times earnings before, interest, taxes, depreciation and amortization, which would climb over time before falling as a result of synergies.
In opposing T-Mobile's first offer for MetroPCS, Paulson & Co. balked at debt levels of 3.6 times EBITDA. According to the fund's own
from February, it projects Sprint and Softbank to hold debt levels of just 1.5 times EBITDA, in-line with AT&T and Verizon.
Paulson & Co. is an 4.24% Sprint shareholder with a stake worth about $800 million prior to Monday, according to year-end
Securities and Exchange Commission
filings.
"Paulson is a large shareholder in Sprint. We think Dish has made a compelling offer and we will be watching closely how things transpire," a spokesperson said on behalf of Paulson & Co.
Sprint was the fund's biggest new position in the fourth quarter, as the fund acquired 127.7 million shares, according to a February filing.
Meanwhile, other large Sprint shareholders also have big positions in Dish Network shares, betting the company's chairman, Charlie Ergen,
will play a hand of wireless assets flawlessly
.
Omega Advisors
, run by Leon Cooperman, counts Sprint as the hedge fund's largest stock position with a holding of 1.86% of the company's outstanding shares, according to SEC filings.
The fund, however, also is a near 2% shareholder in Dish Network, with shares worth about $130 million, prior to Monday trading.
In a brief phone interview with
TheStreet
, Cooperman wouldn't say whether he believes Dish Network or Softbank's proposal for Sprint is a superior offer, however, he did say the competing offers may make for a bidding war.
"We think Charlie Ergen is brilliant and we think
Masayoshi Son is equally brilliant," Cooperman said, referring to the chairmen of both Sprint bidders.
"We're watching things unfold... We think Charlie Ergen's rationale is quite outstanding," Cooperman added,
on a multi-year holding in Dish Network shares as the satellite operator assembled billions in
.
Englewood, Colo., based Dish will also bring significant spectrum assets to a proposed merger, in addition to millions of TV customers from the company's cash flow positive core satellite business. The company also believes a proposed offering of bundled TV, broadband and data will be a pioneering development in the industry.
"The DISH proposal clearly presents Sprint shareholders with a superior alternative to the pending SoftBank proposal," said Charlie Ergen, Chairman of Dish Network, in a Monday statement.
According to a Monday press release, Dish's proposal is a 13% premium to the value Softbank's offer.
Dish
synergies and growth opportunities with a net present value of $37 billion and expects $11 billion in cost savings as part of the merger.
"Sprint shareholders will benefit from a higher price with more cash while also creating the opportunity to participate more meaningfully in a combined DISH/Sprint with a significantly-enhanced strategic position and substantial synergies that are not attainable through the pending SoftBank proposal," said Ergen.
Dish also appears to poised to add significant debt financing to the combined company's balance sheet, according to its Monday offer. In contrast, Softbank is contributing $8 billion in cash to recapitalize Sprint in its
for the company.
Frost & Sullivan analyst Ronald Gruia projects Dish's proposal for Sprint will result in $45 billion in debt for the combined company.
"Sprint will use this as leverage to get Softbank to increase its offer, which it can do, since it has a superior balance sheet compared to Dish," Gruia wrote in an e-mail.
Overland Park, Kan.-based Sprint said its Board of Directors will evaluate Dish's proposal "carefully and consistent with its fiduciary and legal duties."
Bob Toews, a Dish spokesperson, wasn't immediately available to answer e-mailed queries about Dish's offer.
Sprint shares rose over 13.5% in Monday trading to $7.06, while Dish Network shares fell over 2% to $36.77, recovering from early losses in excess of 6%.
-- Written by Antoine Gara in New York