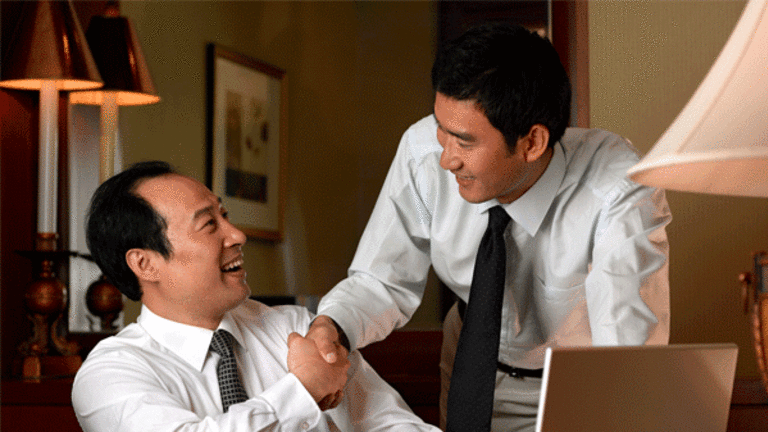 Hedge Funds Pressure SoftBank on $25.5B Dish Offer for Sprint
Hedge fund investors are poised to play a big role in deciding Sprint's fate.
Updated from 10:48 a.m ET to include SoftBank statement and afternoon share prices
.
NEW YORK (
) -- Following
Dish Network's
(DISH) - Get DISH Network Corporation Class A Report
offer to buy
Sprint
(S) - Get SENTINELONE, INC. Report
on Monday, large hedge fund investors
await a response
from
SoftBank
, which previously offered to buy the telecom.
In a brief Wednesday phone conversation, Leon Cooperman, head of
Omega Advisors
said while he sees Dish Network's proposal for Sprint as superior to SoftBank's offer, he awaits a response from the highly profitable Japan-based conglomerate.
"We think his offer is superior to Softbank," said Cooperman of Dish chairman Charlie Ergen's proposal. "We will have to see if SoftBank responds."
Omega Advisors
counts Sprint as the hedge fund's largest stock position with a holding of 1.86% of the company's outstanding shares, according to SEC filings.
The fund, however, also is a near 2% shareholder in Dish Network, with shares worth about $130 million, prior to Monday trading.
Sprint shares fell over 1.5% in Wednesday trading to $7.09 after jumping 13% on Monday following Dish's proposal. Dish Network shares fell slightly to $37.83.
Other notable hedge fund investors are also watching intently on what could turn into bidding war between Charlie Ergen of Dish and Masayoshi Son of SoftBank.
Hedge fund
Paulson & Co.
is a 4.24% Sprint shareholder with a stake worth about $800 million prior to Monday, according to year-end
Securities and Exchange Commission
filings.
Like Cooperman of Omega Advisors, the hedge fund appears to see Dish's proposal as superior, however, it also is waiting to see how competing offers materialize.
"Dish is offering more value to Sprint shareholders and also is contributing valuable spectrum, 14 million subscribers, cost synergies and revenue synergies," John Paulson said in a statement on Tuesday.
"Dish needs to firm up the financing but it's a compelling offer and Ergen seems fully committed. It will be interesting to see how the Sprint Board and Softbank respond."
SoftBank is yet to engage a seeming groundswell of support for the terms of Dish's proposal.
"SoftBank believes that the agreed terms of our transaction with Sprint offer Sprint shareholders superior short and long term benefits to DISH's highly conditional preliminary proposal," the company said in a Tuesday statement.
"The SoftBank-Sprint transaction is in the advanced stages of receiving the necessary approvals and we expect to consummate the transaction on July 1, 2013 with the terms already agreed."
Earlier in April, Paulson & Co. played active role in
T-Mobile's
merger efforts with
MetroPCS
(PCS)
, helping to change the terms of the proposal to lower overall debt levels of the merged telecom.
In opposing T-Mobile's first offer for MetroPCS, Paulson & Co. balked at debt levels of 3.6 times EBITDA. According to the fund's own
from February, it projects Sprint and Softbank to hold debt levels of just 1.5 times EBITDA, in-line with AT&T and Verizon.
Dish Network said on a Monday investor call the combined company would hold
in excess of 4.7 times earnings before, interest, taxes, depreciation and amortization, which would climb over time before falling as a result of synergies.
David Einhorn-run
Greenlight Capital
is also a large Sprint shareholder. The firm, through spokesperson Jonathan Gasthalter, declined to comment.
Englewood, Colo.-based Dish said on Monday its merger effort with Sprint could create a company with mobile, broadband and satellite TV bundles that may win customers from
AT&T
and
Verizon
(VZ) - Get Verizon Communications Inc. Report
, who've consistently taken wireless market share, in recent years.
Dish will also bring significant spectrum assets to a proposed merger, in addition to millions of TV customers from the company's cash flow positive core satellite business. It believes a proposed offering of bundled TV, broadband and data will be a pioneering development in the industry.
"The DISH proposal clearly presents Sprint shareholders with a superior alternative to the pending SoftBank proposal," said Charlie Ergen, Chairman of Dish Network, in a Monday statement.
Dish is offering $7 a share for Sprint, $4.76 in cash and about $2.24 in Dish stock, in a bid it says is superior to an
from SoftBank.
In October, SoftBank offered to make an $8 billion equity capital infusion into Sprint at $5.25 a share -- and a tender offer for 70% of company's existing shares at $7.30 -- in a move it said would revitalize the carrier's finances.
According to a Monday press release, Dish's proposal is a 13% premium to the value of Softbank's offer. Dish
synergies and growth opportunities with a net present value of $37 billion and expects $11 billion in cost savings as part of the merger.
Overland Park, Kan.-based Sprint said its Board of Directors will evaluate Dish's proposal "carefully and consistent with its fiduciary and legal duties."
-- Written by Antoine Gara in New York