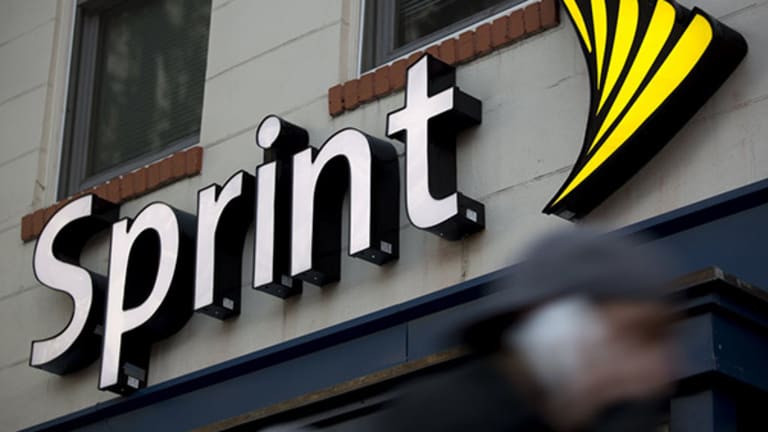 Sprint Needs More Than Cash From Softbank to Survive
The success of several financing vehicles and Softbank's commitment to the investment are major factors in Sprint's outlook.
NEW YORK (The Deal) -- In the coming months, Sprint (S) - Get SentinelOne, Inc. Class A Report plans to launch a pair of off-balance sheet partnerships with Softbank Group (SFTBY) that will relieve the carrier of the burden of financing customer handsets and network equipment.
CEO Marcelo Claure has said the new vehicles will allow Sprint to revive operations without taking on more debt, selling equity or auctioning some of its wireless spectrum. The leasing companies are among a number of steps Sprint has taken recently to conserve cash, which the wireless carrier has been consuming at a prodigious rate. The Overland Park, Kan. telecom has also said it will sit out a government auction for coveted wireless spectrum licenses next year and reportedly plans $2.5 billion in cuts. Meanwhile, parent Softbank has boosted its stake in the company.
The company's cash burn caused Moody's Investors Service to cut Sprint's credit rating by two notches in mid-September, from B1 to B3. "We're very skeptical about their ability to stabilize their operations and turn around their performance," said Moody's analyst Dennis Saputo.
Sprint's brand and its networks lag, the analyst said. The company's spectrum strategy has meandered, he suggested, and Moody's expects the company to burn $9 billion in cash in calendar years 2015 and 2016. "On top of that the company continues to have a very substantial debt load and starting in December 2016 maturities are going to ramp up to the tune of $2.5 billionon an annual basis for the following six years," Saputo added.
Chairman Masayoshi Son's plan to take the U.S. market has been more complicated, and costly, than initially planned. If Sprint can make it through next year, however, the company could get help from Washington, D.C. While the Obama administration has clearly favored a wireless industry with four national competitors, a Republican administration might be more open to consolidation. Masa dropped merger talks with T-Mobile USA (TMUS) - Get T-Mobile US, Inc. Report last year, acknowledging that regulators would likely squelch the deal. A Trump administration, or that of another Republican, might look more favorably on consolidation, especially if Sprint deteriorates and has questionable viability as an independent carrier.
The success of the new financing vehicles and Softbank's commitment to the investment are major factors in Sprint's outlook.
Softbank acquired Sprint in 2013 for $21.6 billion. Sprint would have more cash to address its liquidity squeeze if not for Dish Network (DISH) - Get DISH Network Corporation Class A Report Chairman Charlie Ergen, who launched a competing bid for Sprint and forced Softbank to increase its bid. Ergen also challenged Sprint's rollup of Clearwire (CLWR) , increasing the price of the deal for Sprint.
At the end of the June, Sprint had about $2.3 billion in cash. The company could tap another $2.9 billion or so from its revolving credit facility. Sprint has an additional $1.4 billion available from its financing agreement backed by receivables and $1.3 billion in vendor financing. The telecom has $34 billion in debt.

"We're comfortable at this point with where their liquidity is, considering the plans they have in place to supplement that," said Fitch Ratings analyst Bill Densmore.
Note his qualification, "at this point." Still, Softbank provides significant support to Fitch's B+ rating, which marks highly speculative investments. Without Softbank, Densmore said, Fitch would view Sprint at a "very weak" B or B-. "We'd have substantial concers for the company if Softbank wasn't involved," he said. "It would be a completely different story."
In December 2016, $2 billion in Sprint notes and $300 million in notes issued by the company's Clearwire subsidiary mature. Cumulatively, Sprint has more than $3.6 billion in fiscal year 2016 obligations.
While Sprint has more than $6 billion available from its balance sheet and its revolver, Densmore suggested the company will have to refinance the December 2016 maturities.
How much financing Sprint needs may depend on the success of the special financing entities the company is setting up.
CEO Claure explained the benefits of the off-balance sheet handset leasing company at a September investor conference in New York. When the company leases phones to subscribers, it would sell the title of the obligation to the new company and receive cash. "You pay Apple (AAPL) - Get Apple Inc. Report or Samsung (SSNLF) $600 [to] $700 per device but as soon as we sell it we get $600 or $700 per device directly from the leasing company," he said. "Meaning the leasing company is actually financing the residual value of the device."
Claure has pitched the leasing company, and a similar outfit that Sprint plans to create for its network investments, as a solution to the company's liquidity problem."There is no need for Sprint to go to the debt market, to the equity market, or even to the spectrum market," he sad.
Moody's analyst Saputo acknowledged that the companies could help Sprint, but noted that investors are still waiting for details.
"Certainly that could help the situation, especially if it provides a consistent, steady and reliable source of future funding and mitigates some of the working capital strain of the smart phones on all carriers-not just Sprint," he said. "If one or two leasing companies are established they could enable us to revisit the negative outlook and possibly result in us removing the negative outlook if they make a significant impact on liquidity."

Even if Sprint can refinance the December 2016 maturities, more obligations loom. A comparably manageable $1.4 billion is due in fiscal year 2017, but the company has more than $3 billion in maturities in 2018 and another $3 billion in 2019. Sprint has $1.5 billion in fiscal year 2020 maturities, $3.25 billion in 2021 and nearly $2.5 billion in 2022. In fiscal year 2023 maturities spike to $4.25 billion and another $4 billion is due the following year. Multi-billion dollar maturities await in fiscal years 2028 and 2031, as well.
Sprint had more than $32 billion in 2014 sales, a slight increase from the prior year. Wells Fargo Securities projects the top line will drop to $31 billion this year.
Second-quarter revenue dropped 8% to $7.5 billion, though the company's Ebitda increased by nearly 16% to $2 billion. The company's 1.56% rate of churn, or customer defections, was the highest among the four major U.S. wireless carriers. Moody's began to consider a ratings change after the company said it had burned about $2 billion in cash in the second quarter.
Softbank has boosted its stake from 79% to 83% in recent months. Though the company has said it does not plan for its stake to reach 85%, the increased stake could imply greater commitment to Sprint. A report from CreditSights opined that "it would be hard to imagine Softbank letting its investment ini Sprint disappear just because it's unwilling to inject $2-$3 billion to cover manturues over the near term, if necessary."
Sprint has an extensive wireless spectrum portfolio, and could generate cash by selling licenses if pressed. The carrier has more megahertz coverage than AT&T (T) - Get AT&T Inc. Report , Verizon Communications (VZ) - Get Verizon Communications Inc. Report or T-Mobile, though not all of Sprint's licneses are attractive as those held by its rivals. Wells Fargo analyst Jennifer Fritzsche observed in a recent report that that Sprint is trading at 56% of its spectrum value. 
Sprint holdings are strongest in the higher-frequency 2.5 gigahertz band and in the 1.9 GHz middle band. Sprint has a smaller amount of spectrum in the 800 MHz band. Lower frequencies such as the 800 MHz band have economic appeal because they travel for long distances, allowing carriers to put up fewer cell towers.
The government plans an early 2016 auction of 600 MHz licenses that could help Sprint build out its spectrum in lower frequencies. In May, Claure described the auction as a "once-in-life opportunity to acquire low banded spectrum and a critical input for cost-effective deployment of wide area coverage." When Sprint said in September that it would not participate in the auction, it caused some surprise. The company said that its current portfolio is sufficent.

Claure has vowed to improve Sprint's network quality. The company was "last in absolutely everything" in a test last year by RootMetrics, he told investors in September. This year, he said, the company was third among the four carriers. In a Denver test, Sprint's network received the highest score. By the end of 2017, Claure said, Sprint aims to have the first- or second-best performing network in major markets.
Even as Sprint invests in the network, more belt tightening is coming. The company is planning to cut as much as $2.5 billion in costs, according to The Wall Street Journal. A spokeswoman for the company acknowledged that management is reworking the cost structure, but did not disclose details. Moody's analyst Saputo suggested that cutting the marketing budget could be a mistake. "I don't think they're high up in the consumer's decision process when they think of cellular phone service," he said. "Hopefully they don't exacerbate their market share problems."
Sprint's strategic outlook could swing with the election. A Trump administration might prefer that regulators have a light touch on mergers and other business matters. A Sanders administration would presumably take a more populist view on consolidation in such a vital sector to consumers.
When asked if the company might revisit a merger with T-Mobile after the 2016 Presidential elections, the Sprint spokeswoman said the company is "focused on enhancing our brand, further strengthening our network, acquiring new customers and retaining our existing customers, delivering the best products at the best value, and continuing to innovate."
Craig Moffett of MoffettNathanson LLC suggested in a recent note that Sprint's health could sway regulators. "If Sprint has any shot at all at a merger with T-Mobile, it would likely be because the then-administration would perceive Sprint to be an imminent bankruptcy risk, a company unable to make the requisite capital investments to support a competitive network even if restructured under Chapter 11," he wrote. The analyst previously projected that Sprint would run out of cash early next year, but now suggests the new financing vehicles should support operations through the middle of 2018.
Sprint's currency for making a deal is worth less than it was last summer. The stock has dropped from $7 to $8 per share a year ago, before the company terminated deal talks with T-Mobile, to $4.50 per share. During that same period, T-Mobile stock has gone in the other direction, climbing from about $30 per share to more than $40.
While a change in the White House could make a merger politically feasible, the economics of a deal would be more difficult unless Claure's new financing entities can revive Sprint's finances and its stock price.