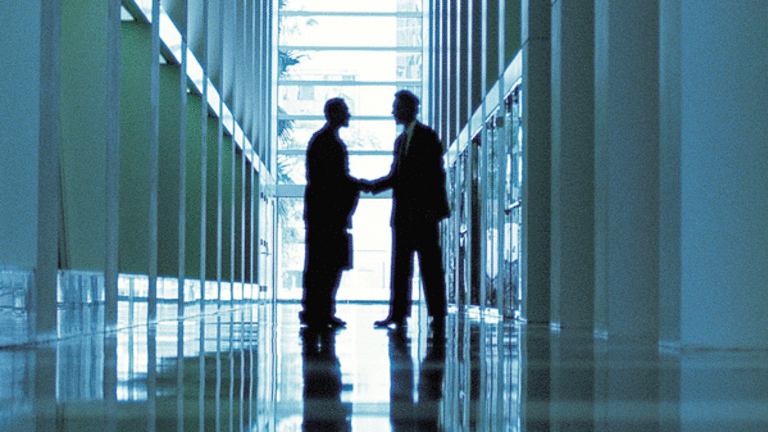 Sprint Moves Worst to First as MetroPCS, T-Mobile Merge
Even if Sprint gets ditched on a consolidation dance, it may end 2012 as the telecom sector prom queen.
NEW YORK (
) -- Lost in the initial reaction to
MetroPCS
(PCS)
and
T-Mobile's
decision to merge in a long-awaited blockbuster telecoms deal is the fact that struggling industry third player
Sprint
(S) - Get SentinelOne, Inc. Class A Report
remains on track to go from worst to first as a stock performer in the fast-moving sector.
In 2011, Sprint shed more ground than any telecom within the
S&P 500 Index
, losing over 44% in share value, according to
Bloomberg
data. The wireless carrier's financial condition deteriorated on billions spent to bring on
Apple
(AAPL) - Get Apple Inc. Report
iPhone subscribers and upgrade its nationwide network to handle an expected surge in smartphone data use.
Now, as
such as bankruptcy recede according to even bearish analyst estimates, the merger of MetroPCS and T-Mobile - long seen as a big negative for Sprint - isn't derailing Overland, Kansas-based Sprint from being the top performer in the telecom sector in 2012.
On the heels of Wednesday's merger announcement between MetroPCS and T-Mobile, Sprint shares rallied over 6%, adding to year-to-date gains in excess of 100% in 2012. Sprint remains the top performer in the space beating out 40%-plus 2012 gains posted by MetroPCS and
Crown Castle
(CCI) - Get Crown Castle International Corp Report
, and dramatically outperforming double digit stock gains posted by larger rivals
AT&T
and
Verizon
(VZ) - Get Verizon Communications Inc. Report
.
In response to the blockbuster merger in a complicated cash and stock deal that has MetroPCS taking over larger T-Mobile in a 1 for 2 reverse stock split, Citigroup analysts led by Michael Rollins added Sprint to the bank's "Most preferred List" of stocks, and advocated that investors consider a pair trade where it outperforms MetroPCS through year-end.
The trade comes as Sprint finds itself in a competitive battle for its industry third position and loses an obvious takeout candidate in MetroPCS, which some expected could propel it into closer competition with AT&T and Verizon.
Citigroup's bullishness on Sprint is predicated on expected improvements in the company's operating margins and its eventual success in building out a viable nationwide network to handle LTE enabled smartphones like the Apple iPhone 5 and the Samsung Galaxy.
"
We believe the core investment thesis for Sprint remains centered around the prospects to restructure its network architecture and improve margins," wrote Citigroup's Rollins in a note to clients, assessing the impact on Wednesday's mega-merger. Rollins highlights improving finances and annual operating income growth of over 25% in the next two years as reason to expect Sprint can turn profitable and generate 65 cents in 2014 earnings per share.
In late September, long-term bear Craig Moffett of Bernstein Research said that improving cash flow dynamics has removed the prospect of bankruptcy as Sprint spends billions to revamp its network and try to steal subscriber market share by offering the only unlimited Apple iPhone data plan.
After assigning a 50% likelihood in March that Sprint would end up in bankruptcy as it raced to build a national wireless network -- and citing bond trading prices -- Moffett now says that readily available financing takes that prospect remote. In a best case scenario, the company's unlimited data plans may appeal to data hungry iPhone users and the continued rollout of its upgraded national LTE network will ably handle surging network loads.
Still, Moffett maintains a bearish view on the company, though, questioning whether Sprint's network can handle iPhone 5 data loads or whether profit margins can be maintained. "From here, Sprint will have to show that it really can pull off a turnaround in fundamentals -- that is, can it sustainably gain share and grow?" wrote Moffett in a Sept 27 note to clients. He isn't optimistic.
Citing a continued network disadvantage to competitors AT&T and Verizon and the prospect that profit margins drop sharply in coming quarters, Moffett holds an underperform rating and a $3 price target on Sprint shares. With the launch of the iPhone 5, those issues may come to a head. In reaction to Wednesday's deal, Moffett said on a call with investors that Sprint could be pushed into MetroPCS sweepstakes to maintain its market position, but saw no reason to speculate on a bidding war or remove his underperform rating.
In September, Goldman Sachs analyst Jason Armstrong wrote in a research note that it would make sense for Sprint to combine with MetroPCS or pre-paid cellular competitor
Leap Wireless
(LEAP)
.
For telecom sector investors, Sprint's push from worst to first may now be about whether the company can execute on its Network Vision upgrade and take on smartphone subscribers profitably, over handicapping sector consolidation efforts.
As for Leap Wireless, Rollins of Citigroup sees a far more negative impact from the MetroPCS and T-Mobile merger. "We are reducing our rating on Leap from Buy to Neutral, as we balance the positive spectrum value support from the PCS deal, but also recognize the operating risks on a 3-yr view have increased meaningfully," the analyst wrote.
In Wednesday trading, Sprint shares were up nearly 6% to $5.20, while MetroPCS shares slumped nearly 10% to $12.24. Leap Wireless shares tumbled nearly 18% to $6.23.
For more on the wireless industry, see why AT&T is still
and how a tower deal
twists industry consolidation
.
-- Written by Antoine Gara in New York