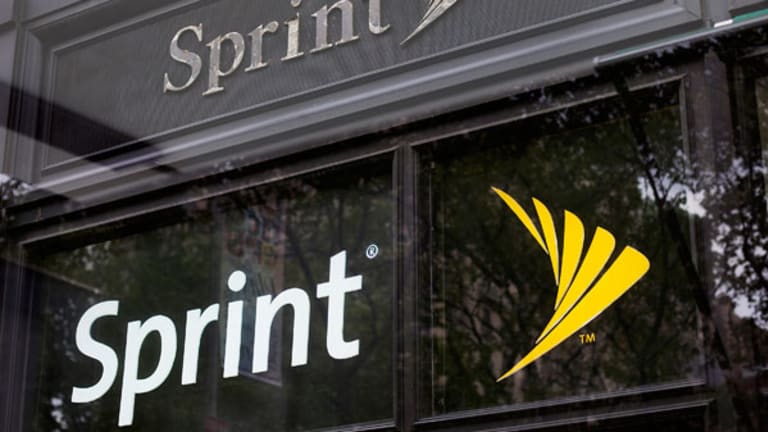 Sprint Fights Back on Dish's Clearwire Bid
Sprint says Dish's $4.40 a share Clearwire offer is not actionable.
NEW YORK (
) --
Sprint
(S) - Get SentinelOne, Inc. Class A Report
is fighting back against
Dish Network's
(DISH) - Get DISH Network Corporation Class A Report
$4.40 a share tender offer for all of
Clearwire's
(CLWR)
outstanding shares, claiming the blocking bid violates Delaware Law.
Dish Network proposed on May 29 to assume three seats on the company's board of directors in a tender offer for Clearwire that was cheered by
Crest Financial
, one of the fledgling broadband provider's top minority shareholders.
Sprint's response to Dish's proposal, however, indicates the tender offer may have little standing other than to delay the telecom's proposed takeover of Clearwire.
On Friday, Clearwire delayed a shareholder vote on Sprint's proposed $3.40 a share bid for the company's outstanding shares until June 13. The delay allows Clearwire to assess Dish's tender offer, however, Clearwire's board of directors currently remains in support of Sprint's bid.
In a letter to Clearwire, Sprint said Dish's tender offer is "not actionable" because it assumes certain governance changes that are not possible given Clearwire's agreement with its initial equity holders.
For instance, Dish assumes in its tender it can win seats on Clearwire's board of directors. Sprint maintains that, as a controlling shareholder, such a scenario of board change is impossible.
Dish's tender also violates Delaware Law, according to Sprint, because it requires Clearwire to enter into a contract to provide minority shareholders rights to access the company's board of directors. Sprint claims nomination of Clearwire directors must be done through an amendment to the company's certificate of incorporation or a voting agreement among a majority of stockholders.
Neither is possible because a majority of stockholders will not support Dish's proposal, according to Sprint. Initial equity holders in Clearwire own about 65% of the company's shares.
"Sprint will not vote in favor of the proposal, tender its shares in the offer or waive any of its rights as a stockholder or under the EHA. Sprint will enforce its legal and contractual rights. Thus, the DISH proposal is not actionable," Daniel Hesse, Sprint CEO, wrote in a Monday letter to Clearwire.
"Although DISH's revised offer is higher than Sprint's, it still possibly depends on a change in Clearwire's governance structure under its existing Equity Holders Agreement," John Hodulik, a UBS telecoms analyst, wrote in a May 30 client note. "It remains unclear whether Clearwire would be able to grant such rights without Sprint's agreement."
Clearwire was formed in 2008 through its merger with Sprint's 2.5 GHz spectrum assets and $3.2 billion in investor capital provided by the likes of Sprint,
Comcast
(CMSA) - Get CMS Energy Corp 5.625 % Notes 2018-15.03.78 Global Report
and
Intel
(INTC) - Get Intel Corporation Report
, among others.
"Our Board and Special Committee are continuing their independent review of DISH Network's offer to determine the best course of action for the Company and all of its stockholders. The Special Committee has not made any determination to change its recommendation of the current Sprint transaction, and we will have no further comment until they have finished their full review," Susan Johnston, a Clearwire spokesperson, said in an e-mailed statement.
Dish Network spokesperson Bob Toevs declined to comment.
The back and forth between Sprint and Dish over Clearwire comes amid a heated battle for telecom assets. Currently, Sprint's board of directors has agreed to merge with Japanese telecom
SoftBank
, in a deal that will recapitalize the nation's third leading carrier.
Dish, however, not only wants to disrupt Sprint's takeover of Clearwire. It has an
to take control of Sprint.
Wells Fargo analysts said in a June 3 note that Dish's role in agitating Sprint's takeover of Clearwire and SoftBank's acquisition of Sprint may be a way for the satellite TV player to gain a network sharing agreement.
"Based on the proxy and the revised bid for Clearwire, we believe the odds of DISH getting Sprint are probably low. BUT we do not know that this is really
Dish Network Chairman Charlie Ergen's intention," the analysts wrote. "At the end of the day, we think Charlie ends up getting a network host and some spectrum. If you were Sprint and Softbank, wouldn't you rather have Charlie and his spectrum on your side, rather than compete against him? The answer is probably yes."
Some investors in Clearwire such as Crest Financial and
Mount Kellett Management
are strongly advocating Dish's entrant into the Clearwire sweepstakes and against Sprint's $3.40 a share offer for the company's outstanding.
Clearwire shares fell nearly 2% to $4.41 in Monday afternoon trading, but remain slighty above Dish's tender offer. Currently, the company is valued at an enterprise value of over $10 billion.
While each new twist thrown by Dish chairman Charlie Ergen, in addition to hedge fund campaigning may create a new heat in a horse race among wireless industry consolidators,
TheStreet
wrote in a Friday Op/Ed, such a scenario cuts against
the objectives of wireless industry consolidation
and may puts consumers at risk.
How Wireless M&A Is Turning to a Consumer Shakedown
-- Written by Antoine Gara in New York