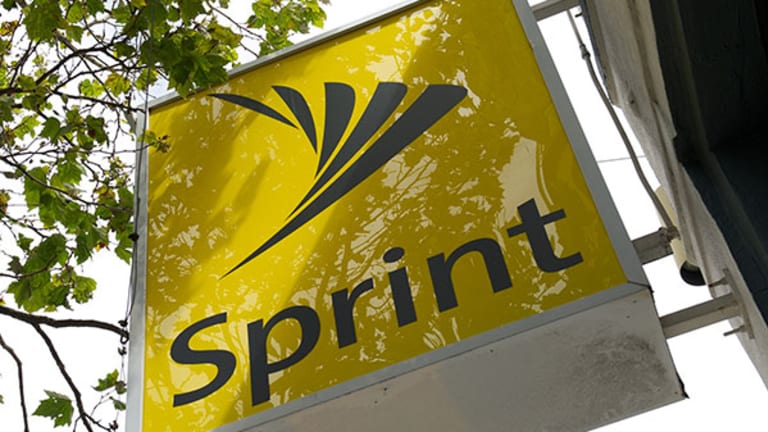 Sprint and T-Mobile Merger Would Test 'Un-Carrier' Image
It is T-Mobile that may remain the grand prize for the wireless sector. It also may be the hardest deal for consumers and regulators to swallow given how much the company promised as an 'un-carrier' to wireless conglomerates.
NEW YORK (TheStreet) -- So maybe T-Mobile (TMUS) - Get T-Mobile US, Inc. Report wasn't the so-called "un-carrier" after-all. After years of presenting itself as an independent upstart in the wireless industry to AT&T (T) - Get AT&T Inc. Report and Verizon (VZ) - Get Verizon Communications Inc. Report, T-Mobile is now in the process of formalizing a long-speculated merger with Sprint (S) - Get SENTINELONE, INC. Report at a price of $40 a share or $32 billion, according to Bloomberg and TheWall Street Journal.
T-Mobile: Beware CEO's That Don't Talk About Profit
Were such a deal to be formally announced and successfully executed, it would transform a combined T-Mobile and Sprint to the third largest wireless carrier in the U.S. and give the combined company a base of about 100 million subscribers, roughly the same scale as competitors AT&T and Verizon. T-Mobile would also go from an upstart stealing market share to a telecom behemoth, possibly disappointing those who believed the company would truly disrupt the industry.
Most consumers, after all, are familiar with the story of consolidation.
The New Economics of Wireless
If T-Mobile's marketing efforts may have gone a bit far in presenting the company as an industry upstart given its apparent merger plans, that may simply underscore the economics of consolidation. Combining carriers, as T-Mobile and Sprint both know, creates operational synergy, network scale and balance sheet flexibility that can allow a struggling carrier to make up ground on the competition.
T-Mobile has benefited tremendously from a 2013 merger with MetroPCS, which created added scale and capacity for the carrier, in addition to significant cost synergies. Sprint, in buying Clearwire, has aimed at similar merger benefits. Now, within the telecom sector, a combination between Spring and T-Mobile might be the ultimate synergistic deal. That's exactly what large shareholders such as hedge fund Paulson & Co. believe.
It's also what T-Mobile CEO John Legere basically said on the company's first quarter earnings call in May. Legere played an interesting dance on the call, at once celebrating the T-Moile's best-ever quarter for subscriber growth amid promotional pricing and subscriber buyouts, while also detailing the strategic imperative of consolidation.
It had already been reported Sprint was lining up financing for a T-Mobile bid and few likely left the company's conference call with doubts that a merger effort would likely emerge. Reports now indicate a formal bid could be announced this summer.
"This is the start of competition," Legere said of first-quarter results before adding, "we've always said we think ultimately it is a consolidation game." He then indicated T-Mobile would benefit from consolidating to achieve a scaling of fixed assets with a competitor.
Antitrust
A merger attempt between Sprint and T-Mobile would be the riskiest attempt at wireless consolidation since AT&T (T) - Get AT&T Inc. Report failed to buy T-Mobile in 2011. That deal was blocked by the Department of Justice, which continues to believe that a competitive wireless industry would have four nationwide players.
According to Bloomberg's report, Sprint and majority investor SoftBank believe they can make a better pitch to antitrust regulators about why a merger should be allowed.
Since taking a controlling 80% stake in Sprint in 2013, Masayoshi Son-run SoftBank has also hinted at an eventual bid for T-Mobile. Earlier in 2014, Son made an over hour-long presentation in Washington to outline Sprint's wireless broadband investment plans, possibly underscoring the company's willingness to invest in wireless and broadband infrastructure.
Under SoftBank's ownership, Sprint appears poised to redouble its efforts in wireless coverage expansion, promotional data plans aimed at market share gains, and broadband investment. Meanwhile, both Sprint and T-Mobile are showing traction with consumers that appears to be causing falling wireless plan prices 
Such a scenario, while a threat to AT&T and Verizon's profit margins, may aid Sprint and T-Mobile's merger ambitions. A large third carrier, with the ability to cut wireless prices and improve infrastructure investment would be a positive to consumers, T-Mobile and Sprint would likely argue.
Still, it will be a hard deal to accomplish, given the Department of Justice's apparent will to have at least four competitors in the wireless industry. Some analysts are skeptical anything has changed in the eyes of antitrust regulators.
"[T]he DOJ and FCC have heard all those arguments too, and they fully understood them long before they went on record with their skepticism.  It is absurd to suggest that the DOJ and FCC were simply waiting for SoftBank to articulate the arguments," Craig Moffett, a principal at MoffettNathanson, said in a Thursday client note.
He gives a potential deal 10% odds of success.
Comcast As a Blueprint
Sprint's efforts, were they to take shape and eventually be disclosed, come just as Comcast (CMCSA) - Get Comcast Corporation Class A Report continues to press its efforts at a merger with Time Warner Cable (TWC) . and AT&T has unveiled a merger bid with DirecTV (DTV) . Were Comcast and AT&T to succeed in their merger efforts, it might give fodder to a merger of T-Mobile and Sprint acquisition efforts.
A merger between Sprint and T-Mobile would surely conclude what has been a frenetic 24-months of merger activity in the wireless industry.
AT&T's failure to buy T-Mobile kicked off consolidation among also-ran wireless carriers that included T-Mobile's purchase of MetroPCS, Sprint's acquisition of Clearwire and AT&T's takeover of Leap Wireless.
Ultimately, however, it is T-Mobile that may remain the grand prize for the wireless sector. It also may be the hardest deal for consumers and regulators to swallow given how much the company promised as an 'un-carrier' to wireless conglomerates.
Five Giant Issues In First Quarter Telecom Earnings
-- Written by Antoine Gara in New York.