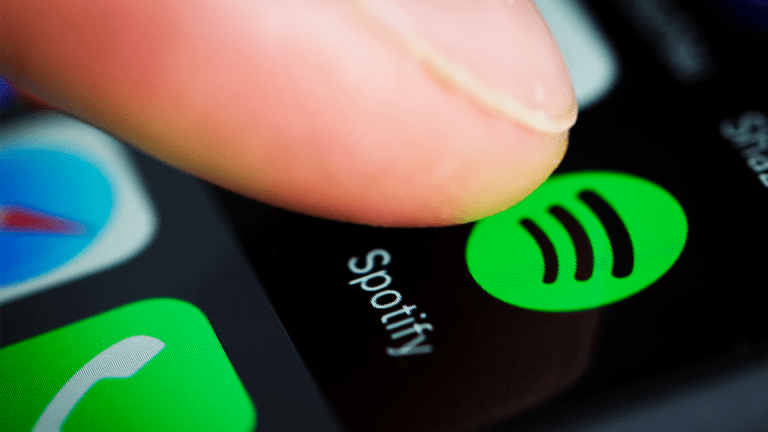 Spotify Business Model Spells Challenges for IPO and M&A
The online music leader has been posting impressive growth ahead of its IPO. But both investors and potential suitors are unlikely to ignore the challenges posed by its business model and stiff competition.
In some ways, music streaming giant Spotify is similar to video streaming giant Netflix Inc. (NFLX) - Get Report , but in some other important ways, it's not. 
Assuming Spotify goes public at a valuation close to the $19 billion it has reportedly seen in private trades, the company will be valued at less than $300 per paid subscriber. That's well below Netflix's valuation of roughly $800 per paid sub, even though Spotify has been growing even faster than Reed Hastings' firm.
The valuation difference has a lot to do with differences in the companies' business models. It also likely has something to do with how Spotify arguably faces greater competitive threats -- particularly from tech giants looking to bundle their music services with other content -- and the fact that the company's substantial losses have (in spite of its leading position in a "hot" market) kept a lid on M&A speculation.
According to several media reports, Spotify has confidentially filed for a U.S. IPO that's expected to happen in the first half of 2018. The IPO will avoid the traditional banker-led route in favor a direct listing: No new shares will be sold and there will be no IPO roadshow. Instead, Spotify's existing, privately-owned shares will become tradeable on public markets.
As Bloomberg's Matt Levine notes, this approach could yield a fair amount of early volatility. So could the fact that Spotify -- much like Snap (SNAP) - Get Report prior to its early-2017 IPO -- has many of the hallmarks of a battleground tech stock.
On one hand, the company remains the undisputed leader in a fast-growing online music market, and continues to post impressive growth. Spotify paid subscriber base doubled from 30 million to 60 million between March 2016 and July 2017, and the company just announced in a tweet on Thursday that it had hit 70 million. Revenue rose 52% in 2016 to $3.5 billion, and -- following a report stating first-half revenue totaled $2.2 billion -- is believed to have approached $5 billion in 2017.
And though tastes vary from one online music fan to another, Spotify's paid services are still seen by many as the gold standard in areas such as ease-of-use, playlist quality and content recommendations, and at least on par with rivals in fields such as music selection and audio quality. And as with Netflix and Roku (ROKU) - Get Report , the fact that Spotify's management (unlike those of the tech giants it's squaring off against) is solely focused on a streaming business/platform has contributed to very solid execution.
The power of inertia also can't be overlooked. Spotify subscribers who have spent many hours creating custom playlists, and who have seen Spotify's algorithms get very good at recommending songs and artists to them thanks to all of the listening data they've shared, will often need a lot of convincing to jump ship and subscribe to a rival service.
However, all that growth, and all those loyal subscribers, doesn't mean that Spotify has cracked the code for long-term profitability. In spite of 52% revenue growth, operating loss rose 48% in 2016 to $422 million, and was reportedly somewhere between 100 million and 200 million euros in the first half of 2017.
Those 2016 losses have much to do with the fact that Spotify's gross margin -- what's left of revenue after backing out the cost of delivering its services - was only around 15%. For Spotify's Premium (subscription) services, gross margins were around 18%. Those margins, in turn, have a lot to do with the heavy content costs incurred on account of Spotify's licensing deals with top music labels, which result in labels and artists being paid based on how often their tracks are streamed.
This cost structure, which admittedly may have improved a bit last year thanks to new licensing deals that feature restrictions on Spotify's ad-supported service, is of course very different from what Netflix has in place. Whether the company has 10 million subs or (as it does today) 110 million, the costs Netflix incurs to license popular content or finance an original show mostly remain the same. This yields operating leverage that Spotify lacks.
Throw in Spotify's heavy spending in other areas -- sales/marketing, R&D and G&A spend respectively totaled 417.9 million, 206.9 million and 175.2 million euros in 2017, with each rising substantially from 2015 -- and you have a recipe for giant losses that aren't evaporating as revenue grows. While greater spending discipline in areas such as marketing and G&A would help its bottom line, it isn't clear that Spotify has a path to large and sustainable long-term profits that doesn't feature price hikes.
And in spite of Spotify's popularity, getting away with such price hikes won't be easy. Unlike Netflix, which hiked prices in many big markets two months ago, nearly all of Spotify's content is available on rival services from the likes of Apple (AAPL) - Get Report , Amazon.com (AMZN) - Get Report , Alphabet's (GOOGL) - Get Report YouTube, Tidal and Pandora (P) . And in the cases of Apple, YouTube and Amazon, the companies seem willing to accept low margins for their streaming services in the name of pursuing strategic goals, can keep their marketing costs down by cross-selling music services to their giant user bases and are keen on bundling music and video services.
Whereas most online music services (Spotify's included) cost $10 per month for individual plans, Amazon charges Prime members only $79 per year ($6.58 per month) for its Amazon Unlimited music service. And Prime, as we know, also comes with the popular Prime Video service, among many other things.
Meanwhile, the $10-per-month YouTube Red service pairs ad-free YouTube with the Google Play Music service (it could soon be replaced by a music service better integrated with YouTube) and original video content. And Apple, which now has over 30 million Apple Music subs, has reportedly set a $1 billion budget for original video in 2018.
In addition to spelling tougher competition for Spotify and increasing the pressure for the company to invest in growing its limited video library -- it reportedly overhauled its video strategy in October -- such moves by rivals make any Spotify price hike a very risky proposition. And the presence of such deep-pocketed competitors limits Spotify's negotiating leverage with music labels. Indeed, in spite of the company's low margins, many in the music industry continue to push for higher payouts.
These challenges probably aren't lost on tech and media firms evaluating Spotify's merits as an acquisition target. And they probably won't be overlooked by public investors after Spotify goes through with its unconventional IPO.
Editor's note: This article was originally published by The Deal, a sister publication of TheStreet that offers sophisticated insight and analysis on all types of deals, from inception to integration. Click here for a free trial.
Apple and Alphabet are holdings in Jim Cramer'sAction Alerts PLUS Charitable Trust Portfolio. Want to be alerted before Cramer buys or sells AAPLor GOOGL? Learn more now.
More of What's Trending on TheStreet: