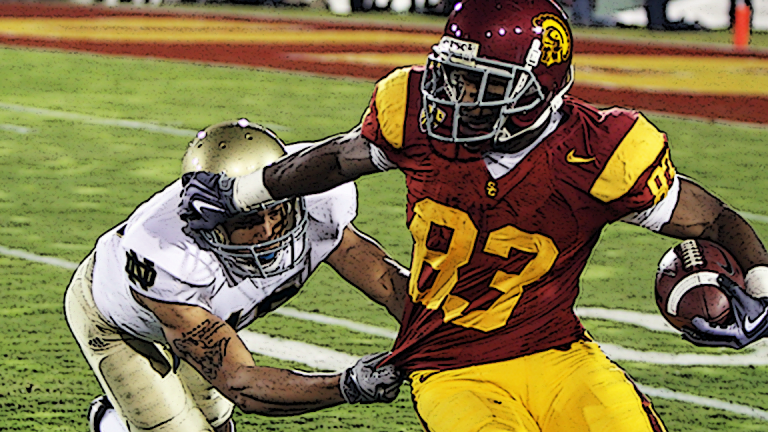 Publish date:
Sports Marketing Companies Learfield, IMG Sports to Merge
Learfield is owned by Comcast-backed investor Atairos, while IMG parent WME-IMG is backed by private equity firm Silver Lake Partners.
Learfield is owned by Comcast-backed investor Atairos, while IMG parent WME-IMG is backed by private equity firm Silver Lake Partners.
College sports marketing provider Learfield Communications Inc. announced Thursday, Oct. 5, that it will merge with IMG Wolrdwide LLC's collegiate division, IMG College. The terms of the deal were not disclosed.
Atairos Group Inc. acquired Learfield on Oct. 8, 2016, from Providence Equity Partners LLC, beating out reported rival bidders including TPG Capital LP, New Mountain Capital LLC and Thomas H. Lee Partners LP. Providence acquired a majority stake in Learfield in 2013 from Shamrock Capital Advisors LLC; as a Providence portfolio company, Learfield made ten acquisitions.
IMG and Atairos will own the combined company, with IMG parent company WME-IMG's majority owner, Silver Lake Partners LP, also acquiring a minority stake in the combined company through a new capital deployment. A source familiar with the matter said that IMG and Silver Lake will, combined, hold a roughly 50% stake in the combined company.
After the close of the acquisition, the combined company, which a second person familiar with the matter said has not yet been named, will be headquartered in Plano, Texas, with Learfield CEO Greg Brown serving as CEO of the combined company. Atairos, Learfield, WME-IMG and Silver Lake will all have represents sitting on the combined company's board.
Justin Hamill and Brian Lavin of Paul, Weiss, Rifkind, Wharton & Garrison LLP were outside counsel for WME-IMG.
Silver Lake retained a Simpson Thacher & Bartlett LLP led by Atif Azher and an Axinn, Veltrop & Harkrider LLP team of John Harkrider, Mike Keeley, Russell Steinthal and Alex Bergeson.
Learfield tapped Davis Polk & Wardwell LLP's William Chudd and Harold Birnbaum and Proskauer Rose LLP's Colin Kass for legal advice.
Learfield, a former Missouri farm radio network, entered the sports business in 1975, when it became the University of Missouri's radio rights distributor.
College sports marketing is a market with no barriers to entry and no scale effect, said a person familiar with the transaction. Capital is necessary for companies to bid on the rights to games held by universities, which compete with professional leagues and other forms of entertainment for advertising dollars.
One competitor, JMI Sports, beat IMG in bidding for the University of Kentucky's marketing rights with a $210 million, 15-year deal in 2014, this person said. JMI also beat both IMG and incumbent Learfield for Clemson's rights last year with a $68 million, 7-year deal. Another competitor, Fox, took Auburn and Villanova from IMG and also won the rights from Michigan State, which previously monetized its rights in-house, as do programs including Stanford and Arizona State University. Outfront, the former CBS Collegiate Sports Properties, has clients including LSU, Virginia and Maryland, while Van Wagner Group LLC's clients include smaller schools like Georgia State and Pepperdine.
Atairos is a vehicle led by former Comcast Corp. (CMCSA) - Get Report CFO Michael Angelakis. In 2015 Comcast and Angelakis formed Atairos to invest in growth companies, with Comcast investing $4 billion and Angelakis $40 million in the venture. Its first investment was a $250 million investment last year in Groupon Inc. (GRPN) - Get Report through convertible senior notes paying 3.25% interest.
The firm made another sports investment on June 6, buying Bowlmor AMF Corp. from Cerberus Capital Management LP for an undisclosed sum.
Silver Lake took a 31% stake in WME-IMG predecessor William Morris Endeavor Entertainment LLC in 2012 for undisclosed terms. The next year, Silver Lake and Williams Morris won the auction for IMG Worldwide Holdings Inc., backed by Forstmann Little & Co., paying what a source told The Deal was nearly $2.4 billion. Forstmann Little had acquired the company in 2004 after the death of its founder; The Deal reported at the time that IMG fetched $750 million.
IMG, whose first client was Arnold Palmer, has roots in sports, while WME focused on film and TV. Since merging, the two companies have expanded into other areas of entertainment like fashion and pageants, including buying the Miss Universe pageant from then-candidate, now-President Donald Trump. The terms of the deal were not disclosed, but Trump reported income of $10.9 million from Miss Universe LLP in his June 14 financial disclosure form.
Last year, WME-IMG acquired its client, mixed martial arts promoter Ultimate Fighting Championship, for $4 billion alongside KKR & Co. LP and MSD Capital LP.
WME-IMG raised $250 million from SoftBank Corp. and $55 million from Fidelity Management and Research Co. last year, while on Aug. 2 Canada Pension Plan Investment Board invested $400 million in WME-IMG in return for an 8% stake. CPPIB's investment was part of a larger $1 billion investment also including Singaporean sovereign wealth fund GIC Pte. Ltd.
The acquisition follows another major transaction in sports marketing, with another Singaporean sovereign wealth fund, Temasek Holdings Pte. Ltd., acquiring a minority stake in talent agency Creative Artists Agency LLC on Sept. 27 for undisclosed terms. TPG, which first backed CAA in 2010, retains its majority stake in CAA, whose other foreign investors include Chinese media fund CMC Capital Partners HK Ltd. and Taiwan's Fubon Group and Taiwan Mobile Co.
Paul Weiss' Hamill and Lavin frequently advise WME-IMG, with transactions including the CPPIB and GIC investments, William Morris' acquisition of IMG and WME-IMG's acquisitions of Made Fashion Week, Icon Sports Management Ltd. and Professional Bull Riders Inc.
The Simpson team also included Simon Chiu, Andy Roy, Adam Shapiro and Katharine Moir. Simpson is Silver Lake's regular counsel; Azher advised the firm on the UFC acquisition and on William Morris and Silver Lake's acquisition of IMG. Learfield's counsel, Proskauer, also advised Silver Lake on the UFC acquisition. Proskauer also advised Learfield on its acquisition by Shamrock.
Davis Polk's Chudd, Atairos' usual counsel, worked on its Learfield investment in 2016 as well as its investments in Groupon and Bowlmor. Atairos' primary backer, Comcast, is a longtime Davis Polk client.
More of What's Trending on TheStreet:
Editors' pick: Originally published Oct. 6.