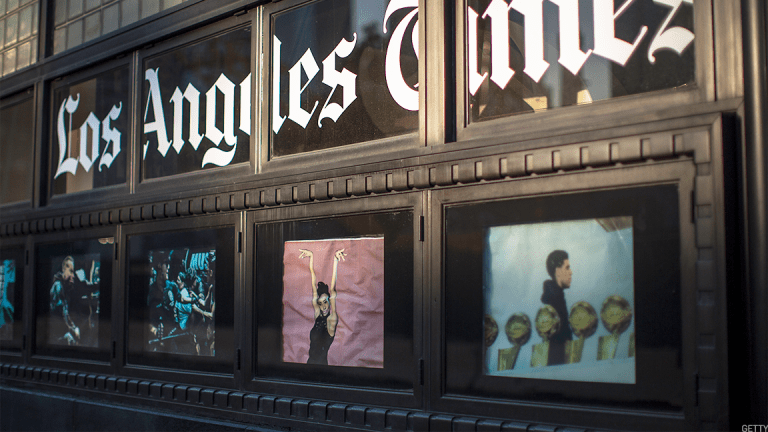 Tronc Sells Los Angeles Times After Battle With Shareholder
Tronc's No. 2 shareholder, billionaire Patrick Soon-Shiong, will pay $500 million and assume $90 million in pension liabilities to acquire the Los Angeles newspaper as well as The San Diego Union-Tribune.
After a long, hard-fought battle over control of Tronc Inc. undefined and ownership of its California titles including the Los Angeles Times, Patrick Soon-Shiong and management of the newspaper company have finally come to a deal.
Tronc, formerly Tribune Publishing Co., announced on Wednesday, Feb. 7, it will sell the LA Times, The San Diego Union Tribune and other titles to Soon-Shiong, the newspaper company's second largest shareholder, for $500 million plus the assumption of $90 million in pension liabilities. The deal will free Tronc to pursue other M&A opportunities.
Investors reacted strongly to the sale news, sending Tronc shares up 25.6% on Wednesday morning to $22.73.
The deal with Soon-Shiong's Nant Capital LLC for Tronc's California News Group comes after a tumultuous period at Los Angeles' largest paper that saw its newsroom unionize, its editor-in-chief replaced and its publisher placed on administrative leave during an investigation into sexual harassment claims. It also follows a battle between Soon-Shiong, Tronc's second-largest shareholder, and chairman Michael Ferro for control of the company and the LA Times.
"We look forward to continuing the great tradition of award-winning journalism carried out by the reporters and editors of the Los Angeles Times, The San Diego Union-Tribune and the other California News Group titles," Soon-Shiong said in Wednesday's statement.
The billionaire founder of healthcare IT venture NantHealth Inc. (NH) - Get Free Report and holding company NantWorks LLC owned 26.1% of Tronc as of Sept. 24 to Ferro's 28.3%. Soon-Shiong also holds a stake in the National Basketball Association's Los Angeles Lakers.
Soon-Shiong late in 2016 expressed interest in acquiring the Los Angeles Times, Securities and Exchange Commission filings show, with Tronc's attorneys at Kirkland & Ellis LLP replying: "The only way for your client to own the LA Times is to acquire the whole company. And if your client wants to make such a proposal, the board will do its duty and consider it."
It was not immediately clear what led Tronc to alter course and sell the paper. Some already have speculated that the deal could lead to another overture from Gannett Co. (GCI) - Get Free Report , which pursued Tronc in 2016.
Representatives for the Chicago media company and Nant Capital could not immediately be reached for comment.
In a Jan. 29 story about Jim Kirk replacing Lewis D'Vorkin as editor in chief, though, the Times noted the move "follows two weeks of turmoil at The Times, including a unionization vote by newsroom employees and accelerating hostilities between D'Vorkin and his staff." Kirk is the paper's third editor in six months.
The paper also said that with unannounced high-level hires by Tronc, "Reporters and editors have been worried that Tronc was building a shadow newsroom in an effort to blur the lines between news and advertising in a bid to boost revenue."
Tronc said Wednesday the assets for sale had about $73 million in Ebitda on roughly $470 million in revenue for the 12 months ended Sept. 30, giving the deal a multiple of about 8 times Ebitda. It anticipated closing the deal in the late first quarter or early second quarter after securing antitrust approval.
Tronc said it would use proceeds from the sale to repay all its outstanding debt and pursue digital media assets.
"This transaction allows us to fully repay our outstanding debt, significantly lower our pension liabilities and have a substantial cash position following the close of the transaction," CEO Justin Dearborn said in the statement. "We will have a versatile balance sheet that will enable us to be even more aggressive in executing on our growth strategy as a leading player in news and digital media. We have a pipeline of robust opportunities, and M&A will continue to be a significant part of our future."
Tronc, in fact, announced one such deal on Wednesday. The company said it would pay $66 million, including $30 million in cash and $36 million in shares, for 60% of BestReviews LLC, a provider of online product reviews. Tronc will have an option six months after closing to acquire the remaining equity at a price based on trailing 12-month Ebitda, and the seller would have a put option three years after closing.
Tronc retains newspapers including the Chicago Tribune; the New York Daily News, acquired in September for $1; The Baltimore Sun; and the Orlando Sentinel but has been emphasizing its digital assets. Tronc, then Tribune Co., picked up the LA Times in its purchase of Times Mirror Co. for $8 billion in 2000.
The company's Tribune Interactive LLC arm will execute Tronc's digital growth strategy that includes the BestReviews deal, it said Wednesday. The unit will house Tronc's digital subscriptions and marketing, product development, content studio and syndication unit TCA, as well as food-and-drinks website The Daily Meal.
Former LA Times publisher Ross Levinsohn, reinstated after an inquiry into sexual harassment claims, will be CEO, with former LA Times president Mickie Rosen as president and D'Vorkin as chief content officer. Tronc said an independent investigation found "no wrongdoing on the part of Mr. Levinsohn."
A January NPR report painted Levinsohn as a "frat-boy executive" and alleged he had a history of questionable behavior.
The seller turned to R. Scott Falk, Sanford E. Perl and John Kupiec of Kirkland & Ellis for legal advice on the LA Times sale. Julie Xanders and Liz Nemeth provided in-house counsel.
Philip Richter, Brian Mangino and Amber Meek of Fried, Frank, Harris, Shriver & Jacobson LLP led a team advising Nant Capital. Charles Kim was in-house counsel.
A Morrison & Foerster LLP team led by John Rafferty, Patrick Huard, John Harper, Remmelt Reigersman and Ali Nardali advised BestReviews. --David Marcus contributed to this story