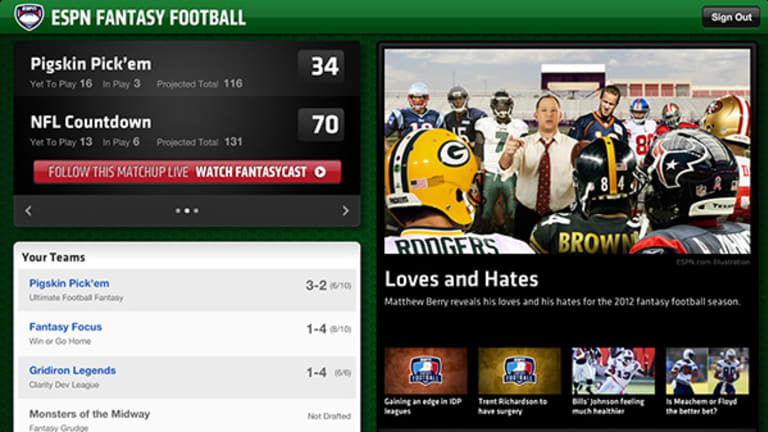 Some Fantasy Sports Sites May Be Skirting Reality of Legal System
The national football season kicks off this week and with it comes the explosion of fantasy leagues. But some companies may be pushing the limits of gambling laws.
NEW YORK (The Deal) -- With the 2015-2016 National Football League season about to kick off, daily fantasy sports Web sites including DraftKings and FanDuel will be attracting lots of attention for their splashy ads and supposedly giant payouts. Some, though, may soon be attracting attention for a giant misjudgment about the law governing the business.
Daily fantasy games represent a relatively small portion of the sports gaming industry. A trade Web site estimates the amount of revenue the companies generate from football games at around $4 billion. By contrast, the Washington Post recently reported that entire sports gambling industry -- both legal and illegal -- could be worth nearly $400 billion annually.
Still, the business has grown enough to attract some big names. Both DraftKings and FanDuel have received millions of dollars from media giants including Comcast (CMCSA) - Get Comcast Corporation Class A Report and institutional investors including Kohlberg Kravis Roberts (KKR) - Get KKR & Co. Inc. Report and Google's (GOOGL) - Get Alphabet Inc. Class A Report Google Ventures. Montreal's Amaya (AYA) , which in 2014 acquired online poker Web site PokerStars for $4.9 billion, got into fantasy sports on Aug. 13 with the acquisition of Austin, Texas-based Victiv for an undisclosed price. The daily fantasy site launched last September will be rebranded StarsDraft. 
But while investors continue to focus on growing profits, other experts are questioning the legality of some games that, while not nearly as popular as football, are nonetheless testing the limits of what is permissible. Two games in particular -- those based on the Professional Golfers Association Tour and Nascar events -- raise some sticky issues.
Boston's DraftKings, which is being heavily promoted through a recently signed marketing partnership with Walt Disney's (DIS) - Get Walt Disney Company Report ESPN, is pushing golf harder than a Bubba Watson three-wood off the tee. At the same time, New York-based FanDuel, a larger competitor, has all but abandoned the links, perhaps because the legality of fantasy golf is questionable. 
"[Fantasy] Golf is sketchy," said David Viens a partner in the litigation practice of Bowditch & Dewey LLP, who has worked on a number of gaming issues in the past. The question, he said, is whether daily fantasy golf and other individual sports like Nascar and tennis, in which patrons pick a handful of competitors and then monitor results of a single tournament or race, constitutes "multiple real world events" that would make the game legal.
As part of the Unlawful Internet Gambling Enforcement Act of 2006, fantasy sports are legal under federal law as long as a number of provisions are met, one being that the results were based on multiple events.
The issue was first explored in June by the legalsportsreport.com and although no states have challenged the legality of these daily fantasy games, Viens said, it remains a possibility. The UIGEA "was not carved out with daily fantasy in mind," he noted. "There is a twist on the fantasy exception that has been kind of exploited and these companies are continuing to push the envelop.
"There hasn't been any adverse action against any of these sites but obviously regulators and lawmakers are monitoring it carefully. At some point I think there is going to be more regulation around this," Viens said.
Industry participants insist that their efforts remain within the confines of the UIGEA. "A PGA tournament lasts four days and those undoubtedly are independent events," said Joey Levy, CEO and founder of DraftPot, an upstart daily fantasy Web site. Levy said that there is a similar problem with daily fantasy Nascar, although those in the industry have found ways to justify its legality as well.
"Sports like fantasy Nascar are determined by what happens in the qualifying rounds as much as the race itself," Levy added. "I don't think there is much ambiguity anymore, there is two separate days of competition, it's totally legal."
Another UIGEA provision requires that fantasy games be based on skill rather than luck. And as the outcomes depend on less and less multiple events -- for example, one golf tournament -- picking a winning team becomes more about luck. "You can have a guy come out of nowhere to win some of these tournaments," Viens said. "There isn't any rhyme or reason to it sometimes."
Imposing a daily salary cap -- which requires players to make judgments about how much fantasy assets are worth -- adds a level of skill that arguably eliminates luck as a factor in winning. In a traditional fantasy game, players are given limits on what they can "spend" on individual performers and dollar values are set for each asset. Patrons must build their teams while staying under the salary limit. DraftPot, though, boasts that its daily fantasy product offers leagues with no salary caps.
"Companies are pushing to be the first to develop a long line of games. But the more you leave open to chance and the more you deviate from traditional fantasy the more you may get into issues," Viens said. "As [companies] push the envelope they are moving closer to the edge, that's going to really get interest from regulators and law makers."
But as long the dollars continue to flow in, companies will seek new ways to attract players. And some observers suggest that the companies are trying to set the stage for universal acceptance of sports gambling.
"The legalization of sports gambling -- it's coming," said John Goldman -- a partner in Herrick, Feinstein's litigation department and the co-chair of the firm's sports law group. "It is an enormous market; we're talking about hundreds of billions of dollars. I think the daily fantasy is a step toward that and could lay the groundwork for these guys to take advantage of that."
Read more from: