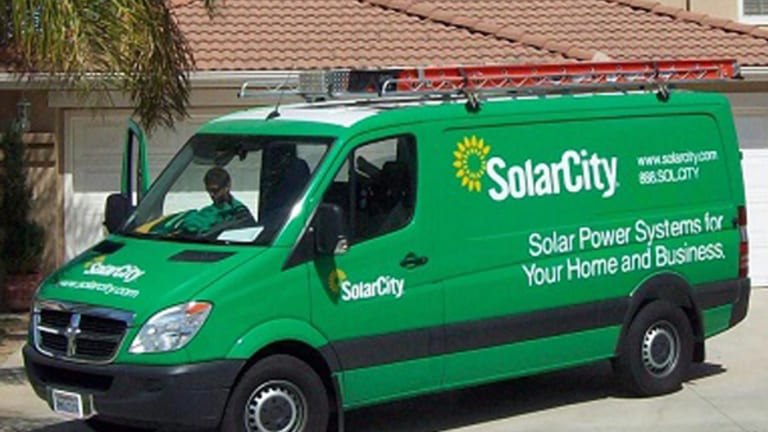 SolarCity Securitization Deal Jolts Solar Energy Industry
SolarCity is using new financing arrangements to prepare for life after government subsidies.
NEW YORK (TheStreet) -- SolarCity (SCTY)  has pioneered the first asset-backed security-tied to rooftop solar energy production. The deal, which comes as lawmakers in Washington continue to wrangle over solar tax credits and subsidies, will help SolarCity reduce its financing costs and could be a breakthrough transaction for the industry.
On Nov. 21, Solar City completed the industry's first securitization of distributed solar energy assets in a $54.43 million financing that carries an interest rate of 4.8% and matures in December 2026. The deal is the culmination of a near two-year financial plan for SolarCity, which included its initial public stock offering, a secondary equity raise and a convertible bond offering, according to chief financial officer Robert D. Kelly.
Kelly said in a Thursday telephone interview that the transaction was a final element in building SolarCity's financial foundation from which the company can grow in coming years. The note, which pools solar contracts from over 5,000 residential and commercial photo-voltaic installations, carries an interest rate roughly half of SolarCity's previous financing and diversifies the company's sources of capital.
"Once you drive down the cost of capital, it opens up more markets for you," Kelly said. While Kelly doesn't expect SolarCity to tap securitization markets for the remainder of 2013, he does expect to the company be in the market on a regular basis in 2014 and beyond.
SolarCity's business model differs from solar panel and plant manufacturers such as First Solar (FSLR) - Get First Solar, Inc. Report and SunPower (SPWR) - Get SunPower Corporation Report. MidAmerican Energy, one of the nation's largest utilities and a subsidiary of Berkshire Hathaway (BRK.A) - Get BRK.A Report, has been an acquirer of production from solar plants built by First Solar and SunPower.
San Mateo, Calif.,-based SolarCity, in contrast, installs residential and commercial rooftop panels to creditworthy customers at low initial costs in return for a long-term contract to buy the energy derived from the rooftop panels. In the company's recently closed securitization deal, it effectively transferred consumer payments from a pool of thousands of rooftop installations to bond investors, matching assets with liabilities.
As SolarCity installs an increasing number of rooftop devices, something Kelly said occurs approximately once every three minutes, the company will have an increasing number of assets that could be financed. Currently, SolarCity operates in 14 states.
Kelly compares SolarCity's securitization deal to asset-backed security structures relied upon by traditional utilities. While the solar energy industry differs from utilities, SolarCity's deal may "move the perception of the business away from alternative energy and towards financing an energy payment," Kelly said.
"It's an important milestone for the industry that this happened at all," Nicole Litvak, a Solar Analyst at GTM Research, said in a Thursday telephone interview.
Shoring up sources of capital at a cost that is in line with more established utilities is a crucial piece of SolarCity's long-term growth plan. Currently, the company relies on subsidies from a 30% investment tax credit that helps to bring its overall costs to consumers closer to the traditional energy grid, otherwise known as "grid parity."
That investment tax credit is poised to fall to 10% starting in 2017, meaning that SolarCity will likely need to achieve significant operational and financial cost savings to mitigate dissipating government subsidies. In financings previous to its solar ABS deal, SolarCity relied on tax equity transactions, which brought capital into the company at interest rates of 8% and 9%.
Kelly, SolarCity's CFO, said that even if the company is an active issuer of solar ABS securitizations, it could also consider other financial structures such as master limited partnerships (MLPs) and real estate investment trusts (REITs). The company's bottom line is also reliant upon retail prices, the productivity of panels and cost efficiency in installations.
"New structures, including asset securitization, REITs and a possible future extension of master limited partnerships to clean energy assets, may drive project investment for developers and manufacturers, such as SolarCity, First Solar, SunEdison and SunPower," Bloomberg Industries said in a Nov. 15 research note.

SolarCity's first securitization, rated BBB+ by Standard & Poor's, could be the precedent for a new ABS market.
"The predictable and consistent cashflows associated with distributed solar assets make these natural portfolios to be securitized in the ABS market," said Steve Viscovich, a Director in Credit Suisse's Securitized Products group, in a Friday morning telephone interview. Credit Suisse (CS) - Get Credit Suisse Group AG Sponsored ADR Reportunderwrote SolarCity's ABS transaction and U.S. Bancorp (USB) - Get U.S. Bancorp Report acted as the trustee.
"We certainly expect this to become a major asset class in the ABS market over the next several years. Annual issuance volume and deal sizes will continue to increase and new issuers will begin to access the market," Viscovich added in a Friday morning telephone interview.
Standard & Poor's highlighted in its rating that strengths of the deal include SolarCity's targeting of consumers with high FICO scores, the young age of the company's installation assets and low overall leverage. Weaknesses include the limited history of SolarCity's rooftop installations, competitive pressures and the company's reliance on California, Arizona and Colorado for roughly 90% of its overall portfolio.
Moody's Investor Services (MCO) - Get Moody's Corporation (MCO) Report wasn't part of SolarCity's transaction. However, Will Black a Managing Director who leads the firm's primary ABS ratings team said, "we are, have been, and expect to be actively engaged with prospective market participants," in a Thursday telephone interview.
In a set of reports on the solar ABS sector in 2013, Moody's highlighted technological obsolescence, changing economics of long-term contracts, the performance of panels and the financial strength of solar energy companies as risks to the asset class.
Bottom Line: SolarCity's securitization is a milestone transaction that opens the industry to a new set of investors and lowers its financing costs. Look for similar deals to be a crucial piece of the SolarCity's expansion, as the company matures.
-- Written by Antoine Gara in New York