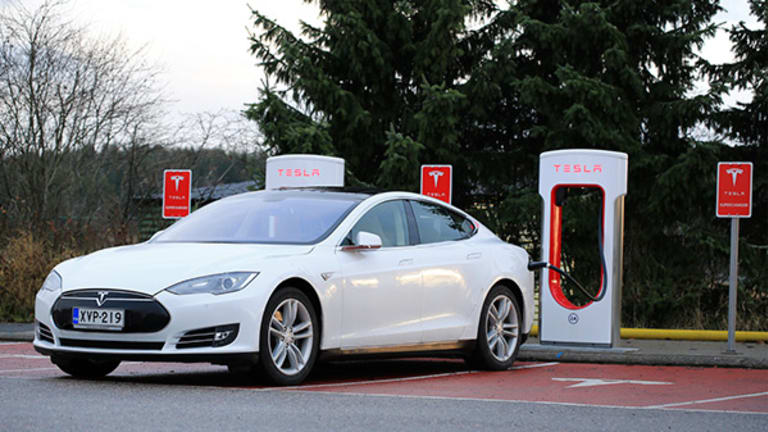 Here's Exactly Who SolarCity Just Hired to Consider Tesla's Bid
The solar energy vendor assigned its two directors with no ties to Tesla or its CEO Elon Musk to review options and explore the automaker's $2.8 billion bid.
The solar energy vendor assigned its two directors with no ties to Tesla or its CEO Elon Musk to review options and explore the automaker's $2.8 billion bid.
SolarCity (SCTY) late Monday announced the formation of a special committee to consider a bid from Tesla Motors (TSLA) - Get Report , a week after the automaker went public with a $2.8 billion bid.
San Mateo, Calif.-based Solar City said that directors Donald R. Kendall, Jr. and Nancy E. Pfund have been granted exclusive authority to evaluate SolarCity's long-term business plan and standalone strategy against a range of strategic alternatives. The committee will be advised by Lazard and attorneys with Skadden, Arps, Slate, Meagher & Flom. The Skadden team includes Thomas Ivey and Kenton King, The Deal, a sister publication of TheStreet, has learned. Lazard's Vice Chairman of Investment Banking George W. Bilicic is advising SolarCity.
The formation of a committee begins the process of evaluating a bid fraught with potential conflict and subject to considerable investor scrutiny. Elon Musk is the largest shareholder of both companies, serving as CEO of Tesla and chairman of SolarCity. And the boards have considerable overlap as well, necessitating SolarCity turning to a special committee of just two directors.
Lyndon Rive, CEO of Solar City, is Musk's cousin, while Antonio Gracias, a close Musk confidant, is on the board of both companies. SolarCity's board also includes Tesla co-founder J.B. Straubel, a second Musk cousin, and both Tesla and SolarCity each count a founding partner of venture firm Draper Fisher Jurvetson as directors, according to relationship mapping provider BoardEx, a service of The Deal.  
Tesla according to sources is being advised by Evercore Partners The firm also has a long history of working with Palo Alto, Calif., law firm Wilson Sonsini Goodrich & Rosati.
SolarCity shares closed at $22.62 per share Monday, up from its open of $21.76 per share. Tesla shares were closed at $198.55 Monday.
The offer was seen in some corners as a lifeline for SolarCity, a vendor and financier of commercial and residential solar panels which is expected to burn through as much as $400 million this year. But it adds new risk to Tesla, which has already raised $1.4 billion in a secondary offering earlier this year but needs a mountain of cash if it is to meet Musk's ambitious plan to grow sales to 500,000 vehicles annually by 2018.
Musk argued last week that the deal would create a one-stop shop for green-minded customers who would like to use SolarCity panels to generate enough energy to power their vehicles and, via Tesla storage units, their homes. The CEO sees opportunities to cut costs and boost revenue by selling SolarCity gear in Tesla showrooms, and using SolarCity installers to set up battery storage units.
"I have zero doubt about this," Musk said on an investor call last week. "Arguably we should have done it sooner."
But Tesla conceded the deal would likely be a hard sell to investors, going public with its potential bid prior to conducting due diligence because of Musk's ownership of both companies and the close ties between the two sides. Tesla has said it intends to proceed "only on a friendly basis," with SolarCity analysts seeing few other potential buyers for the company if Tesla decides to walk away
Silicon Valley powerhouse Wilson Sonsini is the longtime counsel to Musk and his companies, dealing with the entrepreneur as far back as his PayPal days and serving as corporate legal adviser on the initial public offerings of both Tesla and SolarCity. The firm has continued that relationship through recent times, serving as counsel on Tesla's recent secondary offering and advising SolarCity on a deal as recently as 2014.
Seth Richard Weissman, SolarCity's executive vice president and general counsel, is a Wilson Sonsini veteran.
What other firms get involved is less clear. Maron, Musk's former divorce lawyer, came to Tesla from Jaffe and Clemens, a Beverly Hills, Calif., firm that specializes in family law and not corporate matters. Yun Huh, Tesla's chief counsel, worked at both Latham & Watkins and Cadwalader, Wickersham & Taft prior to joining the automaker and presumably has connections at those firms.
Tesla and SolarCity both used Goldman Sachs to underwrite their initial public offerings, and Tesla has turned to Morgan Stanley on multiple occasions for fundraising purposes. Other banks with past ties to the two companies include JPMorgan, Deutsche Bank, BofA Merrill Lynch, Needham & Co. and Roth Capital Partners.
This article originally appeared in The Deal, a sister publication of TheStreet.com focused on deals and dealmakers, on June 27. For more information about The Deal click here.