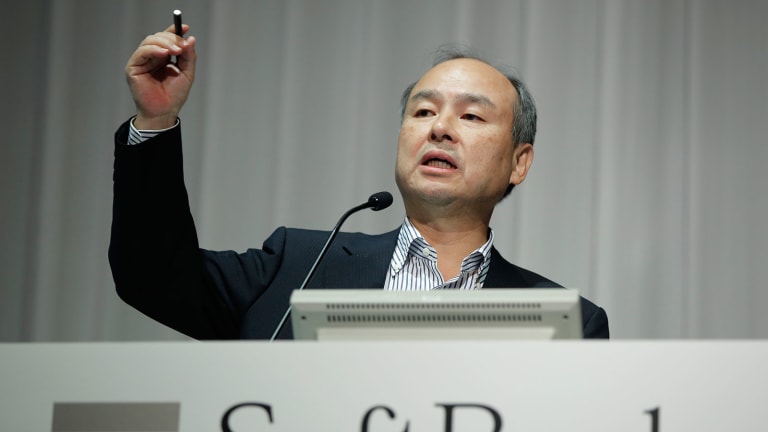 Softbank Targets Charter, but T-Mobile Is Still Sprint's Home-Run Deal
A Sprint acquisition of Charter is the latest storyline in the soap opera that is today's wireless industry.
Ever since Softbank Corp. (SFTBY) Chairman and CEO founder Masoyoshi Son invested $21.6 billion in Sprint Corp. (S) - Get SentinelOne, Inc. Class A Report back in 2013, his goal has been to merge the carrier with T-Mobile USA Inc. (TMUS) - Get T-Mobile US, Inc. Report and shake up the U.S. wireless business. Buying Charter Communications Inc. (CHTR) - Get Charter Communications, Inc. Class A Report would deviate from Son's master plan for conquering the U.S. wireless market, although it might still lead there in the end. 
Editor's note: This article was originally published by The Deal, a sister publication of TheStreet that offers sophisticated insight and analysis on all types of deals, from inception to integration. Click here for a free trial.
Sprint would benefit from adding Charter's video products, fiber and heft, and Son could create a bigger platform for launching a purchase of T-Mobile. However, the latest merger buzz could be an effort by Son to convince T-Mobile CEO John Legere that Sprint really does have other options.
Conveniently enough, Sprint CEO Marcelo Claure can address the latest speculation on Tuesday when the telecom presents its first-fiscal quarter results before the market open. Sprint dropped about 2% to $8.05 on Monday on reports of Son's interest in Charter.
Meanwhile, shares of Charter gained nearly 5% to $388 on Monday on talk of a deal, pushing its market cap to about $100 billion, according to Factset.
"You're looking at two different types of mergers," Moody's analyst Mark Stodden said regarding Sprint's potential combination with either Charter or T-Mobile. 
Merging Sprint with Charter would be vertical consolidation, with Sprint gaining video distribution and landline broadband to complement its wireless operations.
"Inside the cable footprint you can see some very clear benefits," Stodden said. 
Sprint could use Charter's fiber to carry traffic after it leaves wireless towers. The companies could combine their Wi-Fi efforts, and Sprint would generally be able to build a denser, stronger network in the roughly 30% of the country where Charter operates. 
"In the other 70% of the country, you'd still have the same money-losing Sprint," Stodden added. 
More of What's Trending on TheStreet:
Tesla, Amazon, Altria Are Monday's Smoking Hot Tickers
Amazon Is Attracting Sizable Enemies and Its Stock Should Be Avoided, Doug Kass Reveals
Snap Has No Way to Make Money, One Analyst Says as Lockup Period Expires
If Sprint bought Charter, it could roll out a wireless streaming service similar to what AT&T Inc. (T) - Get AT&T Inc. Report has done with DirecTV Now and its HBO online offering. AT&T attributed much of its strength in the second quarter to video and wireless bundles, and Sprint could seek similar benefits. 
A merger of Charter and Sprint would have minimal regulatory hurdles, Macquarie Capital analyst Amy Yong wrote in a Sunday report. It would face other impediments, however.
"The hurdles in structuring a deal include the various owners of Sprint-Charter and sizable debt at both [companies]," she wrote. A combined Sprint and T-Mobile would have about $100 billion in debt. 
Charter's $163 billion price tag, including assumed debt, would dwarf Son's vaunted Softbank Vision Fund, the $100 billion tech investment fund that has raised money from Apple Inc. (AAPL) - Get Apple Inc. Report , Qualcomm Inc. (QCOM) - Get Qualcomm Inc Report , Foxconn Technology Group and others.
Cable tycoon John Malone controls close to 20% of Charter through his various media vehicles. Malone has grand ambitions for Charter and may not be ready to exit, which raises of the question of whether Son would buy Charter outright with cash, or offer Malone and other backers equity in the new company. 
For its part, Charter has shot down the idea that it would merge with Sprint. "We understand why a deal is attractive for SoftBank, but Charter has no interest in acquiring Sprint," a Charter spokesman said in a statement emailed to The Wall Street Journal on Sunday. "We have a very good MVNO relationship with Verizon and intend to launch wireless services to cable customers next year."
Merging Sprint and T-Mobile entails greater regulatory risk, but has a clearer business logic.
"There would be more opportunity for synergies with T-Mobile," Stodden said. "You could integrate the networks, the distribution, the brand, the marketing, all of that stuff. You could achieve greater scale and that has tremendous benefits."
Part of Son's pitch to regulators is that combining T-Mobile and Sprint would create a strong rival to AT&T and Verizon, and actually increase competition. Obama administration regulators did not buy the argument, and the merger would be an interesting test case for the Trump regime.
"The home run deal is T-Mobile," Stodden said.
Buying Charter would not necessarily mean that Son would not have to forget his dream of uniting Sprint and T-Mobile. "Maybe [a merger of Sprint and Charter] gets Son then a vehicle to purchase T-Mobile," Stodden said. "If he owns Charter, instead of being the seller he becomes the buyer."
Watch More with TheStreet:
Tesla's Elon Musk Is All Jokes as the Model 3 Accelerates Into 'Production Hell'