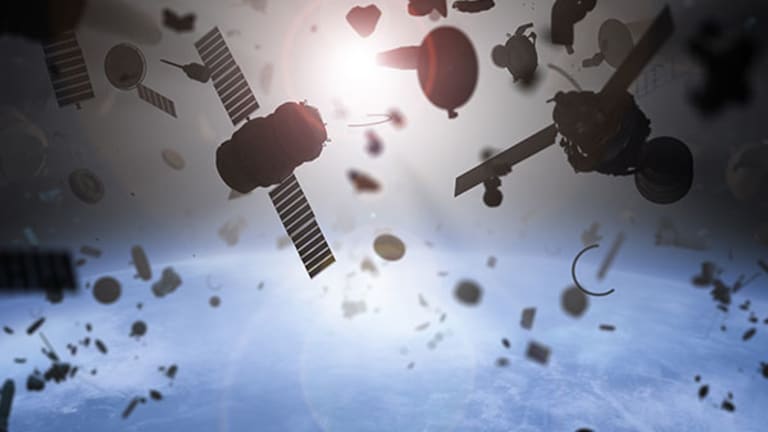 Softbank Searches the Skies for OneWeb Partner
After bondholders scuttle an Intelsat merger, Softbank-backed OneWeb reexamines its strategy.
As Softbank (SB) - Get Safe Bulkers, Inc. Report scans the heavens for a new partner for OneWeb Satellites, it will be hard pressed to find as neat a match as Intelsat  (I) - Get Intelsat S.A. Report .
The star-crossed merger of OneWeb and Intelsat fell apart Thursday after bondholders of the latter refused to take a discount for their notes, a requirement of Softbank's $1.7 billion investment.
Other satellite groups include include Telesat Holdings Inc., owned by Loral Space & Communications (LORL) - Get Loral Space & Communications Inc. Report and Canada's Public Sector Pension Investment Board; SES SA; Inmarsat and others would present a more complicated fit.
Intelsat owns geostationary orbit, or GEO, satellites. These satellites orbit about 22,000 miles above the earth, and can cover large areas. As the name implies, they remain stationed above a place on the ground. 
OneWeb plans to launch hundreds of low earth orbit, or LEO, satellites. These satellites orbit a few hundred to a thousand miles or so above the Earth. They have lower latency, or delay in transmissions, than GEO satellites, but because they are not stationary it takes a constellation of them to cover an area. LEOs are less expensive to build than GEO satellites, however.
Adding to OneWeb's appeal to Intelsat, the company plans to operate on Ku-band spectrum, the same band of spectrum in which Intelsat operates. The spectrum compatibility could be why Intelsat was an early investor in OneWeb. 
Intelsat CEO Stephen Spengler explained the reasoning behind combining the companies during a February earnings call.
"It starts with the selection of spectrum," he said, noting that the Ku-band is a favorite of commercial service providers because of the field of companies that develop applications and hardware compatible with the spectrum. "Ku-band benefits from a rich ecosystem, spurring innovation and allowing customers to select hardware best suited to their requirements," he said.
OneWeb's constellation of satellites will reach places Intelsat's GEO satellites do not. "OneWeb provides consistent ubiquitous coverage everywhere, including the polar regions that are important to mobility applications," Spengler added, noting that the LEO's "low-latency services are important for certain applications, especially voice or commanding of robotics," during the call. 
Telesat CEO Daniel Goldberg is a big fan of LEO and clearly endorsed of the logic behind combining Intelsat's presence in GEO with OneWeb's planned deployments in LEO.
"It reinforces a lot of the things that we've been working on and a lot of the things that we've been saying to our shareholders and discussing with our customers and the like," Goldberg said of the Intelsat-OneWeb merger during a March investor call.
The catch is that, unlike Intelsat, Telesat is already working on its own LEO deployment. The company expects to launch two low-Earth satellites earlier this year to supplement its GEO satellite coverage, among other steps. The company did not respond to a query about Softbank and OneWeb.
"There would be overlap between OneWeb and Telesat," said CreditSights  analyst Lindsay Pacia. "It's possible they do something with Telesat but it's not as good as a fit."
Inmarsat is another large geostationary satellite operator. "Regarding our strategy, Inmarsat has always operated as GEO company, providing global coverage from a base network of three large satellites, into which we add additional capacity based on customer demand," said a spokesman, who declined to comment regarding Softbank and OneWeb.
While OneWeb and Intelsat both use Ku-band, Inmarsat operates on L-band and Ka-band spectrum. The company is investing $1.6 billion in a Ka-band service. Jefferies analyst Giles Thorne suggested that OneWeb would be "too left field" for Inmarsat, given its commitment to other spectrum bands.
SES is another GEO player. However, the company has favored other orbits over LEO. Last year, SES spent more than $700 million to complete its ownership of O3b Networks Ltd. O3b operates on the medium earth orbit, or MEO, which is about 5,000 miles above earth and lies in between LEO and GEO. SES did not respond to a query.
As Softbank and OneWeb consider their options, they could come back to to Intelsat. Bondholders could change their views if Intelsat struggles, and Softbank could be willing to pay more if the company shows progress or if it changes its mind about paying up for a GEO partner. Softbank declined to comment and OneWeb did not respond to a query. 
This article was originally published by The Deal, a sister publication of TheStreet that offers sophisticated insight and analysis on all types of deals, from inception to integration. Click here for a free trial.