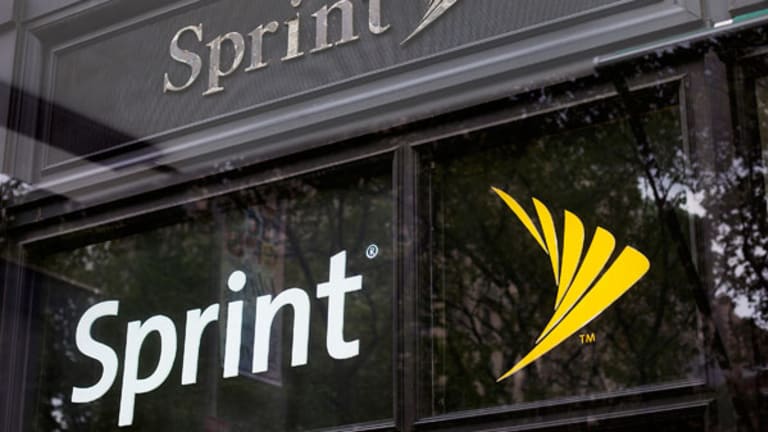 SoftBank Gets Sprint , But Still Far From Finish Line
Almost all Sprint shareholders are supporting the company's merger with SoftBank.
NEW YORK (
) - Congratulations to Masayoshi Son of
SoftBank
, who is poised to take control of
Sprint
(S) - Get SentinelOne, Inc. Class A Report
after 98% of the company's voting shareholders approved the telecom's $21.6 billion takeover.
Fortunately or unfortunately for shareholders and U.S. wireless consumers, however, SoftBank's work has just begun after the Japanese firm soundly outmaneuvered a competing proposal for Sprint by Charlie Ergen-chaired
Dish Network
(DISH) - Get DISH Network Corporation Class A Report
.
While Ergen is no pushover and Dish Network remains a credible threat to wireless industry status quo, SoftBank's battle against the card playing Dish chairman is likely to pale in comparison to the fight Sprint will have to put up to win back subscribers from
AT&T
and
Verizon
(VZ) - Get Verizon Communications Inc. Report
, who've both consistently increased their industry-leading market share as consumers adopt to high data usage smartphones.
Consider that despite the worst recession since the Great Depression and Sprint's endless promotion of low-priced unlimited smartphone data plans, U.S. wireless subscribers nonetheless spent recent years moving to the higher-cost and tiered data plans offered by AT&T and Verizon. Whether Sprint, under the control of Masa Son, or a recently merged MetroPCS and
T-Mobile
(TMUS) - Get T-Mobile US, Inc. Report
can change such trends may be among the biggest consumer stories of this decade.
Simply put, the viability of low cost smartphone data plans is still very much up in the air. Industry consolidation has given Sprint and T-Mobile far better prospects than a year ago; however, both companies will remain uncertain corporate turnarounds until they can show consistent subscriber growth and sustainable profitability.
Also, Sprint still needs to pass a Federal Communications Commission review of its merger with SoftBank and the company is working to close a
of
Clearwire
(CLWR)
.
If Sprint and T-Mobile can win back subscribers in coming quarters, it could indicate monthly wireless bills are poised to drop, after the rising price for some individual and family plans approaches the size of monthly auto loan payments. Such a scenario, coupled with execution on wireless network upgrades, could eventually pose a threat to the profit margins of AT&T and Verizon.
It is unlikely AT&T and Verizon are looking at Sprint, the third leading wireless carrier, and T-Mobile, the industry's fourth player in fear... At least not yet.
Verizon, after all, continues to fan speculation it is
a 45% stake in Verizon Wireless from joint-venture partner
Vodafone
(VOD) - Get Vodafone Group Plc Report
.
About this time two years ago, many U.S. wireless industry customers were bracing for the eventual duopoly of AT&T and Verizon, after both telecoms scrapped their unlimited data plans. However, given the
Department of Justice's
insistence upon at least four competitive nationwide providers such fears may prove unfounded--especially in the wake of Sprint and T-Mobile's merger efforts.
Masa Son was able to break SoftBank into the state-controlled Japanese broadband and telecom sectors through aggressive price promotion and merger activity, and he may make a similar move in the U.S. with Sprint. Amid a fractured relationship between global handset makers and wireless service providers, Son's credibility in Silicon Valley through SoftBank's investment in the likes of
Yahoo!
(YHOO)
and
Alibaba
could also prove an unheralded asset in Sprint's turnaround.
Sprint will now be a story about execution, with little room for error.
For instance, Dish's blocking influence means SoftBank will be infusing
into Sprint than its initial plan for an $8 billion recapitalization. In the wake of Sprint's takeover, the company will remain at a financial disadvantage to AT&T and Verizon. Network spending costs, lower-than-expected earnings or a rise in
Apple
(AAPL) - Get Apple Inc. Report
iPhone subsidy costs could yet undercut Sprint's long-term prospects.
Dish, meanwhile, could try to enter the U.S. wireless market with a new 'triple play' package of TV, broadband and wireless through an acquisition of T-Mobile, another carrier, or some form of network sharing agreement, according to industry analysts. The satellite TV giant could also sell off its wireless spectrum assets to the highest bidder.
Nonetheless, shareholder support for Sprint's merger with SoftBank is a crucial piece to the consolidation of the U.S. wireless industry, which now is poised to end 2013 in far better shape than it entered the year.
Masa Son said at SoftBank's shareholder meeting earlier in June he has faced bigger challenges than the threat Ergen and Dish posed to his takeover of Sprint.
Even if that is true, Son's biggest test could be yet to come.
Sprint shares were less than 1% higher in Tuesday trading to $6.91, below the equity value of SoftBank's merger.
-- Written by Antoine Gara in New York