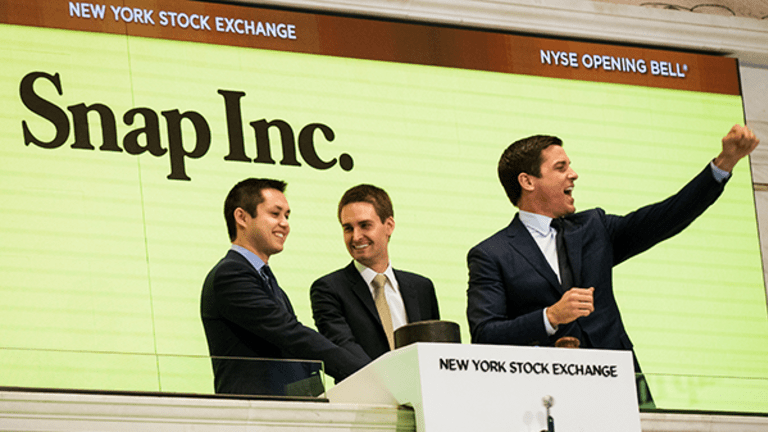 Publish date:
Snap IPO Is Tech's Latest Shot at Activists
A top public pension fund manager called Snap's issuance 'junk equity.'
A top public pension fund manager called Snap's issuance 'junk equity.'
Snap's (SNAP) - Get Snap, Inc. Class A Report unprecedented move to issue non-voting shares in its IPO represents the latest in an ongoing effort by technology companies to repel activist hedge fund managers, a top Silicon Valley attorney told a room full of big investors and regulators at the Securities and Exchange Commission on Thursday.
"Technology has become the sector that is most targeted by activists," Wilson Sonsini Goodrich & Rosati partner David Berger told an investor advisory committee that meets periodically at the SEC. "Activists are quick to target technology companies that may have missed a product cycle or technology transition, often with the encouragement of the institutional investors who hold the company's shares and frequently would rather sell the company and obtain the certainty of a premium for their stock.."
 Palo Alto, Calif. -based Berger did not represent Snap in its IPO. However, he advised Google with its precedent-setting adoption of non-voting stock in addition to its voting shares, a key predecessor to the Snap issuance.
However, his view was decidedly a minority viewpoint among those gathered at the SEC. The panel was considering a broad range of institutional investor worries that Snap's non-voting share structure makes it unaccountable to its shareowners and impervious to activist institutions or insurgent hedge funds at its gate because its board makeup is controlled primarily by co-founders Evan Spiegel and Bobby Murphy. According to the Council of Institutional Investors, which is opposed to the structure, insiders will continue to control more than 90% of the votes at the developer of the popular disappearing-message app Snapchat, even as their ownership interest declines over time. 
Anne Simpson, director at the California Public Employees' Retirement System, or CalPERS, and a member of the panel led the charge rejecting Berger's assertions. She argued that shareholders should have the power to put pressure on companies to change their leadership or remove directors in some egregious situations. She called the Snap issuance "junk equity."
"The idea that shareholders are ruining it for everyone is nonsense," Simpson said. "The question is about the fiduciary duty to owners. With no votes, you can't do anything. The whole regulatory regime for the SEC relies on investors to take matters into their own hands and protecting themselves."
The debate comes after Snap began trading March 2 at the New York Stock Exchange under the ticker symbol SNAP. It priced its IPO on Wednesday at $17 a share, and its shares spiked quickly to $27 a share on massive demand before falling back a bit recently to trade at $23 a share.
Berger suggested that the Snap non-voting share IPO is only the latest response to activists, noting that its move is related to a recent trend of technology companies, such as Facebook (FB) - Get Facebook, Inc. Class A Report  and LinkedIn (LNKD) . Their IPOs over the past decade gave company founders and other insiders disproportionately large voting rights when compared to their economic interests.  
The sector is of particular focus for activists, Berger notes, because its companies hold many of the core characteristics that typically attract insurgent managers, including large cash balances, high spending or research and development and significant investments into general and administrative areas, such as costs of employee and manager training. Activists, he contends will push companies into M&A rather than take risks necessary to grow on their own. "The short-term mentality of our markets has impacted Silicon Valley," he said. "This has led to a historic low in IPOs." 
Nevertheless, at least one SEC commissioner, Democrat Kara Stein, expressed some worries about the issuance, arguing that regulators need to "critically assess" their regime IPOs in the wake of the move.
It's unclear at this stage whether the SEC even has the authority to stop or discourage IPOs with non-voting shares in the aftermath of the Snap issuance, even if its commissioners were to decide that some action was necessary.
University of Pennsylvania Law Professor Jill Fisch said there are questions about how much authority the SEC has to regulate in the area, noting that it is more a matter of state law. "To the extent a company does something permitted by state law, as long as they disclosed it adequately, as Snap did, there are questions about how far the SEC could go to regulate it," she said.
The nonvoting class shares are especially problematic for funds that seek better governance and want to use their vote as an accountability mechanism but can't control their investments. Many institutional investors, public pension funds and index funds, such as State Street and Vanguard, may soon be required to invest in Snap without a vote because they base investments on broad indices, such as the Russell 3000, which will soon include Snap as a member. Institutional investors are now urging major index providers to remove Snap or any future public companies with non-voting shares from their indices.
Harvard Law Professor John Coates said that a move by institutional investors to collectively say they won't invest in non-voting equity would send a powerful message to companies thinking about IPO'ing following the Snap precedence. "You guys have a lot of power," Coates told the institutional investors in the room. "If you collectively said we would not invest in non-voting equity the price discount would jump a lot and that would cause founders to think harder about it."
Editor's note: This article was originally published by The Deal, a sister publication of TheStreet that offers sophisticated insight and analysis on all types of deals, from inception to integration. Click here for a free trial.