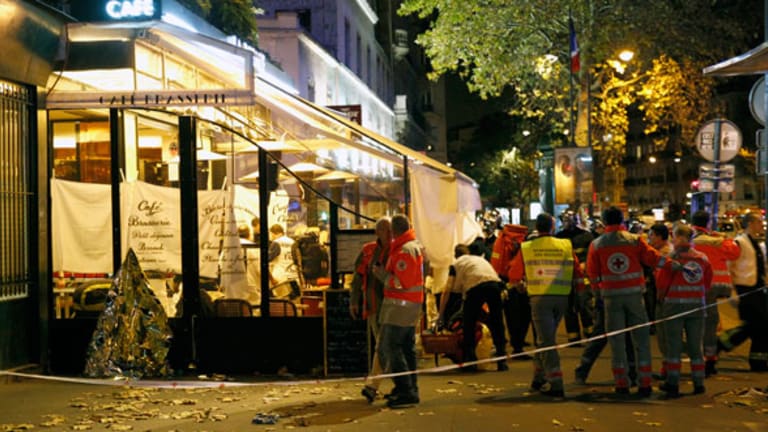 Smaller Defense Services Firms Will Gain From Paris Terrorism
While hardware manufacturers have gotten the most attention since Friday's attacks, Leidos and Booz Allen are more likely to see a near-term windfall.
Investors have flocked to defense titans since last Friday's Paris attacks, betting the expected strong response will mean an uptick in military hardware orders. But government services firms could be the primarily beneficiaries of any near-term moves made as the U.S. Defense Department ramps up its efforts to combat terrorism.
Defense stocks have actually been outperforming since September, with investors reacting favorably to comments by commercial jet manufacturers that new plane demand was holding up well despite low oil prices and a budget deal in Washington that should provide greater clarity into future Pentagon outlays. Companies includingRaytheon (RTN) - Get Raytheon Company Report and Northrop Grumman (NOC) - Get Northrop Grumman Corporation Report have continued the march in recent days as the ramifications of the latest acts of terror sink in.
Defense analysts say that while the Friday attacks galvanized the investing public over the threat of the Islamic State, the Pentagon is unlikely to radically overhaul its armament plans as a response. There could be some benefit for so-called platform companies, the contractors that make new jets, ships and tanks, if the attacks limit debate on defense appropriations, but is unlikely to dramatically move the needle in terms of major equipment spending.
In fact, among hardware companies Orbital ATK (OA) , a maker of ammunition and weaponry, could see more of a windfall than tank-builders.
Areas that will likely see increases include homeland security, defense IT and troop support. Those are businesses that the large contractors in recent years have moved to divest, fearing lower margins and a slowdown in the amount of work. But smaller contractors including Leidos Holdings (LDOS) - Get Leidos Holdings, Inc. Report and Booz Allen Hamilton (BAH) - Get Booz Allen Hamilton Holding Corporation Class A Report could be the big winners.
Booz Allen is a major contractor to the National Security Agency Department of Homeland Security, according to Cowen & Co. analyst Cai von Rumohr, generating nearly 25% of sales from intelligence work. Leidos meanwhile is also a vendor to the NSA, makes container inspection equipment and has a support business that would benefit from any uptick in U.S. presence in the Middle East.
Other companies including ManTech International (MANT) - Get ManTech International Corporation Class A Report , CACI International (CACI) - Get CACI International Inc Class A Report and Science Applications International (SAIC) - Get Science Applications International Corp. Report also could see gains if the U.S. recommits to deployment in the region or at least expands its intelligence and espionage efforts.

Any increase in spending could also provide added fuel for what is already expected to be a strong M&A climate for government services firms. While revenue could trend higher margins are likely to still remain under pressure, meaning buyers will have ample resources to do deals while the primary rationale to sell remains unchanged.
There are a number of assets currently on the block, including government services units of Lockheed Martin (LMT) - Get Lockheed Martin Corporation Report , Northrop Grumman, L-3 Communications (LLL) - Get JX Luxventure Limited Report and BAE Systems (BAESY) . Both rivals and private equity are believed to be looking at those assets, with a deal for the BAE business expected at any time.
With the spotlight expected to shine brightly on government services post-attack, other potential sellers could be pushed off the fence.
The bottom line for investors is that the events in Paris didn't so much create a new bull case for defense stocks; rather, it helps to eliminate the primary bear case. It was already getting harder for bears to argue that defense spending would not increase as planned. Post-Paris, stable to increasing Pentagon budgets seem even more certain to occur.