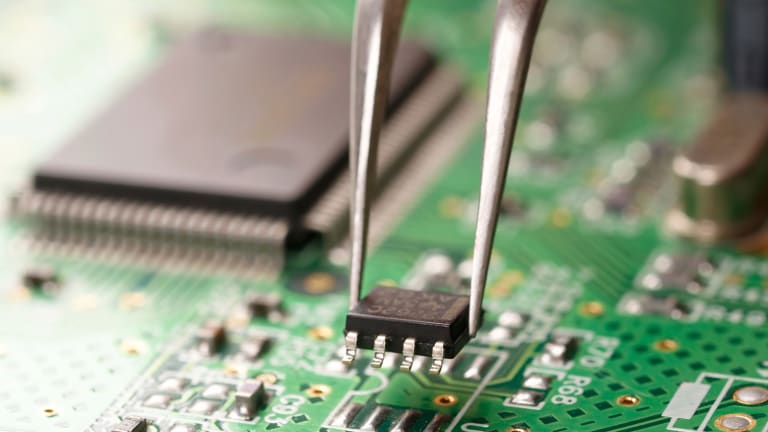 Skyworks Solutions Should Let Microsemi Acquire PMC-Sierra Instead
PMC-Sierra isn't growing fast enough to be worth more than the $2.4 billion that Microsemi offered for it. Microsemi's bid may spoil Skyworks' deal, but that's to Skyworks' benefit.
As PMC-Sierra (PMCS) weighs a $2.4 billion bid from Microsemi (MSCC) aimed at spoiling Skyworks Solutions' (SWKS) - Get Skyworks Solutions, Inc. Report earlier offer of $2 billion, industry watchers say Skyworks should let its rival have PMC-Sierra and pursue other chipmakers instead.
PMC-Sierra announced Tuesday that it has received and is evaluating an unsolicited proposal from Microsemi to acquire the company for $2.4 billion, or $11.50 per share, in cash and stock.
Sunnyvale, Calif.-based PMC-Sierra, which agreed earlier in October to be acquired by Skyworks Solutions for $2 billion, said the board believes the $2.4 billion proposal from Microsemi "would reasonably be expected to lead to a superior proposal," though it still recommends the all-cash transaction with Skyworks Solutions valued at $2 billion.
But one analyst cast doubt on that expectation. "I don't know that [Skyworks needs] to have PMC-Sierra. There are plenty of other deals they could do," said Raymond James analyst Steve Smigie.
For Skyworks, the PMC-Sierra acquisition would appear to represent a diversification move, as it would add revenue from the data center and telecom sectors to Skyworks' current streams from the technology, industrial and defense sectors, Smigie explained. But he noted that there are faster-growing companies in segments of the semiconductor market that have yet to be acquired.
"I just think that you've got a great growth profile at Skyworks," Smigie explained, noting that PMC-Sierra simply isn't growing as fast. "They can focus on organic growth and look for another deal that might be more growth-y."
Srini Pajjuri, an analyst at CLSA Americas, agreed, adding that he was surprised by Skyworks' proposal Oct. 6 to acquire PMC-Sierra.
"Even though we like the Skyworks deal, we felt that they could do better," Pajjuri explained. "PMC hasn't grown much in the last three to five years. They do offer some diversification and have very high margins."
He went on to note that it makes more sense for Woburn, Mass.-based Skyworks to pursue chip maker Silicon Laboratories (SLAB) - Get Silicon Laboratories Inc. Report , which has a nearly $2 billion market cap, or smaller makers such as Monolithic Power Systems (MPWR) - Get Monolithic Power Systems, Inc. Report . (The Deal identified Silicon Laboratories as a takeout target in March, citing Qualcomm (QCOM) - Get Qualcomm Inc Report and Intel (INTC) - Get Intel Corporation Report as potential suitors.)
If Skyworks still wants to pursue an asset resembling PMC-Sierra that is data center and telecom services-focused, it should consider Mellanox Technologies (MLNX) - Get Mellanox Technologies, Ltd. Report , Integrated Device Technology (IDTI) - Get Integrated Device Technology, Inc. Report and Cavium (CAVM) , he added.
The latter two would be larger acquisitions in size, as Mellanox has a $2 billion market cap, while Integrated Device has a $3.5 billion market cap and Cavium has a $3.8 billion market cap.
Meanwhile, Israel's Mellanox agreed in September to shell out $811 million to buy its smaller peer EZchip Semiconductor (EZCH) -- a transaction that has caught the attention of the target's activist investor Raging Capital Management, which is arguing that the offer isn't quite enough.
Skyworks has a strong balance sheet and is likely to raise its offer for PMC-Sierra, Pajjuri predicts despite his view that there are more sensible deals for Skyworks, estimating that it could next increase its bid to $12 per share for the target. Microsemi's proposal values PMC-Sierra at $11.50 per share.
"Certainly, they can afford it," he said of Skyworks, adding that Skyworks also has the option of matching Microsemi's offer of $11.50 in cash.
As for Microsemi, the company shares more similarities with PMC-Sierra in that both have high exposure to the communications infrastructure market, according to Pajjuri.
"They did buy Vitesse, which competes with PMC-Sierra in some markets," he said, referring to Microsemi's nearly $400 million purchase earlier in the year of Vitesse Semiconductor.
Brian Colello of Morningstar wouldn't offer a prediction as to what Skyworks will do, but noted that the offer it currently has on the table isn't low.
At $2 billion, or $10.50 per share, Skyworks has offered an approximately 37% premium to the closing price of PMC-Sierra the day before it announced the deal, a reasonable premium for the target that is in line with other transactions in the space, he explained. By comparison, Microsemi's proposal is about a 50% premium for the target.
Colello went on to say that a range of 30% to 50% is reasonable, noting that anything above 50% would be expensive in relation to recent deals in the sector.
Microsemi, which has a track record of serial acquisitions, is likely more eager than Skyworks to buy PMC-Sierra, suggested Ian Ing, executive director of MKM Partners.
He explained that the product portfolios of PMC-Sierra and Microsemi are more complementary, adding that the management of Skyworks is frugal and is unlikely to overpay for acquisitions.
However, Ing noted that Skyworks can afford to pay more, as it has no debt, whereas Microsemi is in a weaker position, with debt of 4 times earnings before interest, taxes, depreciation and amortization. "Microsemi probably can't go up a lot higher," the analyst said.
An industry source who asked for anonymity explained that PMC-Sierra was an "obvious" consolidation candidate, as the industry is undergoing a "huge" amount of consolidation and the company's overall enterprise value of $14.8 billion makes it the "perfect size."
The largest transactions of the past few months have included Avago Technologies' (AVGO) - Get Broadcom Inc. Report $36.6 billion acquisition of Broadcomundefined and Intel's $16.7 billion purchase of Altera (ALTR) - Get Altair Engineering Inc. Class A Report .
"The industry growth has slowed pretty dramatically," said CLSA Americas' Pajjuri. Not only are certain industry segments still very fragmented, he noted, but the cost of debt remains very inexpensive.
Officials with Skyworks, Microsemi, PMC-Sierra and Monolithic could not be reached for comment, while those with Silicon Labs declined to comment Tuesday.