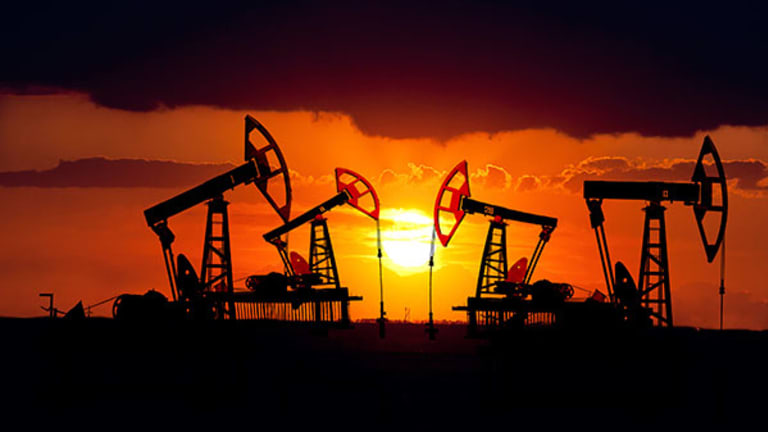 Six Oilfield-Services Providers Poised to Prosper as the Energy Business Rebounds
Here are companies that research firm Global Hunter is bullish on.
Here are companies that research firm Global Hunter is bullish on.
NEW YORK ( The Deal) -- Investing in the energy industry now is a little like catching a falling knife. 
Oil prices have been volatile after their dive last year halved their value. They recovered a bit in February to more than $55 per barrel, only to slide again to the mid-$40 level last week. Oil, though, has rebounded to the $50 level on Thursday on supplies concerns as a Saudi-led coalition of Sunni-ruled nations initiated airstrikes against Yemen's Shiite Houthi rebels.
Must Read:Warren Buffett's Top 10 Dividend Stocks
Given where oil prices are and how they keep moving, it's difficult to put your money into oilfield services. Companies in the industry are facing price cuts for their services and are losing some customers when they try to talk about new business. Many oil-services companies have announced layoffs, including 30,000 from Schlumberger (SLB) - Get Report, Weatherford International (WFT) - Get Report, Baker Hughes (BHI) and Halliburton (HAL) - Get Report combined, and many are reluctant to give earnings estimates.
So it was probably with some trepidation that the oil-services team from research firm Global Hunter Securities -- led by Ken Sill and Mark Brown -- released its list of top stock picks in the oilfield-services industry late last week. It came with a warning: Only investors with a six-month horizon should start to add to their positions and only on the next correction, which the firm thinks may already be under way.
What companies are on the list? It's a mix of offense and defense, Global Hunter said. It's also a short list, with only six companies making the cut. The list includes Superior Energy Services (SPN) , C&J Energy Services (CJES) , Oceaneering International (OII) - Get Report, Hornbeck Offshore Services (HOS) - Get Report, Patterson-UTI Energy (PTEN) - Get Report and Cameron International (CAM) .
Global Hunter pointed to three reasons to be bullish on Superior. For one, the company, which is led by CEO Dave Dunlap, can pick up forced divestitures from the Halliburton-Baker Hughes tie-up. That's because Superior has $400 million in cash and a strong balance sheet. Secondly, Superior has a targeted growth strategy focused on large international markets with high levels of activity and good prospects, including Argentina, Brazil, India and Saudi Arabia. And, third, it has strong exposure to North American completion and production services, which are faring better than most and will be a growth story in the next decade, in Global Hunter's view.
C&J -- which is headed by its founder, Josh Comstock -- will benefit from its combination with Nabors Industries' (NBR) - Get Report pressure-pumping assets. The deal, which closed this week, triples C&J's size and will lead to $50 million to $100 million per year in savings. C&J should also benefit from its focus on North American completions work and its entry into Saudi Arabia, which Global Hunter thinks will be one of the strongest drilling markets in coming years. Global Hunter also noted that C&J's high profit margins will allow the company to remain cash-flow positive when peers are bleeding cash.
Oceaneering, which is led by 35-year company veteran Kevin McEvoy, is a defensive pick, as its remotely operated vehicle business (27% of sales) shouldn't suffer the steep decline in sales that will affect most other oilfield-services businesses. Instead, Oceaneering will experience more of a "moderation in growth," Global Hunter said.
Hornbeck, which is involved in the offshore supply vessel market, "has enough fuel for the long haul," Global Hunter said. Hornbeck has lowered its cost base by stacking 12 vessels and having only 20% left of its $1.2 billion vessel construction capital-expenditure program.
The company's financial position is sound, as it has reworked its undrawn revolver, which was extended until 2020. It also had its leverage covenant removed, and it doesn't have any funded debt maturing until 2019. Global Hunter is projecting $113 million in free cash flow for Hornbeck next year and believes Hornbeck will be comfortably able to buy back shares to defend its valuation if the market remains depressed in 2016.
Must Read:7 Best and Worst Chemical Stocks for the Era of Lower Oil Prices
Global Hunter identified Patterson-UTI, which is led by CEO Andy Hendricks, as the Rodney Dangerfield of the group, because the quality of its operations and assets in land drilling and pressure pumping is "underappreciated." Its land-rig business doesn't have any exposure to speculative new projects, as the company is scaling back its rig construction plans this year.
Roughly a third of Patterson-UTI's Ebitda (earnings before interest, taxes, depreciation and amortization) is generated by pressure pumping, which should be a good business as attrition eats up the marketed supply base of equipment during the downturn, Global Hunter said.
Finally, there's Cameron, headed by longtime CEO Jack Moore. While its stock has been beaten down with operators "recalibrating" spending, Global Hunter expects Cameron's OneSubsea joint venture with Schlumberger will land some major contracts this year. It noted that Cameron continues to ship blow-out preventers and has aftermarket-service agreements in place for newer stacks. Some jack-up rig package orders may find their way into Cameron's books as well, Global Hunter said.
Although Cameron's exposure to Petrobras (PBR) - Get Report in its backlog is a risk facing almost every global oilfield-service company, subsea "trees," or well monitors, that Cameron put in place for the Brazilian oil giant a couple of years ago are still "humming along," and the seven blow out preventers in backlog for Brazil are tied to Aker Solutions rather than to Petrobras or Sete Brasil Participacoes, which leases rigs to Petrobras, Global Hunter said. And, like Oceaneering, Cameron looks like it's able to repurchase shares out of excess cash, having spent $1.7 billion doing so last year. Global Hunter is expecting another $1.2 billion this year.
So what companies fell off Global Hunter's list? That list includes the following: Natural Gas Services Group (NGS) - Get Report, whose plans to reduce spending will cut its fleet growth rate in half; FMC Technologies (FTI) - Get Report, whose margins will shrink and whose subsea orders will fall off, although it announced a joint venture this week with Technip that may help; Pacific Drilling (PACD) - Get Report, which will have contracting challenges for existing and new rigs being delivered; Schlumberger, which -- despite its sterling reputation -- is suffering from capital-spending cuts and a drop-off in business; and Weatherford, whose debt was downgraded by Moody's Investors Service on Tuesday on the risk of increasing debt balances and doubts about whether it can generate positive free cash flow through the downturn.
Global Hunter said that this cycle in the oil and gas industry is falling harder and faster than the 2008-2009 downturn, particularly in terms of pricing and that "no one knows how bad it will get." But the firm expects oil prices and upstream spending to rebound sometime next year. It couldn't come soon enough for some of these companies.
Must Read:Buy Oil and Gas ETFs as Crude Nears Bottom to Take Advantage of Rebound
Read more from
: