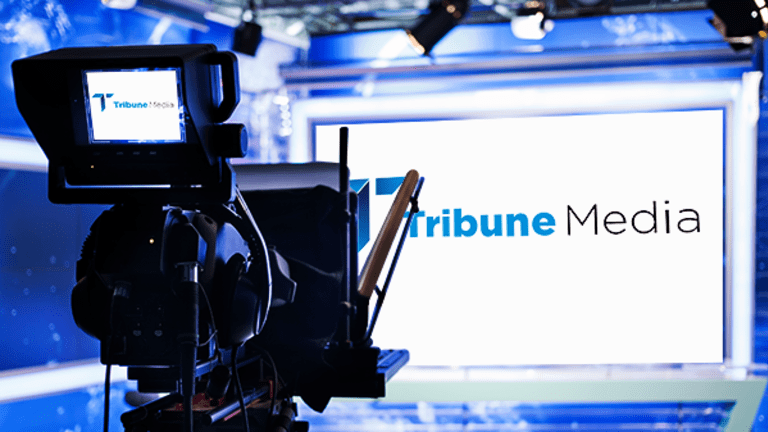 Sinclair Capitalizes on Looser FCC Rules to Buy Tribune Media
Sinclair Broadcasting, known for its conservative politics, plans to acquire the WGN owner in a cash-and-stock transaction worth $43.50 per share, or $6.6 billion including debt.
Sinclair Broadcasting (SBGI) - Get Sinclair Broadcast Group, Inc. Class A Report   has secured an agreement to acquire Tribune Media (TRCO) - Get Tribune Media Co. Class A Report  in a deal that moves the country's owner of the largest number of local TV stations toward its goal of becoming a nationwide operator of broadband services for homes and cars.
The deal, which will need Tribune Media shareholder and Department of Justice approval to close, will give Tribune shareholders cash and stock valued at $43.50 per share, or $3.9 billion in equity. Sinclair also would assume $2.7 billion in net debt, giving the deal a $6.6 billion value.
The Hunt Valley, Md., purchaser and Chicago-based Tribune Media anticipated the deal would close in the fourth quarter.
Shares of Tribune were surging on Monday afternoon, rising 5% to $42.30. The stock had gained 37% over the past three months before Monday as speculation rose that Tribune could be acquired.
Sinclair shares were down 3.9% to $35.70 on Monday after opening up at $41.
The deal comes less than three weeks after the Federal Communications Commission revised local TV ownership rules that gave Sinclair more room to make acquisitions. Though regulators could require Sinclair, which owns around 173 local TV stations, to sell some, the FCC under President Trump has indicated it will pursue further steps to curb limits on the size and reach of media companies. 
CEO Chris Ripley on a conference call Monday said that Sinclair shouldn't be required to make any divestitures even though its coverage area after the Tribune Media acquisition would balloon to more than 70% of U.S. households. He identified 14 markets where Sinclair and Tribune overlap.
FCC rules mandate that no single TV station owner can broadcast signals that cover more than 39% of the country's homes. The FCC last month, however, reverted the formula used to determine a TV station operator's coverage area to an older version that the agency under President Barack Obama had ruled to be antiquated. Under the newly adopted FCC rules, the combined Sinclair-Tribune Media stations would cover 44% of U.S. households, according to Wells Fargo media analyst Marci Ryvicker. 
"We don't think we need to sell any of them," Ripley said on the conference call with Wall Street analysts. "They have no impact on overall competition. We hope regulators will agree with us."
Ripley added that Sinclair plans to speak with FCC officials in the coming weeks to discuss the issue of divestitures. If Sinclair is ordered to divest stations, it would look to swap holdings with other operators.
Historically, Sinclair has focused on buying small TV station groups, often family-owned companies that have been squeezed for lack of size. In late April, just days after the FCC resurrected its so-called UHF discount, which lowered the formula used to determine coverage areas, Sinclair said it had joined with a related entity in a $240 million deal to acquire 18 TV stations in five states from Bonten Media Group Holdings and Esteem Broadcasting.
Watch: Sinclair Broadcast to Buy Tribune Media for $3.9 Billion
In Tribune Media, Sinclair sees an opportunity to gain leverage in negotiations with pay-TV operators as it rolls out advanced TV transmission networks capable of operating multichannel pay-TV platforms and beaming broadband connectivity into homes and cars. Buying Tribune Media would mark one giant step toward building a national network for a technology known as ATSC 3.0.
The technology will allow operators to beam TV signals into homes without having to use an antenna. Such signals also could connect to smartphones and tablets. Its backers say TV station operators could become competitors to wireless broadband operators such as Verizon (VZ) - Get Verizon Communications Inc. Report , AT&T (T) - Get AT&T Inc. Report , T-Mobile (TMUS) - Get T-Mobile US, Inc. Report and Sprint (S) - Get SentinelOne, Inc. Class A Report .
Tribune's 42 local TV stations are among the largest and best known in the country: Chicago's WGN-TV, New York's WPIX-TV and KTLA-TV in Los Angeles. Among its holdings are 12 affiliates of 21st Century Fox (FOXA) - Get Fox Corporation Class A Report , which elected not to bid for Tribune Media despite preparing to make an offer in a partnership with Blackstone Group (BX) - Get Blackstone Inc. Report , according to a source close to the matter.
Acquiring Tribune Media, Ripley said, would increase Sinclair's earnings before some deductions to $650 million during the first year as a combined company. Tribune Media's 31% ownership in Food Network, he added, generates about $180 million before some deductions. Sinclair would consider selling its stake in Food Network to its majority owner, Scripps Networks Interactive (SNI) , though it is also content to hold the stake.
Sinclair will seek to sell Tribune's stake in employment site CareerBuilder as well as Tribune Media's real estate holdings.
The target has been monetizing its real estate; in 2016 it sold properties including its Tribune Tower in Chicago for $506 million in pretax proceeds, according to its latest Form 10-K filed with the Securities and Exchange Commission. The majority owner of CareerBuilder, meanwhile -- Tegna (TGNA) - Get TEGNA, Inc. Report -- has been considering options including a sale of its stake.
But the focus of the deal is plainly on owning big city TV stations and expanding Sinclair's national reach. Shortly after Donald Trump was elected president, Sinclair Executive Chairman David Smith said he was hopeful that the FCC would lift ownership restrictions that he said unfairly favored internet companies over legacy TV station and newspaper operators. 
The deal to acquire Tribune is a sharp departure for Sinclair, which has long embraced a strategy of owning multiple stations in small markets. Though the stations often have separate news departments, they can share advertising and back-office functions. More conspicuously, Sinclair produces news segments from its headquarters in suburban Maryland that run on its many local TV stations.
Those news segments most often take a conservative viewpoint, pushing Republican candidates and officeholders over rivals. Sinclair, which has long shunned publicity, first gained national exposure when it pre-empted prime-time shows to run a program it produced that embraced Republican accounts of John Kerry's military service during the Vietnam War. Democrats criticized Sinclair for using public airwaves for partisan politics.
As for Tribune Media, the TV station operator has been looking for a potential buyer for more than a year. Tribune Media, which split from newspaper group Tribune Publishing (now Tronc (TRNC) ) in 2014, has struggled in recent quarters as its big bet on turning WGN America into a major cable TV network fell short of expectations. 
In January, Tribune Media dismissed CEO Peter Liguori, heightening expectations that its board of directors would step up efforts to find a buyer.
Chicagoans, though, are likely to bemoan news of the deal. Before its split, Tribune Co. was one of the city's best-known companies, the name Chicago Tribune proudly written on the front of one of Chicago's best-known buildings, the neo-Gothic tower that graces the city's Magnificent Mile along Michigan Ave. 
Founded in 1847, Tribune Co. published the Chicago Tribune and owned broadcasters WGN-TV and WGN-Radio, arguably the three best-known media outlets in the Midwest.
Trending news on TheStreet:
Here's a Big Clue That Warren Buffett Is Very Bullish on Bank of America's Future
Why Tesla's Explosive Stock Price Deserves to Keep Plummeting