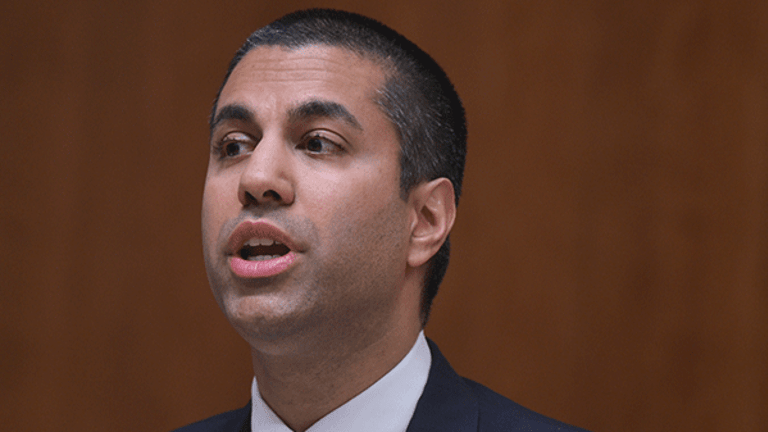 Publish date:
Sinclair's Bonten Media Deal Comes on Heels of FCC Decision
The $240 million deal for TV stations in five states could herald a wave of new acquisitions as Federal Communications Commission changes open new doors.
The $240 million deal for TV stations in five states could herald a wave of new acquisitions as Federal Communications Commission changes open new doors.
Just a day after the Federal Communications Commission moved to reinstate a rule that effectively eased ownership limits, Sinclair Broadcast Group (SBGI) - Get Report and the related Cunningham Broadcasting have agreed to acquire 18 TV stations in five states.
Sinclair will add Bonten Media Group Holdings' 14 television stations, and Cunningham will purchase the equity in Esteem Broadcasting, which holds four stations serviced by Bonten. The purchasers valued the deal at $240 million in their Friday statement.
Securities and Exchange Commission filings show the voting stock of Cunningham's portfolio of stations is owned by the estate of Carolyn C. Smith, mother of Sinclair's controlling shareholders.
Sinclair shares were down 0.9% to $40 on Friday afternoon.
Sinclair said it planned to fund the transaction with cash on hand. It anticipated the deal for stations in California, Montana, North Carolina, Texas and Virginia would close in the third quarter.
"Including the Bonten station acquisitions, all previously announced acquisitions and pro forma for expected synergies, the company's 2015 and 2016 media revenues would have been $2.236 billion and $2.620 billion, respectively," the company said in its statement. "The $240 million purchase price represents a 6.7x multiple and is expected to be on average approximately $25 million accretive to our free cash flow on an annualized basis."
Sinclair also has been rumored to be considering a bid for Tribune Media (TRCO) - Get Report in what would be a much larger transaction. Tribune shares were off 1.9% to $37.38 on Friday.
The deal comes a day after a reinstatement of an FCC rule based on what is now a largely meaningless technological distinction.
The rule involves what is known as the UHF discount, a regulation from 1985 that was intended to level the playing field for VHF and UHF broadcasters. Owners of UHF stations were allowed to count only 50% of those stations' reach against a 39% cap on the national coverage of station owners.
New FCC head Ajit Pai moved to restore the discount, which predecessor Tom Wheeler had eliminated in August.
The prevalence of digital TV makes the rule a technological dinosaur, but by unearthing it, the commission took an initial step toward creating new opportunities for media companies to acquire and consolidate.
The implications for consumers are uncertain, but Pai's desire to deregulate use and sale of consumers' data is a matter of public record.
Elimination of the UHF discount last year put some broadcasters in violation of the 39% cap. ION Media Networks asked the FCC to reconsider.
"The removal of the UHF discount without free and unfettered transferability clouds the ability of ION and other similarly situated parties to engage in normal financing, refinancing, recapitalization and other significant commercial endeavors," wrote ION attorney and former FCC commissioner Robert McDowell of Cooley, according to Variety.
Sinclair did not immediately return a request for comment.