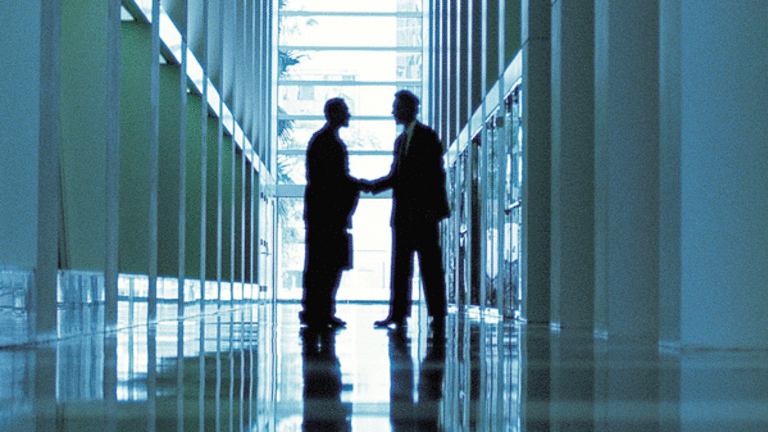 Should We Have Expected 'Big-bang' Reforms from India's Modi?
A steady flow of smaller initiatives and the right political mood music mean the business and investment community remain on side, for now.
After the years of stagnation under India's outgoing coalition government, expectations were running high. Foreign and domestic investors alike believed Prime Minister Narendra Modi's huge national election win in May might usher in a new business-friendly government ready to push through much-needed reforms.
The pre-election promises were heroic — though not always as heroic as the expectations they engendered among foreign investors. Billions would be poured into modernizing India's dilapidated infrastructure, with investment in high-speed bullet-trains, new roads and smart cities. Corruption would be swept away. A rocket would be put under the country's notoriously lumbering and dilatory bureaucracy. Inefficient state-owned enterprises would be sold off. Costly subsidies would be removed and tax disputes settled in favor of the foreign investor. The fiscal deficit would miraculously be closed, the economy would take off, investment would pour in and gross domestic product would soon return to the growth rates of 8% and more the country experienced at the end of the past decade.
Set against such targets, it was inevitable the new government would underachieve.
"This is not something that's going to happen in a jiffy," said Sanjeev Krishan, Private Equity and Transaction Services head at PricewaterhouseCoopers Pvt. Ltd. in Gurgaon, India. "These things take a while, but the government seems to be creating the opportunity for the economy to correct itself over time."
Nandan Nelivigi, head of the India practice at law firm White & Case LLP in New York, argued that it was always unrealistic to expect Modi to start transforming the nation on the day he took office, like the chief executive of a company. "All these 100-day agendas and plans like that? It's not going to work in India," he said.
But five months after Modi's Bharatiya Janata Party swept to power, investors are beginning to ask what, if anything, he has been able to deliver. Finance Minister Arun Jaitley offered no big-bang reforms or huge investment plans when he presented his first budget in July. Even a separate budget presented by Railways Minister D.V. Sadananda Gowda, which said the government was looking at a first bullet train route from Mumbai to Ahmedabad (in Modi's home state of Gujarat), pointed mainly to the fact that bullet trains would require completely new infrastructure. Instead, Gowda announced funding to upgrade existing routes.
Jaitley did raise the cap on foreign ownership in key sectors such as insurance and defense to 49% from 26%, though defense investments will still be subject to government approval. But even that concession failed to address many foreign investors' desire for majority control — and also faces opposition in parliament's upper house, the Rajya Sabha, which Modi does not yet control.
Jaitley also announced that income from transactions in securities by foreign portfolio investors would be subject to capital gains tax rather than business income tax and he put some money into a number of road, port and power projects. But he offered only partial comfort on what, for many foreign companies, has become a major obstacle to further investment in India: the previous government's legislation allowing retrospective taxation on foreign acquisitions of Indian companies held through offshore vehicles registered in Mauritius.
The legislation was designed to rake in $2.4 billion in tax from British mobile operator Vodafone Group plc on its 2007 acquisition of a 67% stake in Indian telecommunications company Hutchison Essar Ltd. from Hong Kong's Hutchison Whampoa Ltd., after India's supreme court had ruled that Vodafone did not have to pay under existing rules.
The July budget promised that future cases arising from the so-called indirect transfer provisions would be scrutinized by a high-level committee set up by the tax regulator before any action is taken by the tax authority — a significant enough concession, given that the law was backdated to 1961.
However, Jaitley said nothing about settling existing cases and instead raised fears of more bureaucratic delay, arbitrary decision-making and opportunities for corruption. Meanwhile, the government and Vodafone have been attempting to solve the dispute by arbitration, but it is dragging on and there is no obvious end in sight.
Modi has gone round the world insisting that India is open for business, campaigning for foreign investment and stressing that his "Make in India" program will provide a boost for the country's manufacturing industry and provide new jobs. But back in India, some critics complain there is little evidence of any implementation work in the pipeline.
"But for all the big intentions and statements in the budget and during the election phase — whether it housing for all, bullet trains, smart cities or major infrastructure improvement — I don't think there is enough evidence yet on the ground to say what, if any, of that is being actioned," said Mayank Rastogi, Private Equity and Transaction Services partner at EY LLP.
A promised privatization of state-owned industries also remains pending. When the first moves do come, possibly before the end of this year, they will not involve the breakup or sale of whole enterprises, but merely the sale of minority stakes. The government will use the cash to fill its own coffers and bring the fiscal deficit down toward its stated targets of 4.1% of GDP this year, 3.6% next year and 3% the year after that.
Such minority holdings are more likely to attract big pension funds and sovereign wealth funds than foreign private equity investors, who prefer controlling stakes, and will do little to increase competition in the market place.
"I don't think that mere divestment of minority interests is actually sufficient or is going to be enough to solve the problems," said White & Case's Nelivigi, alluding in particular to the government's planned sale of a 10% stake in the notoriously inefficient and troubled state coal company, Coal India Ltd.
"As long as the government is in the business it's going to be a problem," Nelivigi said. "Modi himself said it very well: Government has to get out of the business of being in business."
But the lawyer argued that Modi is ready to approve divestment on a significant scale and at a speed which hasn't been done in the past and that in itself is a sign of change of attitude.
It is partly because the business community believes Modi understands the need for bigger reforms, that much of the optimism generated by the election is still alive. EY's Rastogi stressed that the mood has changed since Modi came into office, "in spite of no visible change on the ground."
"There is a lot of optimism," he said, "that the government is at least heading in the right direction, that they're saying all the right things and hopefully they will take those concrete steps soon."
That's an assessment shared by Nilesh Shah, of Axis Capital Ltd., the investment banking arm of India's Axis Bank, which has an alliance with U.S. investment bank Robert W. Baird & Co. Shah said both entrepreneurs and investors are hopeful that business will get back on track as the government eases the stifling regulation and red tape that many believe is holding India back.
"They are hopeful that over a period of time the ease of doing business will increase, the flow of capital for doing business will increase, regulations that are required to do business will decrease and so forth," Shah said. "No major announcement has been made […], but certainly the decision-making process seems to have come faster, the government seems to be in the listening mode , they are consulting with various constituencies and hopefully out of this consultation an effective solution will emerge over a period of time."
Foreign governments do seem to be getting ready to do business with India, even as India is distracted by other matters — not least the disappointing results of Modi's attempts to reach out to Pakistan and China, as tensions rise along India's disputed borders with both countries. That tension hasn't stopped China from pledging investments worth $20 billion in India over the next five years — including building industrial parks, and helping modernize rail infrastructure in the South, well away from the border.
Japan has committed $35 billion — encouraged by Modi's decision to place two Japanese officials in his own office who will help facilitate investment and evaluate proposals — and has also committed to help finance Modi's promised bullet trains. The U.S. has committed $50 billion, and the Indian government has struck nuclear cooperation deals with Australia and Canada — an achievement not yet matched with Japan, which is insisting on India guaranteeing not to conduct nuclear tests in future.
Of equal importance, foreign and domestic investors appear ready to do deals even before the promised reforms are in place.
According to EY's Rastogi, private equity deals are already picking up, even though they are not yet reflected in the figures.
"Deal activity on the street is much higher," he said, adding that the activity now is increasingly focused on late-stage deals rather than the early growth capital investments that have been a typical feature of the Indian market so far.
"There are big transactions that are being talked about. And I see most of the global funds operating in India have all either cut large checks in the last six months or are deeply engaged in deal conversations. Those that haven't done deals yet have good deal pipelines. Hopefully they'll cut a check soon."
Figures from the Emerging Markets Private Equity Association show that in the first six months of 2014, there were 145 private equity investments in India, compared with 123 in the same period last year. There was little change in overall value, which went up to $1.9 billion in the six months ended June from $1.8 billion in the first half of 2013. (April to September figures from PwC, apparently based on a more comprehensive sample than EMPEA's statistics, show an even less positive picture. PwC shows there were 209 private equity investments with a total value of $5.92 billion in the period, compared with 237 deals worth $6.32 billion in April-September last year. )
What is striking about the EMPEA analysis, however, is that both venture and buyout investments have been growing as a proportion of overall deal value, while growth capital and private investments in public equity, or PIPEs, have dwindled. In the first half of this year, venture capital accounted for 24% of investment in India, by value, and buyouts for 20%, up from 16% each for 2013 as a whole. Growth capital and mezzanine transactions accounted for 46% of January-June transactions and PIPEs for 10%.
Warburg Pincus LLC, which on Oct. 20 announced a new investment in Kerala jewelry company Kalyan Jewellers India Pvt. Ltd. for a 24% stake, was also one of the most active investors earlier in the year, with three deals in the first six months. Kohlberg Kravis Roberts & Co. LP in May made a growth capital investment of $200 in Gland Pharma Ltd., in a deal first agreed in November 2013. (The deal provided an exit for Dubai-based Evolvence Capital). TPG Capital LP's Growth Capital fund committed $100 million to Katalyzers, a joint venture with India's Smile Group. Katalyzers will serve as an incubator and emerging markets expansion platform for e-commerce and Internet companies. Providence Equity Partners invested $51 million in a buyout of online retailer Star CJ Network India Pvt. Ltd.
Not all the new activity is directly attributable to the new government, although the surge in India's stock markets since the election has clearly stoked interest in exits on to the public markets.
Bain Capital LLC in June made a partial exit, selling a 2.8% stake motorcycle maker Hero MotoCorp Ltd. on the Indian exchanges via a share sale. It reportedly raised $248 million for a 2 times money return on its 2011 investment. Some deals were in the works long before Modi's rise to power and others, such as Mauritius-based India investor ChrysCapital's $244 million partial exit via a share sale of IT services company HCL Technologies Ltd., were completed months before the election. The stabilization of the rupee since the installation of respected central bank Governor Raghuram Rajan at the Reserve Bank of India last year had already contributed to a change of mood, as had his readiness to use his limited powers to act independently of parliament to enact banking sector reforms.
REFORMS ARE COMING out one at a time. In October, taking advantage of the falling world oil price, the government both deregulated diesel prices to eliminate a costly consumer subsidy and raised natural gas prices paid to producers in an attempt to encourage investment and production in the sector.
Unconnected with the financial markets, the Indian public still keeps the faith. Recent state elections have shown Modi and the BJP are still popular and will give him extra leverage in the Rajya Sabha.
And the carefully nurtured dream of bullet trains criss-crossing the nation still captures the public imagination.
So much so that street traders are peddling firecrackers for the annual Diwali festival celebrations, that are decorated with a bullet train and emblazoned with the prime minister's image.
For all the lack of big announcements, Modi continues to make enough small moves and political gestures to keep both big business and his vast constituencies of small businessmen and ordinary voters convinced he can bring change.
In recent weeks he has kept up a continuous flow of initiatives designed to show he is serious with his mantra of "minimum government, maximum governance."
He has sought to show that he can tackle India's burdensome "licence raj" — the skein of red tape that forces businesses to seek dozens of approvals and licenses for the smallest innovation and provides endless opportunities for small and large-scale corruption.
Businesses applying for licenses from the Environment Ministry, for instance, are able to trace the progress of their applications on a government website. The government is said to be working on ways to shorten the time it takes to register a business.
Modi has also announced reforms to the system of workplace and business inspections — the "inspection raj" — which also breeds corruption. In future, inspections, for matters including compliance with labor laws and health and safety are expected to be "randomized," based on objective, computerized data, rather than on the whim of some official who sniffs the opportunity for a backhander.
To keep the labor force on side, Modi has also announced government funds for apprenticeships in the manufacturing industry and elsehwere.
Unblocking or "de-bottlenecking" infrastructure programs will also help provide jobs.
With all these small initiatives, the mood is still buoyant. People are ready to give Modi time to show he can deliver on the promise of restoring India's rate of growth to 8% and more. If he fails, patience will eventually run out.
Said PwC's Krishan: "In some ways people are glad he's not making big-bang announcements. They're glad someone is focusing on the micro, and on how to make doing business easier and faster. But they also want to know that, this time next year, they will be seeing real movement. They want to know that words are translating into action."