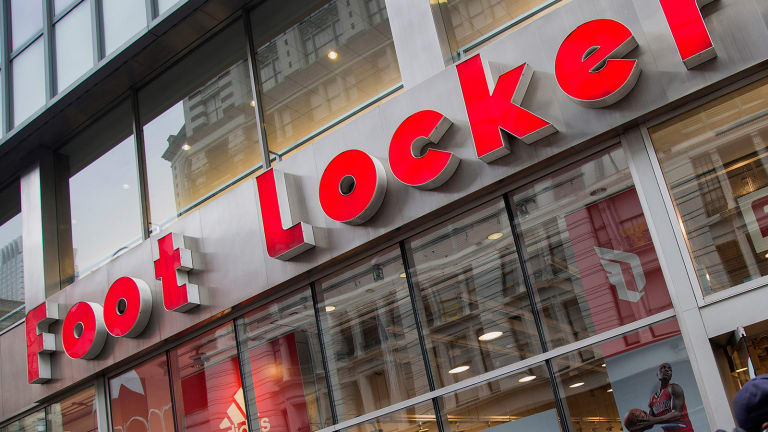 Should Foot Locker Be Scared of Finish Line Acquisition?
Merger with UK's JD Sports will give Finish Line a more global footprint and improved relationships with suppliers, analysts say.
Foot Locker Inc. (FL) has had a tough year.
Since early 2017, shares have dropped more than 40% as comparable sales have declined three quarters in a row. The New York-based sneaker retailer nonetheless confronted more bad news Monday, March 26, as its rival, The Finish Line Inc. (FINL) , is being acquired by the U.K. company JD Sports Fashion Plc. for $558 million.
The deal, valuing Finish Line at a 28% premium over its March 23 closing price of $10.55, would give the chain a leg up against the more upscale Foot Locker, analysts said Monday, though neither athletic shoe chains have performed well recently.
"Finish Line couldn't compete with Foot Locker, which had a lot more square footage," said B. Riley FBR analyst Susan Anderson.
"This deal is going to be negative for Foot Locker because Finish Line will be a stronger competitor," she told TheStreet, pointing to the JD Sports' pricier offerings and international presence.
Finish Line currently operates 944 stores, including nearly 400 inside department stores like Macy's Inc. (M) . That's compared to Foot Locker's 3,310 stores in 24 countries. Both retailers have shuttered locations in recent years, however, and initiated restructuring plans to right-size their footprints through store closings. So far this year, Foot Locker has announced 100 store closures, and Finish Line shuttered at least 20 in 2017.
Under JD, Finish Line will retain its management team and continue with restructuring. Finish Line's U.S. brick-and-mortar presence, meanwhile, would give the JD a chance to expand beyond Europe.
Canaccord Genuity's Camilo Lyon agrees that the merger will challenge Foot Locker.
"Interestingly, the combined entity would make a more formidable competitor vs. FL," he wrote in note, adding that Finish Line under JD would have "scale and geographic diversity [that] better matches FL's footprint."
The acquisition, expected to close by June, will also grant Finish Line stronger negotiating power with manufacturers and suppliers such as Nike Inc. (NKE) and Adidas AG undefined , according to Anderson. "JD management highlighted the proximity to Nike in their press release and we believe the combined JD/FINL format and global reach will be beneficial in helping the company win exclusive launches from the manufacturer," she wrote in her note.
Not everyone on Wall Street projects steeper competition for Foot Locker, however. 
Under a global banner, it's likely that Finish Line will go in a more differentiated direction than Foot Locker, said Susquehanna analyst Sam Poser. But Finish Line will probably benefit from JD's relationship with manufacturers, he added, including Nike, which most likely had to write off on the merger in the first place.
The M&A was a given, Poser went on, because of JD's rival Sports Direct International "was putting pressure on them" with its minority stake in Finish Line.
Despite the acquisition, Foot Locker shares ended Monday's trading at $45.26, up nearly 4%. Finish Line wrapped up the day up more than 30%, trading at $13.83.