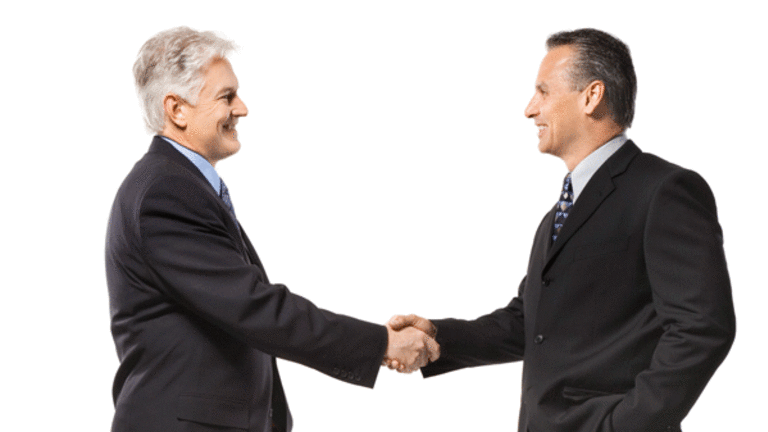 Publish date:
Shire Rejects $46B AbbVie Offer
The proposal followed two other pitches from AbbVie, which wants to move its tax domicile to the U.K.
The proposal followed two other pitches from AbbVie, which wants to move its tax domicile to the U.K.
NEW YORK (The Deal) -- The M&A feeding frenzy in the healthcare sector continued on Friday as Ireland's Shire (SHPG) - Get Shire PLC Sponsored ADR Report confirmed it had received and rejected a series of proposals from AbbVie (ABBV) - Get AbbVie, Inc. Report, culminating in an offer that valued its stock at £27.2 billion ($46.6 billion).
The announcement came after Pfizer (PFE) - Get Pfizer Inc. Report late last month abandoned a £69.4 billion indicative offer for AstraZeneca (AZN) - Get Astrazeneca PLC Sponsored ADR Report and followed speculation that hostile bid target Allergan Inc. was plotting a defensive takeover of Shire as a means to fend off Valeant Pharmaceuticals International and its $54 billion offer. Elsewhere devices maker Medtronic (MDT) - Get Medtronic Plc (MDT) Report on Monday unveiled a $42.9 billion offer for Ireland's Covidien (COV) , while Stryker (SYK) - Get Stryker Corporation Report last month admitted it had been weighing a bid for hip replacement specialist Smith & Nephew (SNN) - Get Smith & Nephew PLC Sponsored ADR Report.
Shire said North Chicago-based Abbvie's latest, May 30 proposal valued its stock at 4,611 pence, based on AbbVie's weighted 30-day average share price. It broke down into 2,044 pence in cash and 0.7988 of an AbbVie share.
Like Pfizer, AbbVie wants to redomicile for tax purposes to the U.K. Shire said it had decided that the move carried "execution risks," while the offer itself, which it said was 23% more than Shire's Thursday closing price, was too low.
Shire's remit is to focus on specialist medical conditions--those that wouldn't be treated by a general practitioner--in areas of "significant unmet medical need." In January it closed a $4.2 billion takeover offer for ViroPharma (VPHM) , of Exton, Pa., to gain drugs focused on treating and preventing hereditary angioedema, which causes spontaneous swelling of the skin and mucous membranes. And last month it arranged to pay $260 million upfront to buy San Diego-based Lumena Pharmaceuticals, which has two compounds in development to treat liver diseases in adults and children.

On Friday Shire argued that the AbbVie proposals fail to acknowledge its target to more than double sales between 2013 and 2020 to $10 billion, and don't take into account an increase in revenue at its rare disease business unit.
"With an expanded portfolio focused on high-growth opportunities, an efficient cost base and an enhanced innovative pipeline, we have put in place a platform for long-term value creation. We believe that Shire has a strong independent future," said Shire Chairwoman Susan Kilsby in a statement.
AbbVie, which was spun off from Abbott Laboratories (ABT) - Get Abbott Laboratories Report in January last year, has struck a string of licensing deals since gaining independence. In Europe these have included September agreements to develop cystic fibrosis treatments with Mechelen, Netherlands-based pharmaceutical company Galapagos in exchange for as much as $405 million in upfront and milestone payments; and to purchase an option to license rheumatoid arthritis and systemic lupus treatments from Belgium-based Ablynx for as much as $840 million.
Abbvie noted that it was no longer in talks with Shire and that the Takeover Code stipulated that it must make a firm offer or retreat by July 18.
It put the value of its latest Shire offer at 4,626 pence, and said its first proposal, which it made in early May, was worth 3,950 pence.
"AbbVie reserves the right to introduce other forms of consideration and/or vary the mix of consideration. AbbVie also reserves the right to make an offer at any time for less than the equivalent of £46.26 for each Shire share," it said.
The company is led by chairman and CEO Richard A. Gonzalez. As of Thursday's close on the New York stock Exchange it had a market value of $86.2 billion.
Shire shares were up more than 15% at 4,306 pence by early afternoon in London on Friday.
AbbVie's advisers are JPMorgan Chase & Co. (JPM) - Get JPMorgan Chase & Co. (JPM) Report.
Shire's advisers are Citigroup's (C) - Get Citigroup Inc. Report Christopher Hite and Jan Skarbek; Evercore Group LLC's Francois Maisonrouge and Edward Banks; and Morgan Stanley's Michele Colocci, Colm Donlon and Peter Moorhouse.