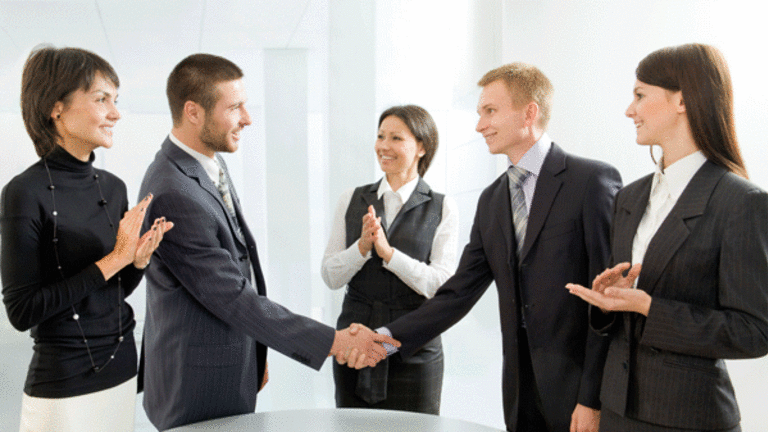 Shire Agrees to AbbVie $55B Takeover Offer
AbbVie forged a $54.7 billion takeover deal for Shire Friday, having agreed to a $500 million-plus, one-way breakup fee.
LONDON (The Deal) -- AbbVie (ABBV) - Get Report forged a 32 billion pounds ($54.7 billion) takeover deal for Shire (SHPG) - Get Report Friday, having agreed to a $500 million-plus, one-way breakup fee amid concerns a potential U.S. clampdown on companies switching tax domiciles could derail a transaction that the target described from the outset as risky.
Concerns about whether AbbVie would pull off the maneuver mounted this week on news that Treasury Secretary Jack Lew favored retroactive legislation to restrict the flow of American companies switching to lower-tax regimes.
The breakup fee would be capped at the standard 1% of the transaction value and would kick in if AbbVie changes its recommendation on the deal and its own shareholders vote against the transaction, or if the meeting is never held. The breakup fee is also applicable if AbbVie pulls the offer after the European Commission launches an in-depth antitrust probe.
In a conference call AbbVie chairman and CEO Richard Gonzalez repeatedly declined to comment on whether the breakup fee would be directly triggered by changes to U.S. tax rules. His company believes the deal is "highly executable," he said.
"Tax is clearly a benefit but it's not the primary rationale," he added. "My own point of view is the debate would be more appropriately shifted to tax reform. Companies like ours need access to our global cash flows and today we are at a disadvantage compared to our competitors."
As announced on Monday when Shire accepted the offer in principle, AbbVie, of North Chicago, will offer 2,444 pence in cash and 0.8960 of a new AbbVie share per share of the Dublin maker of the Vyvanse drug for attention deficit hyperactivity disorder. The price totals 5,248 pence per share, based on AbbVie's Thursday close, and the takeover would give Shire shareholders about 25% of the combined, New York Stock Exchange-listed company.
AbbVie, which was spun off from Abbott Laboratories in January 2013, has struck a string of licensing deals since gaining independence, but the Shire takeover would be, by far, its largest transaction and create the world's ninth-largest drug company. It would give AbbVie an attractive, and profitable, portfolio of drugs in the rare disease, neuroscience, gastrointestinal and internal medicine areas and reduce AbbVie's dependence on its Humira drug for arthritis before it loses patent protection in 2016. The merged entity's planned U.K. tax domicile would enable AbbVie to shield overseas cash from the IRS and push its overall rate down to 13% from 22%
Gonzalez told analysts and investors that the enlarged company expects use its strengthened financial position to carry on buying.
"We are going to have significant capacity to do additional acquisitions and we would be excited about doing that over the course of time," he said.
AbbVie said the price - its fifth offer to Shire -- was a 42% premium to Shire's undisturbed closing price on June 19, while the enterprise value is 24 times Shire's Ebitda in the past 12 months. Shire had 2013 revenue of $4.9 billion and Ebitda of $2 billion.
AbbVie said the deal would boost its earnings per share in the first full year. The company also said it plans to use a new bridge facility to finance part of the cash component and expects to maintain an investment grade credit rating.
The scheme of arrangement takeover requires the support of holders of 75% of Shire's stock, a majority of AbbVie shareholders, as well as clearance from the High Court and regulatory approvals.
The Shire takeover would be the second big-ticket deal in the pharma sector in recent weeks motivated at least in part by so-called tax inversion, after Minneapolis-based Medtronic Inc. in June agreed to buy Irish rival Covidien plc for $42.9 billion.
Friday's agreement will lift morale among European dealmakers after bids by U.S. companies for two other healthcare targets failed in recent weeks: Pfizer's (PFE) - Get Report 69.4 billion pound bid for AstraZeneca (AZN) - Get Report, and Mylan's (MYL) - Get Report Skr43.8 billion ($6.7 billion) offer for Sweden's Meda AB.
Shire chairwoman Susan Kilsby, a former Credit Suisse Group AG M&A banker, would join AbbVie's board, along with Shire nonexecutive director Dominic Blakemore. Shire CEO Flemming Ornskov would lead the integration and establish a new rare disease unit within the enlarged AbbVie.
Brian Corvino, head of global commercial consulting at pharmaceuticals specialist Decision Resources Group, noted that the rare disease area is a highly attractive segment of the pharmaceuticals industry.
"You have a highly focused patient population with substantial unmet need, there's little pricing sensitivity and there is little business case for generic erosion," he said. "If anything, this deal validates the rare disease business model. Depending on how you do the math they could be the No. 2 or No. 3."
AbbVie's advisers are a trans-Atlantic JPMorgan Chase & Co. team of Jeffrey Hoffman, Henry Gosebruch, Benjamin Wallace, Laurence Hollingworth, Dwayne Lysaght and James Robinson.
A Sullivan & Cromwell LLP team including Matthew G. Hurd, Scott B. Crofton, David L. Goldin, James Jian Hu, Matthew M. Friestedt, Regina L. Readling and Steven L. Holley is providing legal advice.
Shire's advisers are Citigroup Inc.'s Christopher Hite and Jan Skarbek; Evercore Group LLC's Francois Maisonrouge, Edward Banks, Lyle Ayes, Simon Elliott, Nishant Saxena, Alan Beirne, Shankar Sikri and Jonathan Alspaugh; and Morgan Stanley's Michele Colocci, Colm Donlon and Peter Moorhouse.
Davis Polk & Wardwell LLP's George R. Bason Jr., William J. Chudd and colleagues are providing legal advice to Shire.