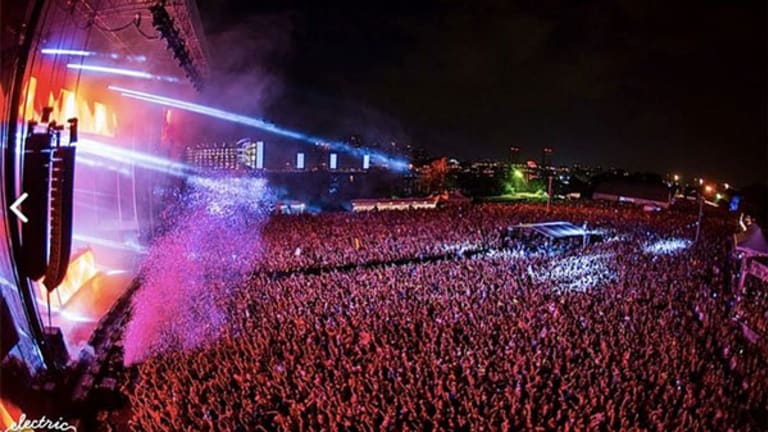 SFX Entertainment Seeks to End Sillerman Debt Guarantee
SFX Entertainment's founder Robert Sillerman is seeking to remove himself as a guarantor of the firm's debt through a note offering.
NEW YORK (TheStreet) -- When SFX Entertainment (SFXE) went public, the company's founder Robert "FX" Sillerman was on the hook as a guarantor of all of the company's debt, totaling roughly $75 million. Now, after a few months in public markets, money-losing SFX Entertainment is seeking to more than double its debt load through a private placement of $200 million in notes, while removing Sillerman's debt guarantee.
SFX Entertainment said on Tuesday it has launched a private offering for $200 million in second lien notes due in 2019. If the offering is successful, the notes will be used to repay over $70 million in outstanding debt, which was set to come due in September 2014.
As with SFX Entertainment's initial public offering, the company's note offering contains many strings attached, most notably, the prospective removal of Sillerman's guarantee of the company's debt.
"The new notes will not be guaranteed by Mr. Sillerman," a spokesperson for SFX Entertainment said in an e-mail. Barclays is leading the note offering, while Deutsche Bank, Jefferies and UBS are joint bookrunners. 
Prior to the offering, SFX Entertainment's debt counted Sillerman as a guarantor and had restrictive covenants in place, which precluded him from leaving the company or walking away from its debt burden. Those guarantees and covenants, put in place by SFX Entertainment's banker Barclays (BCS) - Get Report, also seemed prudent given that company has generated a net loss of $72 million through the first nine months of 2013 on $86 million in revenue. Cash flow from operating activities, meanwhile, came in at -$13.1 million through the first nine months of 2013.
For those who are unfamiliar, Sillerman is the mind behind LiveNation, a company he sold to Clear Channel for over $4 billion dollars, and CKX, Inc., a vehicle he used to acquire rights to Elvis Presley's Graceland estate and the hit TV show American Idol. Sillerman sold CKX to Apollo Management in 2011. SFX Entertainment is Sillerman's entrance into electronic music culture, or EMC. 
The company operates many of the biggest events in EMC, namely, Electric Zoo in New York, the Tomorrowland festival in Belgium and Nature One in Germany. Sillerman has said in interviews he may conduct $1 billion in acquisitions in the EMC space, effectively turning SFX Entertainment into the industry's powerhouse.
SFX Entertainment said remaining proceeds from its $200 million note offering will be used to finance current and future acquisitions and general corporate purposes. Still, given large current losses and the popularity of SFX Entertainment's biggest EMC concerts, it is unclear whether the company has the financial power to take on such extensive debts, especially without the backing of Sillerman. On the positive side, at least SFX Entertainment will now have until 2019 to pay back its debts.
It's also worth noting that the entire company won't stand behind the $200 million offering. In fact, SFX Entertainment's notes will now be backed by the company's least profitable operations.
Only SFX Entertainment's direct and indirect wholly owned U.S. subsidiaries and its SFX-Nightlife venture are expected to guarantee the company's new debts. Those produce net losses for the company.
"The Issuer and its subsidiaries that will guarantee the notes generated, on a pro forma basis, approximately $140.1 million, or 48.7%, of net sales and approximately $(10.2) million, or (40.9)%, of Adjusted EBITDA for the twelve months ended," SFX Entertainment said in a filing with the Securities and Exchange Commission.
Subsidiaries not guaranteeing SFX Entertainment's new notes generated $147.7 million, or 51.3% of total revenue, and $35.2 million in adjusted earnings before interest, taxes, depreciation and amortization (EBITDA) in the 12 months ended on Sept. 30. With other operations losing money, the latter figure represented about 140% of SFX Entertainment's adjusted EBITDA.

If investors were willing to take a flyer on SFX Entertainment because Sillerman was there to stand behind the company's debts, they might want to look at the company's Tuesday note offering.
Not only has Sillerman exited stage right as a guarantor of the company's debts, but SFX Entertainment is leveraging its least profitable operations to the tune of $200 million. That means the money losing company may have room to continue to lever up its balance sheet further for acquisitions.
SFX Entertainment shares were falling nearly 2.5% on Tuesday to $9.41. Shares in the company have fallen over 20% since its October initial public offering.