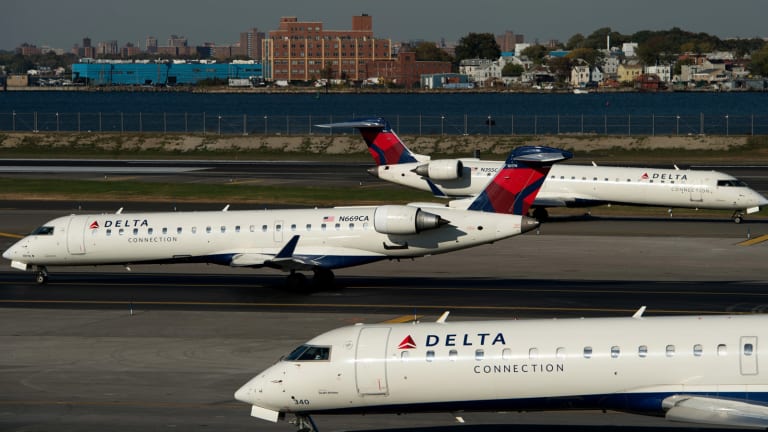 Self-Inflicted Turbulence Forced Republic's Bankruptcy Descent
The airline company is still paying the price for its ill-fated 2009 purchase of Frontier Airlines and a pilot dispute that took eight years to resolve.
Republic Airways Holdings' (RJET) final descent into Chapter 11 protection on Feb. 25 followed a decade's worth of missteps that left the airline uniquely vulnerable in a time of low fuel prices and healthy demand that have allowed most airlines to thrive.
Republic filed in the U.S. Bankruptcy Court in the Southern District of New York in Manhattan, citing a pilot shortage that has made it hard to complete its schedule and ongoing disputes with some of its flying partners. The filing was a rare bit of bad news in what has otherwise been a boom time for the notoriously cyclical airline business, with the U.S. industry generating $22 billion in operating profits during the first three quarters of 2015, according to Dept. of Transportation estimates.
Indianapolis-based Republic is one of a number of regional airlines operating small jets and twin-props under the brands of larger airlines. It is a segment of the industry that has been squeezed in recent years by consolidation, which has closed hubs and cut into demand for partners, and a general trend by airlines to move some of that flying in-house.
Republic management saw the squeeze coming. Unfortunately, management's creative attempts to diversify helped contribute to the company's downfall, exasperating tensions inside the company and distracting management attention.
In 2009 Republic struck a surprise deal to acquire Frontier Airlines out of bankruptcy and added Midwest Air Group soon after in an attempt to build an in-house national discount brand. Company officials were hopeful having an independent brand would lessen its reliance on airline partners, and help attract pilots by offering them an in-house path to flying larger, and better-paying, jets.
But the struggles that pushed Frontier into bankruptcy continued under Republic's ownership, with the brand quickly becoming a drain on its parent's resources. Making matters worse, the addition of Frontier's unions greatly complicated already rocky relations between Republic and its existing labor groups, leading to increasing tensions that eventually made it harder for Republic to recruit pilots to its regional service.
In addition, Frontier was operating as a direct competitor to Republic's fee-for-service customers -- for example, operating a hub in Denver where United Continental Holdings' (UAL) - Get United Airlines Holdings, Inc. Report United Airlines also has a stronghold. While Republic's airline customers didn't drop the company's regional brands, transportation sources say it raised tensions between airlines and likely cost Republic opportunities to win additional flying.
Republic put Frontier on the block in 2011, and in October 2013 finally inked a deal to sell the unit to Indigo Partners for $36 million in cash and about $109 million in transferred debt. Notably, Republic was unable to drop a $3 billion order for new planes made with Frontier in mind into the deal, and now will likely drop that order as part of its restructuring.
Republic's labor troubles did not disappear with the sale. The company had been engaged in an increasingly bitter dispute with its pilots over a contract that had been amendable since 2007, with the company pledging what it called "industry leading" pay but union leaders fighting for pay more similar to what their peers make at larger airlines.
Last year labor sources expressed a number of grievances with Republic, including taking seats out of certain planes to reclassify the jets and negotiate lower-rate pay scales, and also offsetting promised wage gains with increases to health insurance and other expenses.
Union leaders continued to be angry that Republic appeased Frontier pilots by not integrating seniority lists at Republic's various subsidiaries, a step which would have given veteran Republic pilots opportunities to fly bigger jets for more money while booting younger Frontier pilots back to regional duty.
The pilot dispute nearly boiled over last summer, with Republic forced to rescind 2015 guidance because of a failure to find enough pilots to cover existing schedules. Company CFO Joe Allman in an August call with investors said "there is no way to sugar coat" current results, warning that a bankruptcy filing would be necessary if no deal was reached.
The two sides made peace last September, but Republic was not free from turbulence. The company's new wage rates made some of its flying contracts uneconomical, and partners includingDelta Air Lines (DAL) - Get Delta Air Lines, Inc. Report were asked to restructure contracts. Delta instead in October filed suit against Republic, claiming its labor woes had prevented it from flying its full schedule and caused its Delta Connection business at least $1 million in damages.
Republic, in its bankruptcy filing, made clear that it is not targeting labor groups for concessions, but seeks to rework some of its flying contracts and shed its smaller, lower-rate aircraft.
"We have worked for months with our stakeholders to attempt to restructure the obligations of our out-of-favor aircraft and to increase our code-share revenue," CEO Bryan Bedford wrote in a Thursday note to employees. "It has increasingly become clear that this process has come to an impasse and that we can no longer afford to waste our valuable resources."
With so many unique problems, Republic's fall into bankruptcy is not seen as a signal of fundamental weakness in the airline sector and is expected to largely be a non-event for most of its customers and competitors. Among regionals, Skywest (SKYW) - Get SkyWest, Inc Report , Republic's primary rival, has long enjoyed a healthier balance sheet and more friendly labor relations.
Raymond James & Co. analyst Savanthi Syth in a note said that SkyWest was "already benefiting from issues at Republic Airways," noting that if Republic stays true to its pledge not to reopen its pilot contract in Chapter 11 it is unlikely to emerge with substantial cost advantages.
Syth also doesn't believe it is likely that Republic will be targeted for an acquisition while in bankruptcy, noting that SkyWest is still digesting its 2010 purchase of ExpressJet Holdings. Also, airline partners could cancel contracts in the event of a change of control "and we don't believe legacy carrier would be comfortable with SkyWest accounting for over 50% of the industry's regional feed."
Some transportation sources have suggested Republic could follow in the path of Pinnacle Airlines Corp., which in 2013 emerged from Chapter 11 as a subsidiary of Delta. But Syth notes that only United Continental Holdings is without an in-house regional subsidiary, saying, "We don't believe it is ready for the complication of having an in-house regional subsidiary even if it may help secure regional feed."