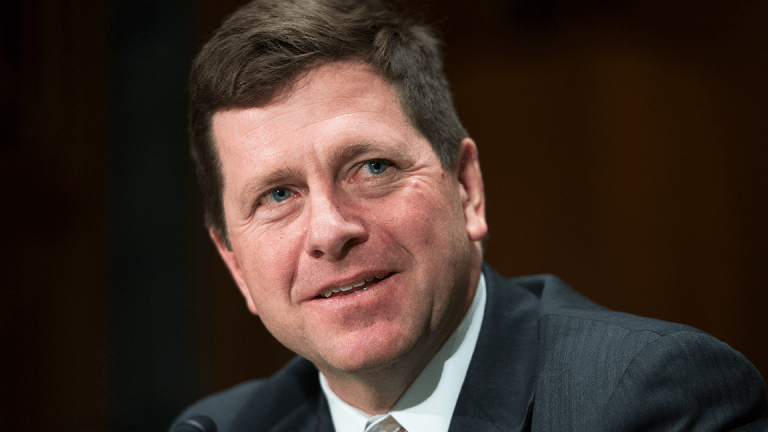 SEC's Clayton 'Watching' Insider-Controlled IPOs
The chairman of the nation's securities regulator said the issue of dual-class shares is complicated by state laws, corporate governance, capital formation efforts and index provider rules.
Jay Clayton, chairman of the nation's securities regulator, said Thursday, Oct. 12, that the agency is keeping an eye on the trend of companies conducting IPOs in a way that give insiders control, adding that the issue is complicated by capital formation efforts, state laws, corporate governance practices and index provider rules.
"We're watching the space," said Clayton to reporters after speaking to an investor advisory committee that meets at the Securities and Exchange Commission. "There is a lot involved. State law, corporate governance, indexing, what does it mean as far driving investment opportunities, choices to become a public or stay a private company."
Institutional investors have been lobbying the agency against the growing trend, where an increasing number of corporations, particularly technology firms, are issuing shares in the public markets giving insiders control of businesses and making them almost impervious to activist investors or M&A pressures for years to come.
Clayton certainly understands the issue - in private practice he was a principal adviser on Alibaba Group Holding Ltd.'s IPO on the New York Stock Exchange, which accommodated the e-commerce and media company's request that its founders control a majority of the board.
His comments also come as Switch Inc. (SWCH) conducted an IPO last week that raised the ire of a major lobby group for big institutional investors who are opposed to the ability of its CEO, Rob Roy, to transfer super-voting rights to his descendants even after he quits. 
Nevertheless, Clayton's comments aren't likely to appease institutional investor opposed to the structure. He had previously suggested that IPOs with dual-class share structures are "well disclosed and well-understood." Those comments suggest that Clayton believes that investors who buy shares in insider-controlled public companies know what they are getting into.
In addition, Michael Piwowar, a Republican commissioner at the agency told reporters Thursday that "were seeing private ordering. We're seeing people making choices and we will continue to monitor that."
The comments suggest that neither Piwowar nor Clayton are ready to take any steps against the structures. Alternatively, Kara Stein, a Democratic SEC commissioner, in minority at the agency, argued previously that much more needs to be done and that regulators need to "critically assess" their regime for IPOs in the wake of the rise of dual-class share structures.
Shareholders argue that the dual-class issuances makes the companies unaccountable to investors and that the nation's investor protection agency should block exchanges from allowing similar offerings. Backers of the issuances argue that the non-voting structure is necessary to encourage IPOs and protect companies from activist investors, who may seek to force targeted corporations to sell themselves or break up.
Clayton referred to index providers, which are having a major impact on IPO voting structures. Snap Inc., (SNAP), earlier this year shocked the markets by issuing only non-voting shares in its IPO. Big investors lobbied the major index providers, which quickly changed their rules to exclude Snap from participating in their indices. The move was a big blow to anyone thinking of following in Snap's non-voting share structure footsteps because corporations hope to participate in major indices so they can have access to investments from major index funds. Nevertheless, most index providers still allow companies with dual or multi-share companies to participate in their indices, giving insiders a measure of control and have access to index fund allocations.