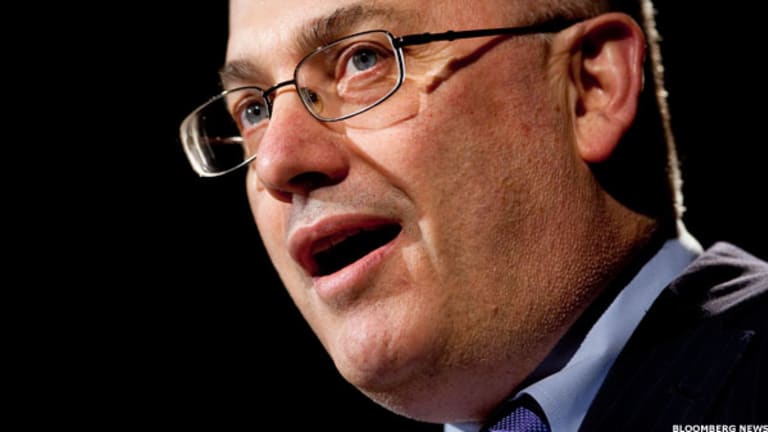 SEC Charges Former Collins Stewart Tech Analyst in SAC Insider Trading Case
The SEC is bringing new charges in an insider trading dragnet of Wall Street.
The SEC is bringing new charges in an insider trading dragnet of Wall Street.
Updated from 2:09 p.m ET with Microsoft comment
.
NEW YORK (
) -- U.S. prosecutors have charged former
Collins Stewart
techology analyst Sandeep Aggarwal with leaking non-public information about
Microsoft
(MSFT) - Get Report
, as regulators widen a Wall Street dragnet on insider trading and press
against hedge fund giant
SAC Capital Advisors
Aggarwal is alleged by the government to have gleaned Microsoft's non-public negotiations of a web search partnership with
Yahoo!
(YHOO)
from a source inside the software giant and tipped the information to SAC Capital's Richard Lee.
Between May and June of 2009, the SEC alleges Aggarwal's insider at Microsoft provided him with periodic updates concerning the negotiations. Aggarwal is accused of then passing on that information to SAC's Lee.
Aggarwal told Lee his Microsoft source informed him the search deal "may happen any time now in the next two weeks," according to the SEC's criminal complaint.
Lee purchased hundreds of thousands of shares of Yahoo stock in a portfolio he managed on behalf of SAC Capital. Lee also purchased shares of Yahoo stock in his personal trading account, the SEC said.
When the information was reported in the media almost a week later, Yahoo's stock price rose about 4% netting SAC Capital and Lee substantial profits, according to the SEC.
Aggarwal lives in India where he runs a research firm but was arrested by F.B.I. agents in San Jose, California on Monday.
In a parallel action brought forward by the SEC, it is charging Aggarwal and Lee with violating Section 10(b) of the Securities Exchange Act of 1934 and Rule 10b-5. The complaint seeks a final judgment ordering Aggarwal and Lee to pay disgorgement of ill-gotten gains.
Aggarwal left Collins Stewart in March of 2010 and the firm was acquired by
Cannacord Genuity
two years later. The analyst subsequently worked for
Digital Route
, and has been a prominent commentator in the media.
"As a company we have zero tolerance for insider trading, and we assisted the government with this investigation," a Microsoft spokesperson said. "We have strict policies that prohibit insider trading, and we expect our employees to adhere to them."
A Cannacord Genuity spokesperson declined to comment other than to say that the firm had "cooperated fully" with the SEC's investigation.
Earlier in July, Lee became the sixth SAC Capital employee to have
to criminal charges pertaining to the SEC's inquest into insider trading on Wall Street.
Lee is also accused by the SEC of trading on non-public information pertaining to HP's 2010 acquisition of 3-Com, using illegal insider information gleaned from an outside consultant.
On Thursday, a grand jury indicted Lee's employer, hedge fund giant
SAC Capital
, for one count of wire fraud and four counts of securities fraud, in an insider trading conspiracy U.S. prosecutors allege lasted over a decade and led to hundreds of million of dollars in illegal profits and avoided losses.
The hedge fund's alleged insider trading occurred between 1999 and at least 2010, according to the complaint, which was filed by Preet Bharara, U.S. Attorney for the Southern District of New York.
"SAC became, over time, a veritable magnet for market cheaters," Bharara said Thursday press briefing. SAC Capital pleaded 'not guilty' to all of the U.S. attorney's charges.
Earlier in July, the SEC filed an administrative action against SAC Capital's head Steven A. Cohen for failing to supervise two senior traders -- Matthew Martoma and Michael Steinberg -- amid allegations of insider trading under his watch.
Both traders have been charged and pleaded 'not guilty' to insider trading charges and face trials in coming months.
Government prosecutors have already won guilty verdicts or received admissions of guilt from former SAC employees Wes Wang, Richard Choo-Beng Lee, Richard Lee, Jon Horvath, Noah Freeman and Donald Longueuil.
The U.S. attorney highlighted the recently announced criminal conviction of former SAC trader Richard Lee as indicative of a culture of indifference to criminal activity at the hedge fund.
According to the complaint, Lee was hired by SAC in spite of concerns of insider trading at his previous employer, hedge fund
Citadel Securities
, and conducted illegal trades throughout his time managing a $1.25 billion merger arbitrage portfolio at the fund.
Tuesday's complaint against Aggarwal, the former Collins Stewart analyst, adds further detail to Lee's illegal trading, which focused on some of the most prominent technology companies and high profile merger activity.
Lee headed Citadel's Value Special Situation portfolio from March 2008 to April of that year and was fired for improperly valuing assets as a means to inflate his bonus, Citadel said in a Thursday statement.
"Citadel does not have, and never has had, an "insider trading group," the fund said, rebutting language in the U.S. attorney's complaint. The Value Special Situation team was disbanded in 2008, Citadel said.
The government's escalating investigation comes amid a six-year insider trading inquest that has so far led to scores of arrests and more than two dozen criminal convictions, including
Galleon Group
founder Raj Rajaratnam and former
Goldman Sachs
board director Rajat Gupta.
-- Written by Antoine Gara in New York