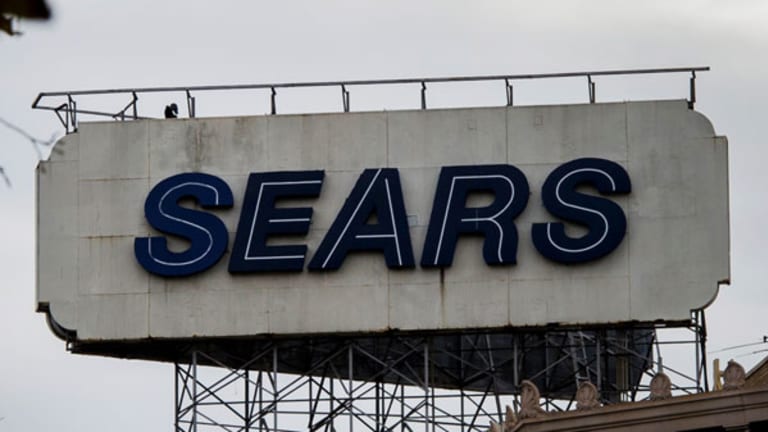 Sears Seeks New $750 Million Term Loan for Staying Afloat
One debt investor believes this gives Sears more time, though it ultimately won't end well.
Sears Holdings (SHLD) has proposed a $750 million term loan due in 2020 that would be used to pay down revolver borrowings, extending its maturity profile and giving it more time to execute on its strategy.
"This definitely gives Sears an extension on life," said David Tawil, co-founder and portfolio manager at distress-focused hedge fund Maglan Capital.
A $1.3 billion portion of the Hoffman Estates, Ill.-based department store operator's revolving credit facility matures April 8; Sears said it would use the new loan proceeds to pay down revolver borrowings.
The remaining $1.97 billion on the revolver, which bears interest at Libor plus 375 basis points, matures on July 20, 2020. Sears anticipates its new loan will have a first-lien interest in the same collateral that secures its revolver and existing term loan.
This move comes as Sears continues its long-ongoing turnaround effort to shore up its liquidity.
If the retailer's 2015 cash burn, which added up to about $2.5 billion, continued into 2016, there were concerns that it could run out of cash in 2016 absent asset sales or other measures, Tawil said.
"I think the strategy going forward is the same as the strategy in the past: liquidate more assets, and continue to try to turn the corner," Tawil said, and noted "the more time you have to do [asset sales] the better," to maintain bargaining leverage that a forced seller loses.
Tawil concluded that even though Sears has extended its runway, this will not end well. "Someone will be left holding the bags, and those bags will not be worth much," he said.
Ratings agencies were mixed on the impact of the new loan.
Moody's Investors Service said Friday, "We view this transaction as a credit positive for Sears, as it lengthens company's debt maturity profile and improves liquidity as the company will how have greater access to the revolving portion of the ABL revolver."
The ratings agency assigned a Ba3 rating to the proposed term loan. It gave Sears a corporate rating of Caa1 with a negative outlook.
"It remains uncertain if the company's operating strategies will stem its continued losses and be sufficient for its cash burn to approach breakeven levels. While the company maintains a sizable asset base its debts are significant with approximately $3.2 billion of funded debt as well as an unfunded pension obligation of $2.1 billion," Moody's warned.
Fitch Ratings asserted Friday that, while the new loan will help offset the April revolver maturity, the loan "does not improve the company's liquidity position versus 2015 or change its credit story."

Fitch noted that as of the fourth quarter, Sears had a borrowing base of $1.8 billion on its revolver.
Fitch suggested Sears could boost its liquidity by selling assets such as its 268 unencumbered Kmart discount and Sears full-line mall stores. Those locations could fetch around $2.6 billion if the valuation is in line with what it received in a previous asset sale to Seritage Growth Properties (SRG) - Get Report , the ratings agency said. That real estate investment trust paid $2.7 billion for 235 Sears and Kmart locations last year.
Fitch did note that the valuation would be lower if the remaining properties are in declining malls or smaller markets. Its report also pointed to a separation of Sears Auto Center or monetization of below-market leases as potential sources of liquidity.
Sears' New York Stock Exchange-listed shares are up about 5% since the new term loan was announced, closing at $18.05 with a $1.97 billion market cap Friday. The stock is down about 52% over the last year. Short positions account for about 63.54% of the equity float, according to Bloomberg Finance data.
The company hasn't yet filed its quarterly report for the fourth quarter, but it did release selected results on Feb. 25.
Sears reported a net loss attributable to shareholders of $580 million on $7.3 billion in revenue compared to a net loss attributable to shareholders of $159 million on $8.1 billion in revenue in 2014's fourth quarter. It recorded $11.33 billion in assets and $13.29 in liabilities as of Jan. 30.
Beyond the revolver, Sears' debt structure includes a first-lien senior secured term loan of nearly $978 million due June 30, 2018 (announced Sept 16, 2013). It carries an interest rate of Libor plus 450 basis points, according to data provided by Bloomberg.
The retailer also has $298 million in 6.625% second-lien notes due Oct. 15, 2018 (issued on Aug. 2, 2011), according to Bloomberg data, and $625 million in 8% senior unsecured notes due Dec. 15, 2019 (announced Nov. 19, 2014).
Media contacts at Sears didn't respond to requests for comment.