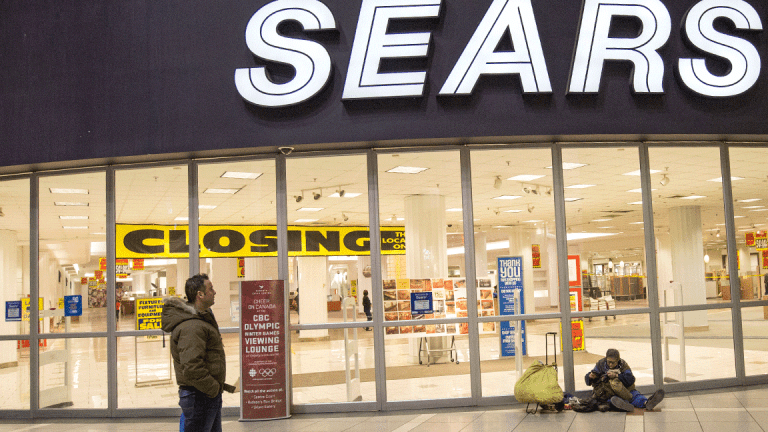 A New Test for Sears CEO Eddie Lampert
With the closing of 103 Sears and Kmart Stores in low-traffic venues, Eddie Lampert's salvage operation for Sears just got at least a little more challenging.
Eddie Lampert's salvage operation for Sears just got at least a little more challenging.
Sears Holdings Corp. (SHLD) announced the closure of 103 Sears and Kmart stores Thursday, Jan. 4, which would create business opportunity for its favorite landlord, the Lampert-backed Seritage Growth Properties (SRG) REIT, if it weren't for the fact that the shuttering stores in question are largely located in low-traffic, low-quality malls or storefronts.
In 2015, Lampert, the billionaire CEO and largest shareholder of Sears, spun off the department store's most attractive real estate holdings to form Seritage. The REIT, in turn, would collect rent from Sears while redeveloping vacant storefronts and leasing them to third-party retail or mixed-use tenants, including the likes of Whole Foods Market, Nordstrom Inc. (JWN), and various restaurants and cinemas. Since its inception, Seritage has leased about 4 million square feet. New rents come in at an average of $18.25 per square foot, whereas Sears pays $4.30, according to Seritage's third-quarter 2017 results.
The setup would generate cash for Sears' main operations and deliver an extra few bucks in dividends, that is, if Seritage were able to successfully turn around empty Sears spaces.
"A Sears closure is an opportunity for Seritage to upgrade and reposition the space and attract higher-paying tenants," said Al Pontius, the national director of brokerage Marcus & Millichap's institutional property advisors. "But the further down you go in terms of mall quality, the harder it will be for Seritage to redevelop and make money."
In other words, it's all about location, location, location when it comes to big box redevelopment.
"Looking at the list of the store closures, most of them are B-level, C-level malls and strip malls," said Kim Forrest, an asset manager for mutual fund Fort Pitt Total Return (FPCGX) .
"This is very very dangerous for Seritage and whoever else owns these properties," she told The Deal.
Beyond the leasing difficulties that come with subpar real estate, the multitude of store closures—Sears' and others'—will shrink demand and push down prices for rent, Forrest added. The closing Sears and Kmart stores are located throughout the U.S., including multiple in California, Illinois, North Carolina and Pennsylvania.
Of the 39 Sears stores on the list, only a handful are Seritage-owned, according to Manus Clancy, a senior managing director at mortgage research firm Trepp. Another handful is owned by upscale mall REIT Simon Property Group Inc. (SPG) , the privately-held Merlone Geier Partners, and various other landlords or investors, property records show.  
The closures, nonetheless, are not bad news for everyone—especially for the landlords of the few shuttering Sears in prime locations.
The soon-to-close Sears in Pittsburgh, Pa.'s Ross Park Mall, for instance, is owned by Simon, which bought the 175,000-square-foot big box space from Sears in 2011 as part of a 15-property portfolio from Sears.
Unlike most others on the list, Ross Park Mall is a high-quality destination, with tenants like Louis Vuitton and Tiffany & Co. (TIF) , according to Forrest. With Sears out of the picture, Simon will be able to to bring that space to par with the rest of the mall, she said.
The same goes for the Sears inside the Simon-owned Brea Mall in Brea, Calif., which boasts Tesla Inc. (TSLA) as one of its high-end tenants. 
Even for Seritage, which could not be reached for comment, the shuttering stores don't necessarily spell trouble, some say. 
"Seritage's whole business is predicated on Sears closing stores and then putting capital to repurpose them," said Perry Mandarino, the head of restructuring at B. Riley Financial Inc. (RILY) . "Don't forget that Seritage made money this year and their funds from operations has increased."
So long as that Sears doesn't close every store all at once, he added, "Seritage will be fine."
Seritage signed 301,000 square feet of new leases in the quarter ending Sept. 30, posting $9.8 million in third-party rental income and an FFO of $17.6 million.
Sears to Cut Extra $200 Million to Focus on Little-Known E-Commerce Platform
Sears Cuts Costs, Secures New Loan
10 Haunting Photos From Sears and Kmart Closings Sweeping the U.S.
But no B- and C-level mall REITs are not in the clear, considering the rate of retail bankruptcies. Nearly 7,000 retail storefronts closed in 2017, and the carnage will continue well into 2018, experts predict.
"The big issue is that all mall landlords are under stress to some degree," Clancy said. "Some more than others, as in the owners of older malls in secondary and tertiary markets."
"Big or small, you're going to have tenants that'll go bankrupt. It's an enormous death by a thousand paper cuts."
Seritage shares are up half a percent Friday, Jan. 5, trading at $40.28.
Editor's note: This article originally appeared on The Deal, our sister publication that offers sophisticated insight and analysis on all types of deals, from inception to integration. Click here for a free trial.
More of What's Trending on TheStreet: