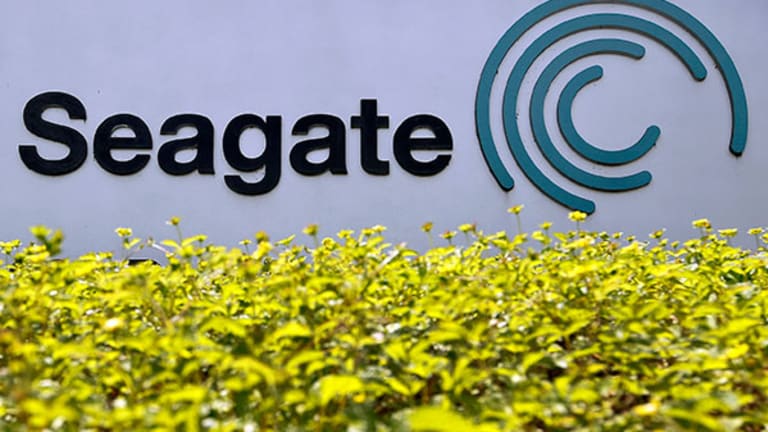 Publish date:
Seagate's Purchase of Dot Hill Puts Nimble, Quantum in Play
Seagate Technology's $694 million buy of Dot Hill signals consolidation in data storage. TheDeal said Dot Hill might be bought by Seagate or Western Digital last July.
Seagate Technology's $694 million buy of Dot Hill signals consolidation in data storage. TheDeal said Dot Hill might be bought by Seagate or Western Digital last July.
NEW YORK (The Deal) -- Seagate Technology's (STX) - Get Report $700 million check for its smaller peer Dot Hill Systems (HILL) highlights the increasing importance of data storage. As a result, a game of musical chairs is about to start in a market that is ripe for further consolidation, with industry watchers citing plenty of M&A candidates. 
Seagate Technology announced Tuesday that it has agreed to acquire Dot Hill Systems for about $694 million, or $9.75 per share, in cash, about a month after The Deal identified the target as a takeout candidate. 
The Deal reported in July that Dot Hill was looking increasingly appealing as a potential acquisition target for Seagate and Western Digital (WDC) - Get Report as it successfully diversified its customer base and distinguished itself through its software product RealStor 2.0. Sources said then that the data storage system provider could be worth anywhere from $9 per share to $14 per share in a transaction.
"Storage is becoming an increasingly important part of the IT equation," said Brian Alger, a senior research analyst at Roth Capital Partners. "Without storage, you have nothing." 
Seagate Technology's acquisition highlights the increasing significance of data storage and brings more attention to the segment, Alger explained. But he noted that consolidation would be driven not so much by cost considerations as by the need to strengthen one's competitive position.
"They're pursuing a similar strategy of trying to move up the value stack," he said of data storage giants Seagate Technology and Western Digital, with a $14.9 billion market capitalization and an $18.5 billion market capitalization, respectively. 
"I don't know that the management of Western Digital feels pressured from the moves of Seagate. But it's more a function of seeing where the trends are going," Alger said, adding that the motivation behind M&A strategy for Seagate and Western Digital is capturing opportunities to increase their value and diversify offerings. 
The Dot Hill transaction could put a number of companies in play as potential participants in dealmaking, he said, pointing to Nimble Storage (NMBL) , Pure Storage, Tegile Systems and Quantum (QTM) - Get Report.
Nimble, Pure and Tegile all specialize in manufacturing flash storage, while Quantum, like Dot Hill, offers a more comprehensive platform. 
Western Digital and Seagate could both take a look at four of their peers, Alger suggested, while acknowledging that Western Digital may have a stronger interest as Seagate will be digesting its latest acquisition. Western Digital has been more active on the flash side of data storage, while Seagate has a wider footprint in the disc segment, he observed. 
Traditional tech giants Hewlett-Packard (HPQ) - Get Report and Cisco Systems (CSCO) - Get Report could also take a look, Alger said. 
"The market is healthier than people are giving it credit for," he said. "Whether it's pictures or texts or e-mails or Tweets, all of that is being analyzed and repurposed. It's causing an explosion in terms of data that's being stored." 
At the same time, data storage players have witnessed turmoil over the course of the past year from the emergence of cloud and hybrid storage and pressure for companies to improve their security infrastructure following hack attacks, said Srini Nandury, senior managing director at Summit Research Partners.
"There's no question that M&A is going to happen. Consolidation is waiting to happen," Nandury said, adding that the only question is who the buyers will be. 
EMC (EMC) and NetApp (NTAP) - Get Report are likely to emerge as consolidators, he suggested, also pointing to Oracle (ORCL) - Get Report as a potential buyer as the tech giant looks for ways to jump-start growth.
"Nimble will be gone," he said of the San Jose, Calif., data provider with a $1.9 billion market cap, adding that its "modern storage architecture" could be useful to NetApp.
Pure Storage, which filed for an initial public offering earlier this month, also looks interesting as a potential M&A candidate, but may be too expensive as the Mountain View, Calif., company is expecting the IPO to produce a valuation of close to $3 billion, Nandury added. 
Though Pure Storage and Nimble could provide faster growth, Quantum is not as expensive, according to Eric Martinuzzi, an analyst at Lake Street Capital Markets. 
Quantum, which has a $282.8 million market cap, counts on its memory disk sharing product, StorNext, as a meaningful part of its revenue growth, Martinuzzi said. But organic growth will take such companies only so far.
"They all have to find a home," Summit Research's Nandury said of remaining data storage providers, adding that growth starts to slow once the companies hit $500 million in revenue and face "the tariff of the big boys." 
"The point is that all these companies are asking, 'When should I sell? When should I take my money and run?'" Nandury said. "If you wait too long, growth starts to slow down." 
He suggested it's only a matter of time before the musical chairs begin. 
"The question is, 'When do I need to pull the trigger?'" Nandury said. "The moment one players puts the hat down, all hell will break loose." 
Read more from: