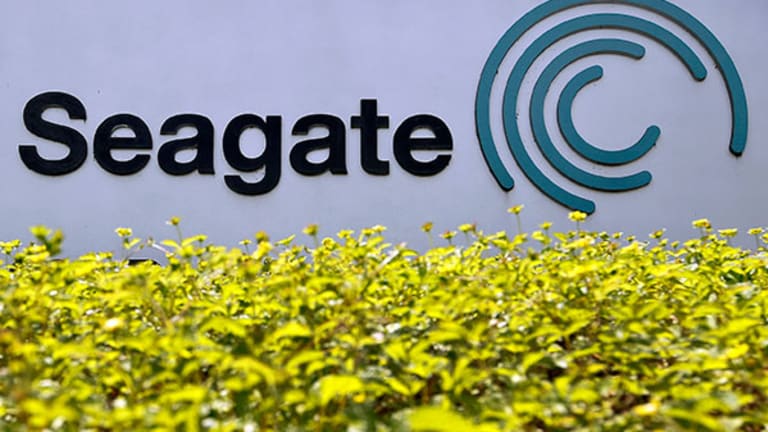 Seagate Technology to Buy Dot Hill Systems for $694 Million
The data storage giant is looking to diversify, and covets Dot Hill Systems' software product, RealStor 2.0.
NEW YORK (The Deal) -- Dot Hill Systems (HILL) is falling to Seagate Technology (STX) for nearly $700 million following successful efforts to diversify its customer base. 
Seagate announced Tuesday after the markets closed that it has agreed to acquire Dot Hill for $9.75 per share in cash, or about $694 million. Including the $49 million of cash the target has on its balance sheet, the transaction's enterprise value is about $645 million. The acquisition is expected to close during the fourth quarter of 2015. 
The Deal reported in July that Dot Hill looked appealing as a potential takeout target for either Seagate or Western Digital (WDC) . The data storage system provider has been diversifying its customer base and continues to successfully distinguish itself with its software product, RealStor 2.0. Industry sources said at the time that Dot Hill could be worth anywhere from $9 a share to $14 a share in a deal. 
At one time, Hewlett-Packard (HPQ) accounted for about 70% of Dot Hill's revenue, and the challenges of Longmont, Colo.-based Dot Hill paralleled those of HP. Today, that percentage is down to 35% as companies like Teradata (TDC) and Quantum (QTM) have joined Dot Hill. 
"Dot Hill's innovative storage systems and IP portfolio are a strategic addition to our storage technology portfolio, enabling us to accelerate the growth of Seagate's OEM-focused cloud storage system and solutions business," said Phil Bruce, president of cloud systems and electronics solutions at Seagate Technology, in a statement. 
Dot Hill CEO Dana Kammersgard said in the statement that Seagate has a strong reputation in enterprise storage and Dot Hill's customers will benefit from leveraging Seagate's leading technology and infrastructure. 
Seagate acquired LSI's flash business from Avago Technologies (AVGO) for $450 million in 2014 after its purchase of Xyratex for $374 million from Baker Street Capital Management the prior year. 
Shares of Dot Hill soared 86% Wednesday morning to $9.68, giving the company a $603.7 million market capitalization. 
Shares of Seagate fell 2%, to $50.83, giving the company a $15.36 billion market cap. 
Brian Alger, a senior research analyst at Roth Capital Partners, said via phone Wednesday that the tie-up will ultimately benefit both companies. 
Dot Hill's RealStor 2.0 software allows operators to move data quickly across the information stack, and its flexibility exceeds that of other products in the market, he explained, adding that RealStor has been driving the acceleration of Dot Hill's revenue over the past year or so.
Having Dot Hill among its offerings should provide value for Seagate as data storage's importance continues to grow along with the use of big data analytics and the spread of the Internet of Things, Alger explained. 
Other analysts agreed. "We see [the move] as generally positive," Wells Fargo analyst Maynard Um wrote in a note Wednesday morning. 
While most of Dot Hill's customers are already Seagate's, Um sees value in a deal that gives Seagate more to offer them.
Another analyst all but ruled out the possibility that Seagate could get competition for Dot Hill.
"While we do see rationale for a competing bidder to enter, we put it at a very low probability," Maxim Group analyst Nehal Chokshi wrote in a Wednesday note.
- David Marcus and Chris Nolter contributed to this report.