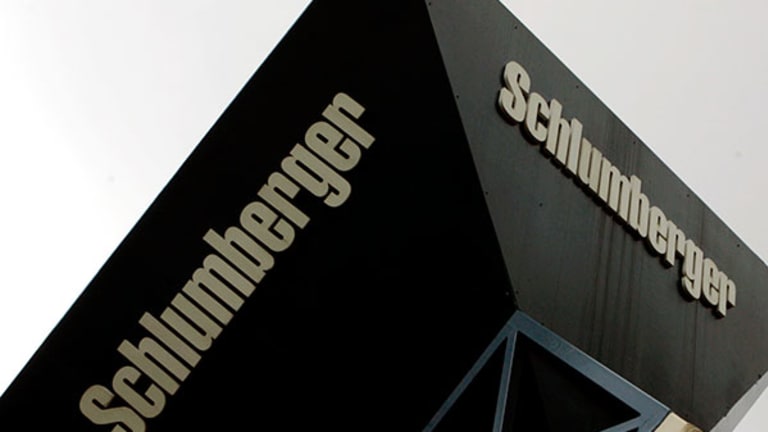 Schlumberger to Acquire Cameron International for $14.8 Billion
The deal is the latest in the consolidating oil-services industry.
NEW YORK (The Deal) -- France's Schlumberger (SLB) - Get Schlumberger NV Report said Wednesday it's buying Houston-based Cameron International (CAM) for $14.8 billion in cash and stock, continuing consolidation in the oil and gas services industry at a difficult time in the sector.
Cameron shareholders will receive 0.716 of a share of Schlumberger and $14.44 in cash for each of their shares, or $66.36 per share, a 56.3% premium over Cameron's closing price Tuesday of $42.47 and a 37% premium over Cameron's 20-day average closing price of $48.45. Cameron shareholders will end up owning around 10% of Schlumberger's shares.
The consideration is about 80% stock and 20% cash, which will be funded with capital on hand, the company said on a conference call with analysts and investors.
The deal has to clear Cameron shareholders and regulators but is expected to close in the first quarter of next year. Neither the company nor analysts expect regulatory pushback, as there's little overlap between the two companies. Some analysts, however, think some components of Cameron aren't strategic to Schlumberger and could be divested.
Schlumberger expects the deal to add to earnings per share in the first year after closing, although it didn't estimate by how much. It thinks it can achieve $300 million in cost savings in the first year after closing and $600 million in the second year, mostly from cutting operating costs, streamlining supply chains and improving manufacturing processes with revenue synergies becoming a bigger component in the second year.
Schlumberger said the deal combines two complementary technology portfolios into a "pore-to-pipeline" products and services offering to the global oil and gas industry with sales of $59 billion last year.
"This agreement with Cameron opens new and broader opportunities for Schlumberger," Schlumberger Chairman and CEO Paal Kibsgaard said in a statement. "With oil prices now at lower levels, oilfield services companies that deliver innovative technology and greater integration while improving efficiency, which our customers increasingly demand, will outperform the market."
He thinks that the next industry technical breakthrough will be achieved through integration of Schlumberger's reservoir and well technologies with Cameron's surface, drilling, processing and flow control technologies. "Deep reservoir knowledge further enabled by instrumentation, software and automation will launch a new era of complete drilling and production system performance," he said.
Cameron Chairman and CEO Jack Moore said the transaction builds on the company's successful partnership with Schlumberger on their OneSubsea joint venture and will position Cameron for its next phase of growth. "For our shareholders, this combination provides significant value, while also enabling them to own a meaningful share of Schlumberger," he said. "Together, we will create a premier oilfield equipment and service company with an integrated and expanded platform to drive accelerated growth."
Simmons & Co. International analyst Bill Herbert said the deal works out to 19.5 times earnings and 11 times estimated earnings before interest, taxes, depreciation and amortization for 2017, which he said wasn't "cheap" but represents a mid-cycle valuation for Cameron. He also said given Schlumberger's "execution prowess," he believes the company's savings expectations are credible and potentially understated.
The deal didn't come as a surprise, as Schlumberger has a history of rolling up its joint ventures, including Smith International Inc., Eurasia Drilling Co., Saxon Energy Services, Western Geco and Dowell, and would look to exploit the industry downturn on the mergers-and-acquisitions front, Herbert said.
"Bigger picture, this is SLB saying that DW (deepwater) isn't dead and that with enhanced breadth of capabilities, SLB should be increasingly at the forefront of driving transformation of the DW business model," Herbert said. "Further, given SLB's drive to reinvest/modernize the land rig, the acquisition of CAM's rig capital equipment business appears to make strategic sense as well."
RBC Capital Markets analyst Kurt Hallead said he had previously expected Schlumberger to acquire Cameron given its history of buying joint-venture partners, but this was sooner than he thought. He thinks the deal "makes a lot of sense" given Schlumberger's goal of integrating multiple service and product lines around the life of a well and that the deal price looks "reasonable" given his expectation for an increase in activity at some point next year. He said the goal for Schlumberger will be to get the deal done before the market turns and integrate Cameron's business lines from individual components into full system offerings.
Analysts at Tudor, Pickering, Holt & Co. Securities Inc. said the price was in line with where they thought Cameron stock would return to during an eventual recovery, "so pulling forward that value is all good for CAM shareholders." However, they were a bit surprised to see Schlumberger buy all of Cameron, versus just its stake in OneSubsea, as valves and rig equipment, especially blowout preventers, aren't exactly up Schlumberger's alley. However, they said the strategic fit and merits of OneSubsea clearly make sense as deepwater development costs "need to move step-function lower" and a big part of Schlumberger's portfolio is deepwater levered "and thus depends on improvement in customers' deepwater economics."
RBC's Hallead expects a positive market reaction for other oil services stocks with equipment manufacturing, including FMC Technologies (FTI) - Get TechnipFMC Plc Report, National Oilwell Varco (NOV) - Get National Oilwell Varco, Inc. (NOV) Report, Oceaneering International( OOI) and Weatherford International (WFT) - Get Weatherford International plc Report.
TPH doesn't think the deal will set off an "oil service M&A wave," but said it highlights the intrinsic value they see for oilfield manufacturing businesses --"good industry structure begets good through-cycle returns on capital" -- and shows that deepwater activity isn't "structurally dead," with 7 million barrels per day of global production coming from deepwater. "There is a logical recovery case, even if not in 2016, (and) SLB is making a strategic bet that it can assist with that recovery," they said.
Global Hunter Securities Inc. analyst Ken Sill called the deal "transformational" and said the price multiple is in line with typical manufacturing mergers over the last decade, although well below some of the recent reference points, including General Electric's (GE) - Get General Electric Company (GE) Report purchase of Lufkin Industries Inc. in 2013 for $3.4 billion and Siemens' (SIEGY) $7.6 billion purchase of Dresser-Rand Group last fall.
Read more from: