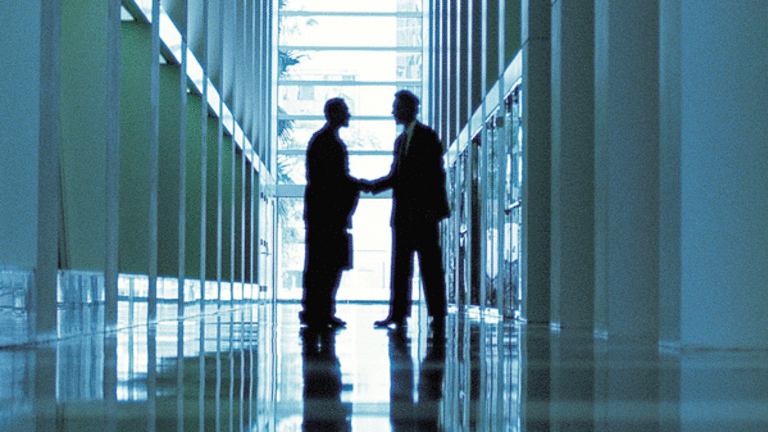 Sandell Asset Management's Plans for Bob Evans Farms May Include M&A
Restaurant chain's BEF Foods could be worth $450 million in a sale, analyst says.
Restaurant chain's BEF Foods could be worth $450 million in a sale, analyst says.
With four nominees on the 12-person Bob Evans Farms Inc. (BOBE) board, Sandell Asset Management Corp. expects to see significant change in the restaurant operator's financial performance. Absent that, look for the activist fund's manager Thomas Sandell to return in 2015 with another board slate, industry analysts said.
Though Sandell Asset Management fell short of getting its full eight-person slate elected at an August meeting, the partial win resulted in the separation of the role of CEO and chairman earlier this month.
Sandell, a 7.6% stakeholder, has demanded that New Albany, Ohio-based Bob Evans split up its restaurant business from its packaged goods unit, BEF Foods, to unlock shareholder value hidden in real estate on the restaurant side of the business by engaging in a substantial sale-lease back of its 562 company-owned locations.
The dissident has also raised concerns about faltering revenue growth and "bloated corporate overhead" as well as "inordinately high SG&A expenses."
Analysts are at odds over whether it makes sense to sell BEF Foods, which sells sausage, bacon and other processed meat, and macaroni and cheese through grocery stores, as well as whether the sale-and-leaseback plan makes sense.
Bob Evans is more likely to consider selling BEF Foods than doing a sale-leaseback deal, said Miller Tabak analyst Stephen Anderson.
The remaining management-backed directors have top board subcommittee chairman positions and are likely to push back on a major sale-lease back deal, citing tax and leverage-hiking consequences, new escalating rent costs and a lack of an economic buffer for hard times, he said. He also noted that incumbent director Eileen Mallesch, continues to chair the audit committee, and remains an obstacle to Sandell's efforts.
Nevertheless, Anderson said Bob Evans could receive in the neighborhood of 13 to 13.5 times trailing Ebitda — between $425 million and $450 million — to sell BEF Foods.
Sandell suggested in September that potential buyers were looking to make an offer. In a securities filing, the activist fund manager noted that he was contacted by a private equity firm interested in discussing an acquisition of BEF Foods as well as "several" investment firms interested in a transaction involving the company's real estate.
A company spokesman declined to comment on whether it has been approached by potential buyers but the company noted that a key responsibility of its recently formed finance committee is to take a "fresh look at ideas from all of our stockholders."
And while Sandell didn't return calls, Anderson suggested that the most likely buyer for BEF Foods would be Pilgrim's Pride Corp. (PPC) - Get Report because an acquisition of the Bob Evans unit would allow it to diversify away from poultry and extend it into the breakfast market, where PPC doesn't currently compete. Anderson also suggested that compared to ConAgra Foods Inc. (CAG) - Get Report or Pinnacle Foods Inc. (PF) , Pilgrim's Pride has a stronger balance sheet and can take on more debt than the others.
John Gordon, founder of Pacific Management Consulting Group, agreed that Bob Evans should spin off BEF Food — calling it "imminently spinoffable," — and would help Bob Evans cut debt and make shareholders happy.
He also suggested that Pilgrim's Pride could be interested after it punted on efforts to buy Hillshire Brands Co. (HSH) , which was eventually acquired by Tyson Foods Inc. (TSN) - Get Report for $8.5 billion. "From a traditional M&A point of view they would be the most interested and the one that investment banks would most likely pitch a deal to," said Gordon. "They had a funding commitment to buy Hillshire, which makes this deal easily doable."
Another rival, Hormel Foods Corp. (HRL) - Get Report , would probably not be interested because a combination with BEF Foods could face potential antitrust issues over high concentration in the pork-products market, Anderson said.
However, Oppenheimer & Co. analyst Brian Bittner said he doesn't see any benefits to selling the food products business at "currently depressed earnings" levels. He added that Oppenheimer's analysis of a sale-lease back doesn't imply that it would be "value accretive" given the new rent cost for Bob Evans that would come with the real estate separation.
"We have done deep analysis on this. Don't fool yourself," Bittner warned.
Sandell has argued that the packaged foods division generates very little synergies with the restaurant division while management contends that it produces brand and advertising synergies, as well as supply chain savings and operational efficiencies.
Anderson said that even though Bob Evans does not have a great deal of long-term debt it has borrowed substantially against its credit line and may want to evaluate a transaction to help pay down debt.
"When this is considered as a measure of the company's debt load, its debt-to-capital ratio is 55% as of the end of the July quarter," Anderson said. "I think this could be an argument for a sale-leaseback though I still believe that a sale of BEF Foods is more likely and the proceeds from that could be used in part to strengthen the balance sheet."
Nevertheless, there is reason to believe that a restaurant real estate separation could happen at Bob Evans. Anderson said a compromise could be worked out where Bob Evans sells 141 of its 562 units to franchise owners in fringe markets such as the mid-Atlantic states as part of a sale-leaseback arrangement. He said these kinds of transactions are likely far less extensive than the measures that Sandell wants the company to consider, but the deal could generate pre-tax revenue of $255 million and suit both sides.
However, he said he believes that if there isn't any movement in either area Sandell may be back next year to launch another proxy battle to seat more directors, and it could happen earlier than the restaurant chain's annual meeting, which is expected in August. Anderson noted that Sandell could seek to hold a special shareholder meeting in advance of the annual meeting, something he would need the backing of 25% of investors to do, according to Bob Evan's bylaws.
Some observers have questioned why Sandell hasn't pushed the company to conduct a tax-free REIT spinoff of the real estate assets, a financial engineering tactic that a number of insurgents in other campaigns have sought to do.
Activist investor Starboard Value LP succeeded in taking over the 12-person board of Darden Restaurants Inc. (DRI) - Get Report , in part so it could work on a spinoff of the company's real estate into a tax-free REIT.
Gregg Feinstein, managing director and head of M&A at investment bank Houlihan Lokey, said that a sale-leaseback at Bob Evans may make more sense than a REIT spinoff because the restaurant chain has a smaller pool of real estate than Darden and as a result it would be less attractive as a standalone REIT.
Anderson agreed, noting that there are no restaurant REITs in the U.S. and that Bob Evans' real estate is too small an asset to work in a REIT structure, especially with an additional corporate, general and administrative expense overhead that would have to be built at the REIT.